Homemade Buttermilk Waffles
Homemade Buttermilk Waffles are a classic breakfast dish that can be easily made at home! Tender and delicious, this is the best waffle recipe!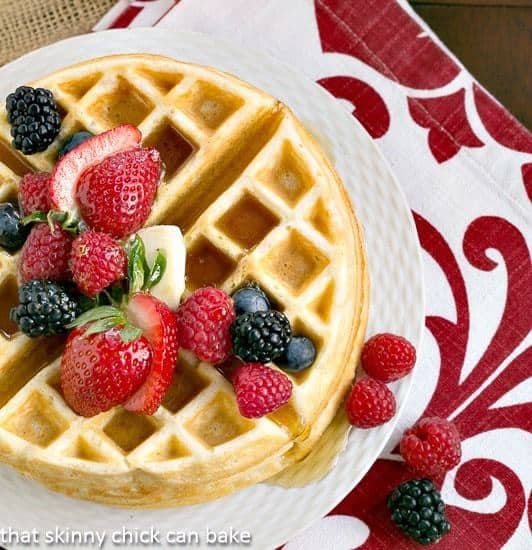 Homemade Buttermilk Waffles
Bill makes pancakes or waffles with bacon nearly every weekend…under the guise of "for Katie" or "for Nick." Yeah, we all know they're for him.
His secret recipe for both these dishes involves a box, some milk, and eggs. So I decided to treat him to some Buttermilk Waffles from scratch. A new concept.
Better Than the Box Mix
The first recipe I used was similar to his mom's recipe. Whipped egg whites were folded into the waffle batter to make a lovely, light waffle. Well, I guess I'm the one who likes this version. The leftovers stayed parked in the fridge till I tossed them a few days later. Back to the drawing board.
I used almost exactly the same ingredients, but this recipe eliminated the step of beating and gently adding the whites to the mix. That was fine with me. I knew I could find a recipe BETTER than the box. No fru-fru fluffy waffles for my man. No sirree. These buttermilk waffles passed Mr. Persnickety's taste test with flying colors.
If you'd like to incorporate more homemade recipes into your breakfast menu, check out these Perfect Pancakes and Crepes. The Best Cinnamon Rolls, Baked Denver Omelet, and Best Dutch Baby Pancake are also winners!
Why Use Buttermilk in Waffles?
Buttermilk is a magical ingredient when it comes to baked goods. It's slightly acidic, and it's the acid that works on altering the gluten in the flour. Gluten is what gives bread and waffles their structure, but too much gluten can make baked goods tough. Adding buttermilk as a gentle tenderizing effect that makes for perfectly textured waffles.
How to Make Waffles
This waffle recipe is super easy. Whisk together the dry ingredients first. This helps disperse the baking powder, baking soda, and salt throughout the flour. In another bowl, mix the liquid ingredients, then mix the wet and dry ingredients together. Do not overmix as this will over-activate the gluten. It's better to have a few lumps in the batter than beat until smooth!
After the batter is made, cook according to your waffle maker's instructions, then dig in!
How to Serve Waffles
Just like with pancakes, how you serve waffles is up to you! Maple syrup is classic, but berries and cream is another delicious option. And fresh butter is a must. If you're entertaining, make a waffle bar. Here are some fun toppings to offer on a waffle bar at your next brunch:
Butter
Real Maple Syrup, warmed
Sliced strawberries, fresh raspberries, blueberries or all three
Powdered sugar, to sprinkle over berries or buttered waffles
Jams and jellies, warmed
Lightly sweetened whipped cream
Chocolate chips
Chopped, toasted pecans
Sprinkles
What Is a Substitute for Buttermilk?
PRO-Tip: If you don't have any buttermilk on hand, you can easily make an Easy Buttermilk Substitute at home. Measure one tablespoon of lemon juice or vinegar into a one-cup liquid measuring cup, then add milk to the one-cup line. Mix and let sit for a few minutes before using it.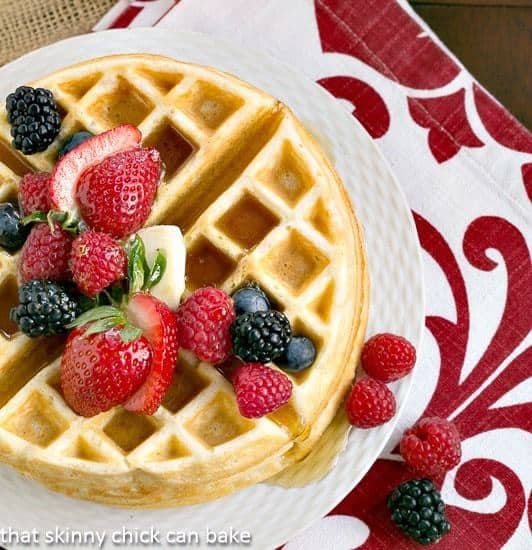 The Recipe:
Homemade Buttermilk Waffles
Prep Time 10 minutes
Cook Time 5 minutes
Total Time 15 minutes
Yield 6 waffles
Terrific homemade waffles that are worth the extra effort.
Ingredients
1 ¾ cups all-purpose flour
2 tablespoons sugar
2 teaspoons baking powder
1 teaspoon baking soda
½ teaspoon salt
1 ¾ cups buttermilk
½ cup (1 stick) butter, melted and cooled to room temperature
2 eggs
2 teaspoons vanilla extract
Instructions
Whisk together flour, sugar, baking powder, baking soda, and salt. Set aside.
In another bowl, mix together the buttermilk, melted butter, eggs, and vanilla.
Combine the liquid and dry ingredients and mix until almost combined (don't overmix).
Cook according to your waffle maker's instructions. Serve warm with butter, syrup, and/or fresh berries.
Notes
Adapted from King Arthur Flour.
Nutrition Information:
Yield:
6
Serving Size:
1 waffle
Amount Per Serving:
Calories: 206
Total Fat: 3g
Saturated Fat: 1g
Trans Fat: 0g
Unsaturated Fat: 1g
Cholesterol: 65mg
Sodium: 709mg
Carbohydrates: 36g
Fiber: 1g
Sugar: 8g
Protein: 8g
Note: This post may contain affiliate links; view
my Disclosure Policy
for details. I earn a small percentage from any purchase you make by clicking on these links at no extra cost to you.