Cowboy Cookies with Video
I hit the jackpot with this chewy, buttery, Loaded Cowboy Cookies Recipe! Delicious oats, chocolate, coconut, and pecans in every bite!
Whether you call these Cowboy Cookies or Ranger Cookies, this Oatmeal Cookies Recipe is an amped-up, out-of-this-world cookie you must make.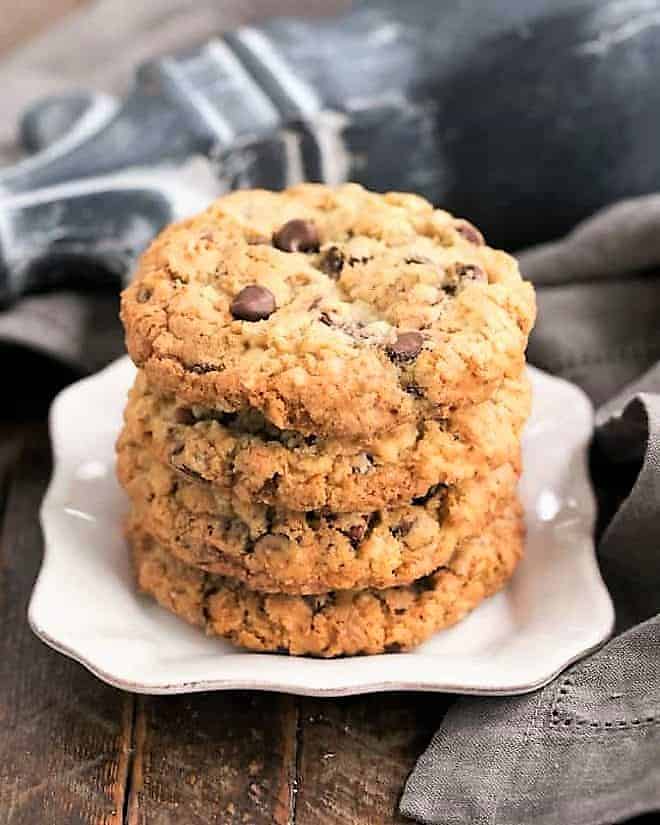 Why You Must Make
The first-ever cowboy cookies I baked were a huge disappointment. The recipe called for Rice Krispies which lost their crispness within hours. It took me over a decade to recover from that fiasco and to make another batch. It was time to give these another shot!
The inspiration for this recipe for these easy cowboy cookies in the New York Times, attributed to Laura Bush circa 2000. They were the winner of the Family Circle's presidential candidates' wives cookie contest where the Democrat vs Republican competition was moved to the kitchen. I can see why this delicious, chewy oatmeal cookies recipe won!
This recipe makes a HUGE batch and they freeze beautifully. You'll have a stash of ready-to-go snacks and dessert in your freezer.
These cookies are loaded with chocolate chips, nuts, coconut, and oatmeal. You can easily tweak the recipe for your palate, swapping out different chocolate chips or nuts, or leaving out the coconut. They're very versatile.
Ingredient Notes
Kitchen Staples – Flour, Baking Soda, Salt, Sugar, Brown Sugar
Eggs, Butter – Have at room temperature for easier incorporation.
Baking Powder – Unlike baking soda, baking powder usually expires before you use it up. Check the expiration date before using. If you'd like to be certain, place a spoonful into a bowl or cup filled with very hot water. If your baking powder is active, it will bubble vigorously. If it does not, replace before making the dough.
Chocolate Chips – I use Ghirardelli semisweet chocolate. Feel free to use bittersweet or even milk chocolate chips.
Vanilla Extract – Use real vanilla extract, never artificially flavored.
Oatmeal – Use old-fashioned rolled oats, not quick oats.
Coconut – Use sweetened, angel flake coconut.
Pecans – For the best flavor, toast your nuts before using to bring out their essential oils. This can be done in a skillet or on a sheet pan in the oven at 350° for 6-8 minutes.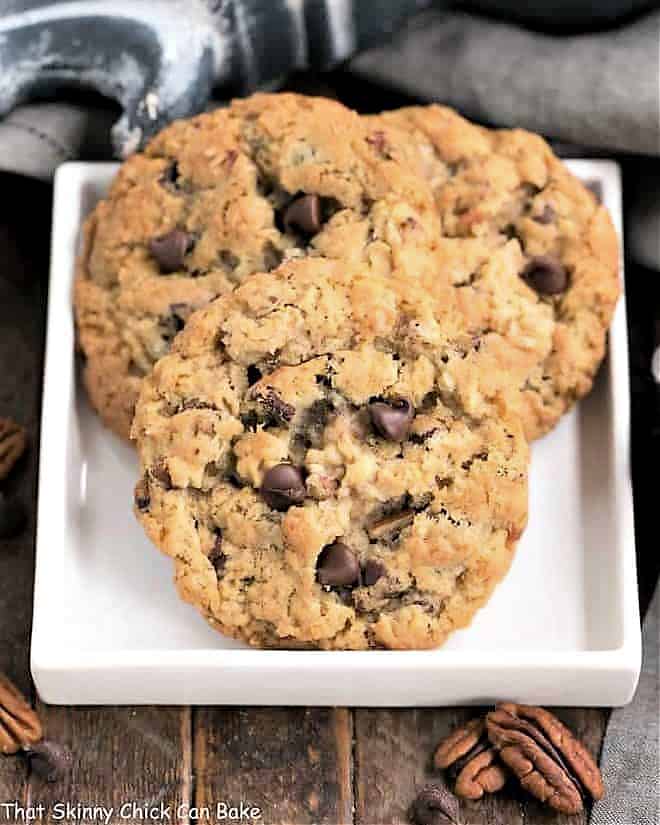 Expert Tips
As usual, I had to tweak this recipe for loaded cowboy cookies a bit. I eliminated the cinnamon and decreased the amount of pecans. Of course, Bill would have loved these cookies sans oatmeal, coconut, and pecans. Yeah, those would be plain ol' chocolate chip cookies! Some things never change.
Get out your butter and eggs about 60 minutes before you start making your cookie dough so they come to room temperature. This ensures the dough will mix properly.
Whisking together your dry ingredients before you mix them into the dough helps prevent clumps of baking soda, baking powder, or too much salt in any one cookie.
I like using my paddle attachment if using a mixer to make cookies. This prevents the dough from aerating which can happen when you beat with a whisk attachment. If you use a hand mixer, just be careful not to overbeat.
The other option is to mix by hand with a wooden spoon.
These loaded cowboy cookies were each made with 1/4 cup of cookie dough! They are BIG cookies. Go ahead and use a rounded tablespoon full of dough and bake for 10-12 minutes for smaller cookies.
I mentioned all my tweaks above, but feel free to add back in 1 tablespoon of cinnamon and an extra 1/2 cup of pecans, or nut of your choice to this oatmeal cookies recipe.
You could also use an alternative chocolate chip like bittersweet, white chocolate, or butterscotch. Or how about replacing some of the chocolate with toffee bits?
If you want perfectly round cookies, roll the dough between your two palms to form balls.
Then, when they come out of the oven, tap them into perfect circles while they're still hot using a spatula. It works like a charm.
How to Make a Smaller Batch
PRO-Tip: this recipe makes a huge amount of dough, and if you make smaller cookies you will have lots and lots! The measurements can easily be divided into thirds and you can also bake up more petite cookies (I recommend a rounded tablespoon instead of the 1/4 cup of dough called for in the recipe if you prefer a smaller version. Just decrease the baking time.).
PRO-Tip: If you decide to make 1/3 of the recipe, here are the amounts for the smaller batch:
1 cup flour
1 teaspoon baking powder (Check the expiration date.)
1 teaspoon baking soda
1/8+ teaspoon salt
1/2 cup (1 stick) butter, at room temperature
1/2 cup sugar
1/2 cup brown sugar
1 egg
1 teaspoon vanilla
1 cup semisweet chocolate chips
1 cup old-fashioned oatmeal
2/3 cup angel flake coconut
1/2 cup chopped pecans
Frequently Asked Questions
Why Are These Called Cowboy Cookies?
There is no definitive answer to this question, but a couple of theories. First, the name Cowboy Cookies may have come about because this recipe was developed or at least became popular in Texas. My recipe was adapted from Laura Bush, wife of our native Texan president, George W. Bush.

The other thought was that these Cowboy Cookies, also known as Ranger Cookies, were sturdy enough for cowboys to take on the trail. With oats and nuts, there is some nutritional value, and of course calories.
What's the Difference Between Cowboy Cookies and Ranger Cookies?
Both are loaded oatmeal cookies, with Ranger Cookies considered a subcategory of Cowboy Cookies. Cowboy cookies tend to contain oatmeal, coconut, nuts, and cinnamon. On the other hand, Ranger cookies have Rice Krispies and chocolate chips.

But, in this case, the cinnamon was eliminated and chocolate chips were added. So many times these terms are used interchangeably.
Can You Substitute a Different Nut?
Yes, try walnuts or almonds instead of the pecans if you prefer one of those.
Can You Leave Out the Coconut?
Definitely. Omitting the coconut will not change the outcome of the recipe.
How Do You Make Chewy Cookies?
A couple of tips for making chewy cookies include not overmixing once the flour is added, using brown sugar (already in the recipe; it's moister than white sugar), and not overbaking.
How Do You Store Cowboy Cookies?
Once they've cooled completely, store in an airtight container at room temperature for 3-5 days. After that, they will freeze well, also in an airtight container, for up to 3 months
You May Also Like:
Stay in touch through social media @ Instagram, Facebook, and Pinterest. Don't forget to tag me when you try one of my recipes! And if you love the results, please give it a 5-star rating in the recipe card. Note: As an Amazon Associate, I earn from qualifying purchases. Visit my Amazon Store for my favorite products.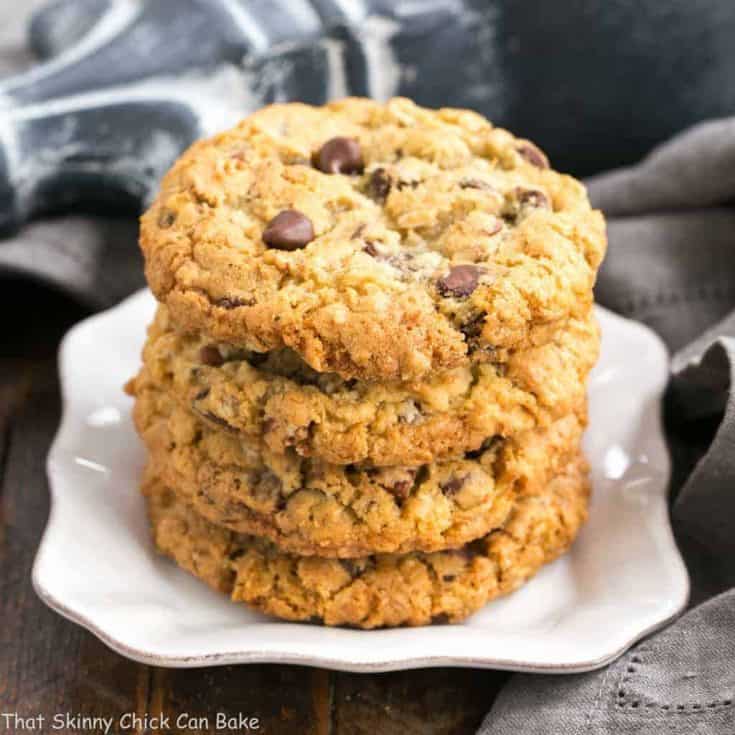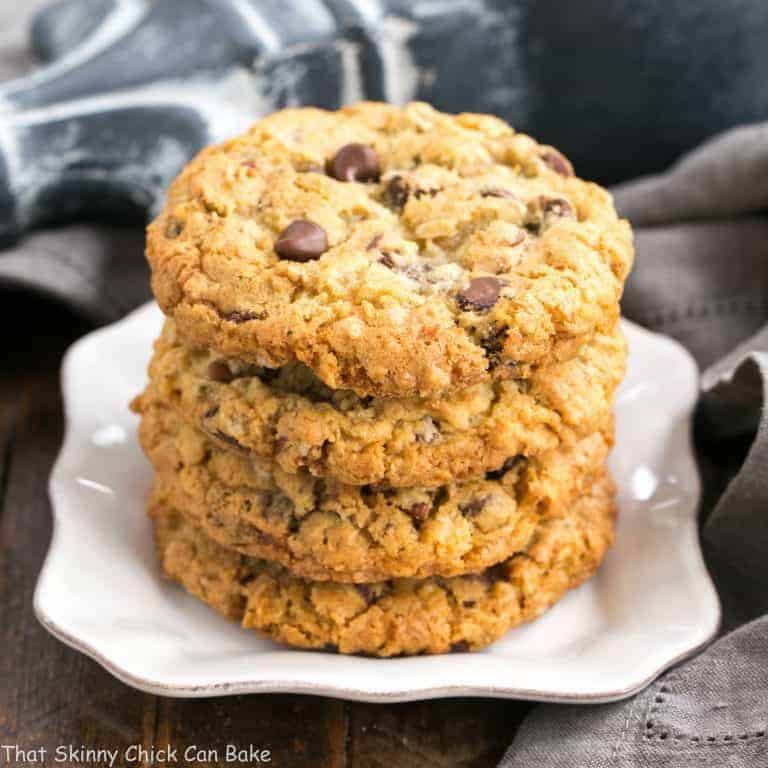 The Recipe:
Loaded Cowboy Cookies Recipe
Prep Time 20 minutes
Cook Time 17 minutes
Total Time 37 minutes
Yield 36 large cookies
Delicious oats, coconut, pecans and chocolate chips in every bite!
Ingredients
3 cups flour
1 tablespoon baking powder
1 tablespoon baking soda
½ teaspoon salt
1½ cups (3 sticks) butter, at room temperature
1½ cups sugar
1½ cups brown sugar
3 eggs
1 tablespoon vanilla
3 cups semisweet chocolate chips
3 cups old-fashioned oatmeal
2 cups angel flake coconut (sweetened)
1½ cups chopped pecans
Instructions
Preheat oven to 350 degrees. Line baking sheets with parchment paper.
Whisk together flour, baking powder, baking soda, and salt in a bowl.
In a very large bowl, beat butter until smooth and creamy. Gradually beat in sugars, and combine thoroughly.
Add eggs one at a time, beating after each addition. Mix in vanilla.
Stir in the flour mixture until just combined. Stir in chocolate chips, oats, coconut, and pecans.
For each cookie, scoop out 1/4 cup of cookie dough, roll it into balls, and space them 3 inches apart on the baking sheet.
Bake for 15 to 17 minutes, until edges are lightly browned. Middles may have areas that appear slightly underdone. Remove cookies to a rack to cool.
Notes
I use salted butter in this recipe. If you use unsalted butter, you may want to increase the salt.
Make one-third of this recipe for a smaller batch of cookies.
Scoop rounded tablespoons of dough for smaller cookies and bake for 10-12 minutes or until lightly browned.
If your cookies aren't perfectly round when they come out of the oven, use your spatula and tap the edges while the cookies are hot to form more circular cookies.
Recommended Products
As an Amazon Associate and member of other affiliate programs, I earn from qualifying purchases.
Nutrition Information:
Serving Size:
1 cookie
Amount Per Serving:
Calories: 315
Total Fat: 18g
Saturated Fat: 10g
Trans Fat: 0g
Cholesterol: 34mg
Sodium: 165mg
Carbohydrates: 38g
Fiber: 3g
Sugar: 23g
Protein: 4g
Note: This post may contain affiliate links; view
my Disclosure Policy
for details. I earn a small percentage from any purchase you make by clicking on these links at no extra cost to you.