Chocolate Layer Cake with Ganache
This spectacular Old Fashioned Chocolate Layer Cake Filled with White Chocolate Ganache is perfect for any celebration. There is no shortage of chocolate in this Chocolate Cake Recipe, and it was a major hit on my oldest son's birthday.
This moist Chocolate Cake from Scratch is ideal for special occasions, especially when there's a surprise white chocolate ganache filling. Every decadent bite is sheer bliss.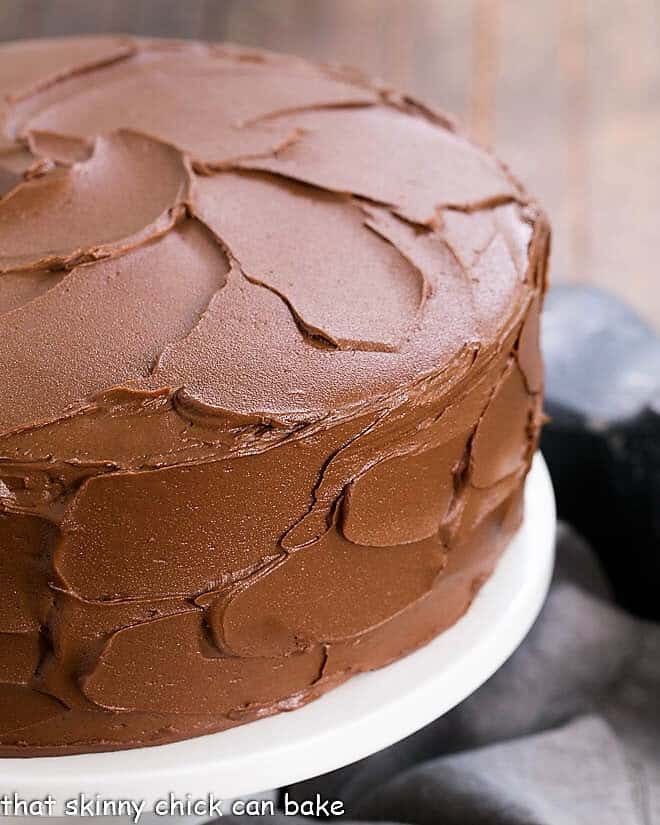 Why You Must Make
The old-fashioned chocolate layer cake is a tried and true recipe.
Adding a white chocolate ganache layer pushes it over the top!
Just look at that rich, glossy frosting!!!
It's pretty much a tradition to have a chocolate layer cake two days after Christmas. Still full from all the holiday overeating, we have one more special event to celebrate before the New Year. I can hardly believe it's been 26 years since I gave birth to my oldest. When he asked for a chocolate cake filled with white chocolate ganache, it was pretty much a done deal.
He wasn't due till after New Year's Day so since Bill was scheduled to make rounds over the holidays, I hopped in my little red Toyota and drove over the snow-covered interstate to visit my parents.
After celebrating Christmas with my family, I returned home to work a full evening shift on the oncology ward. Bill and I were both exhausted as we fell into bed late on the 26th after a full day of caring for patients. Hours later I awoke to labor pains and little Thomas was born before noon the next day with a head full of wild brown hair and his dad's beautiful eyes. I was smitten.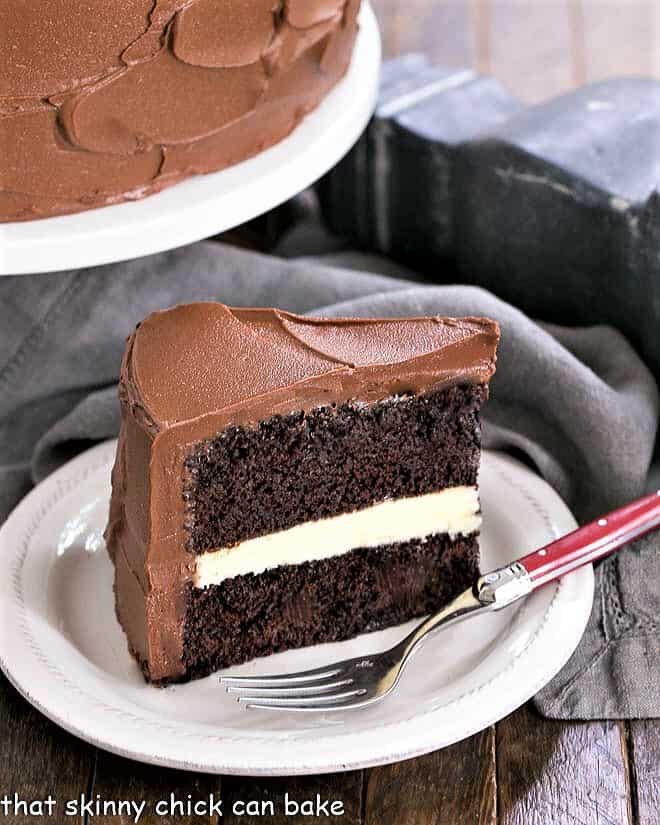 Perfect Birthday Cake Recipe
Like his father, Tom was an instant fan of chocolate. Well, it did take a few months before he first indulged. As a toddler, I remember him pounding on the refrigerator door saying, "puddy, puddy, puddy" over and over. The stash of chocolate jello pudding cups I kept on hand for quick snacks had become a favorite treat.
Birthdays demanded some sort of chocolate cake or pie, so the birthday boy got his request for a chocolate layer cake. But with a surprise in the middle.
How to Make
I tweaked an old-fashioned chocolate layer cake recipe by adding a thick, decadent filling of white chocolate ganache. Besides an extremely rich chocolate buttercream frosting, it was this surprise filling that pushed this chocolate cake over the top!
Make and cool the layer cakes. Reserve one to use at a later time.
Make and chill the ganache until it's a spreadable consistency
Cover and chill the cake so the ganache is firm.
Make the frosting and frost the cake.
Keep the cake in the refrigerator, but bring it out an hour or so before serving to take the chill off.
Although hubby jokingly declared the frosting to be "a chocolate party in his mouth" (after I told him, "good, really, really good" didn't make for a very interesting blog quote), it was so moist, it was difficult to slice. Still, the combination of cake, filling, and icing made for one spectacular tasting cake. Maybe not up to my picky standards when it comes to perfect slices, but definitely worth sharing due to the amazing flavor.
I sent the leftovers of this chocolate layer cake home with the grown-up version of the guy below, and he and one of his roommates elected not to share it with any of their friends. I consider that the highest compliment!
Tips for Making
Lining your baking pans with rounds of parchment paper helps minimize any sticking when removing the baked cakes from their pans.
The pans should also be greased and floured or sprayed with an oil and flour non-stick baking spray.
Make sure to cool your cakes on a rack for about 10 minutes before turning them out of the pans to finish cooling.
As with most baking recipes, unless otherwise specified, have your eggs at room temperature for the best incorporation.
After adding the dry ingredients, just mix until well combined. At this point, do not beat as this will activate the gluten and add air to the batter.
PRO-Tip: This recipe uses both baking soda and the less used baking powder. Before you even start mixing, check the expiration date on the baking powder. It often expires while sitting in your pantry.
The combination of buttermilk, oil, and an extra egg yolk ensures a super moist and tender cake.
PRO-Tip: Did you know that coffee intensifies the flavor of chocolate? Despite the 1 1/2 cups of coffee in the batter, I could not detect any coffee flavor. Cocoa and chocolate provide the majority of the flavor.
Over-baking your cake will make it drier. Check the cakes for about 35 minutes with a toothpick. If it comes out clean or with just a few crumbs, your cake is done. If there's batter on the toothpick, you definitely need to add more time.
PRO-Tip: Chill the white chocolate ganache to a thick, yet spreadable consistency before using it. This will prevent it from dripping when the top layer is added. Refrigerate the whole cake again before frosting so the ganache is well chilled.
It is tough to slice the cake without getting chocolate onto the white chocolate filling. Use a serrated knife, and wipe it off frequently. But don't worry, the taste will distract from the less than bakery-perfect pieces!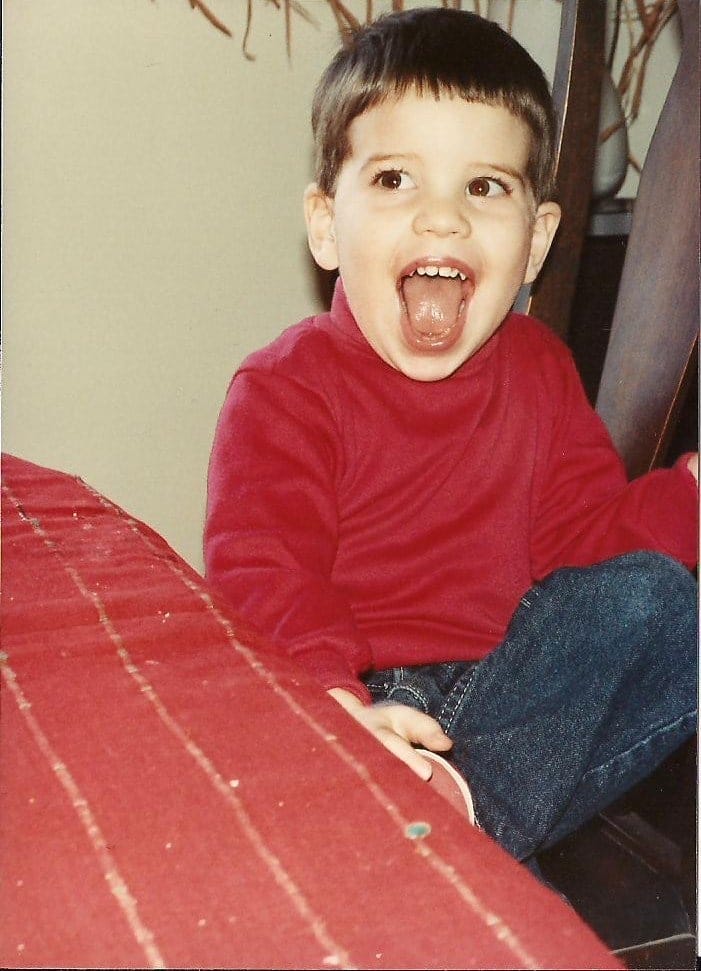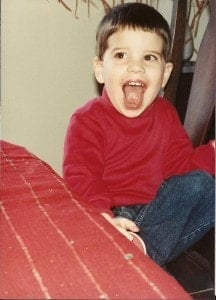 Helpful Tools:

Welcome to Progressive Eats, our virtual version of a Progressive Dinner Party. This month's theme is all about an elegant summer evening celebration, and our host is Barb who blogs at Creative Culinary. This event is celebrating five years of bringing together great cooks, concepts, and especially great food through the collaboration of Progressive Eats.
If you're unfamiliar with the concept, a progressive dinner involves going from house to house, enjoying a different course at each location. With Progressive Eats it's a virtual party. A theme is chosen each month, members share recipes suitable for a delicious meal or party, and you can hop from blog to blog to check them out. Come along and see all of the deliciousness we've put together for our celebration inspired dishes!
Elegant Summer Evening Soiree!
Beverages
Appetizers
Bread
Cheesy Pull-Apart Pesto Bread – Shockingly Delicious
Main Courses
Side Dish
Desserts
More Birthday Cake Recipes:
This Chocolate Layer Cake Recipe was originally shared in January 2013. The photos and text were updated in 2019 after sharing this decadent cake with neighbors at our annual 4th of July party. There was nothing left but crumbs!
The Recipe:
Chocolate Layer Cake Filled with White Chocolate Ganache
Prep Time 40 minutes
Cook Time 45 minutes
Total Time 1 hour 25 minutes
Yield 16 servings
Tender, moist chocolate cake filled with white chocolate ganache and finished off with a thick layer of chocolate frosting!
Ingredients
5 ounces semisweet chocolate (chopped)
1 1/2 cups very hot coffee
3 cups sugar
2 1/2 cups flour
1 1/2 cups cocoa powder (sifted)
2 teaspoons baking soda
3/4 teaspoons. baking powder
1/2 tsp. salt
3 whole eggs and 1 egg yolk (at room temperature)
3/4 cup canola oil
1 1/2 cups buttermilk
1 teaspoons vanilla
Filling:
12 ounces white chocolate (chopped)
1/2 cup heavy cream
Chocolate Buttercream Frosting
10 ounces semisweet chocolate, chopped
1 1/2 cups (3 sticks) butter, room temperature
3 cups powdered sugar
1 tablespoon vanilla
Instructions
To make cake: Preheat oven to 325º. Coat three 8 or 9 inch cake pans with non-stick spray and then line bottom of pans with rounds of parchment paper. Note that this recipe makes 3 layers, but only 2 are needed for this cake.
Put very hot coffee into a medium bowl. Add chocolate, let sit 5 minutes, then whisk until fully melted Set aside.
In a stand mixer, combine 3 eggs and 1 extra yolk with the sugar and beat until light and pale yellow, approximately 3 minutes. Add the oil, buttermilk and vanilla and beat until combined. Add flour, cocoa powder, baking soda and powder and salt and beat until combined. Add chocolate mixture and mix until just fully incorporated.
Divide batter between pans and bake in middle of the oven until a toothpick inserted in a center comes out clean, about 40-45 minutes. Remove to cooling rack. Cool for about 10 minutes, then remove from pans and allow to cool completely. Carefully peel off parchment. Wrap and freeze one of the 3 layers to use at a later time. You can make a 3 layer cake, but you will need more filling and frosting.
To make filling: Melt cream and white chocolate in microwave, stopping and stirring at 30 second increments till smooth and melted. Refrigerate mixture till cool and thick (you do not want the filling to be hard, but if it is too runny, it will run down sides of cake when second layer is placed over it).
To make frosting:
Place chopped chocolate into a microwave safe bowl. Microwave, stopping to stir frequently, until chocolate is melted and smooth. Let the chocolate cool until lukewarm, stirring occasionally.
Beat butter in large bowl until smooth and creamy (I used my stand mixer with the paddle attachment). Sift powdered sugar over butter and beat until well blended, about 2 minutes. Beat in vanilla. Add melted chocolate and beat until well blended, scraping down sides of bowl as needed.
Frost as desired.
Notes
This recipe makes an extra layer which you can wrap and freeze to use later.
I had leftover frosting and calorie count is based on using all the frosting.
Nutrition Information:
Yield:
16
Serving Size:
1 slice
Amount Per Serving:
Calories: 714
Total Fat: 30g
Saturated Fat: 12g
Trans Fat: 0g
Unsaturated Fat: 16g
Cholesterol: 60mg
Sodium: 336mg
Carbohydrates: 109g
Fiber: 4g
Sugar: 86g
Protein: 8g
Note: This post may contain affiliate links; view
my Disclosure Policy
for details. I earn a small percentage from any purchase you make by clicking on these links at no extra cost to you.