Easy Chicken Cacciatore
This Chicken Cacciatore Recipe is a fabulous weeknight meal that's quick and packed full of flavor from tomatoes peppers, onions, garlic, capers, herbs, and more!
The layering of ingredients will make this the Best Chicken Cacciatore Recipe to ever come out of your kitchen.
Why You Must Make
This chicken cacciatore recipe is finger-licking good!
Use either bone-in chicken breasts or thighs or both. Did you know that bone-in chicken is more flavorful than boneless? The flavor "in" the bones permeates the meat while cooking creating a richer, meatier taste.
This is a classic Italian entree that's restaurant-worthy!
How to Make
Once you have your chicken and other ingredients purchased you're ready to go!
First, dredge your chicken in seasoned flour, then brown all sides in olive oil. The flour coating will also help thicken the sauce.
Next, saute the veggies, add the wine, then tomatoes, capers (don't skip these), and oregano.
Besides using bone-in chicken, another way to enhance the flavor is with wine. Unless you prefer to not cook with wine, make sure to deglaze the pan with wine. 
Feel free to use red wine instead of white.
Almost 100% of the alcohol cooks off, leaving another fabulous layer of flavor.
Layer upon layer of flavor makes for an extraordinary entree.
I served this with Ina Garten's Parmesan Mashed Potatoes, except I peeled the potatoes. We were instant fans! Well, with butter, half and half, sour cream, and Parmesan, how could they be bad? Bread, rice, polenta, and pasta are also delicious pairings.
Tips for Streamlining Weeknight Meals
Many dinners involve chopping veggies. From the classic mirepoix (celery, onions, and carrots) to the Holy Trinity (celery, onions, and bell peppers), these combinations add an incredible flavor base to numerous recipes. PRO-Tip: Chop enough for two meals and freeze half.
Don't feel guilty about buying precut fresh or frozen vegetables. They're a time saver on busy weeknights.
You can measure and prep the ingredients early in the day or the night before to expedite the cooking process.
Don't feel bad using a box of rice mix or mashed potatoes in a pinch. Not every dish has to be from scratch.
Pro-Tip: If you need half of an onion for a recipe, chop the rest and store it in a zip-top freezer bag for future use.
Make extra servings and freeze the leftovers for a future meal.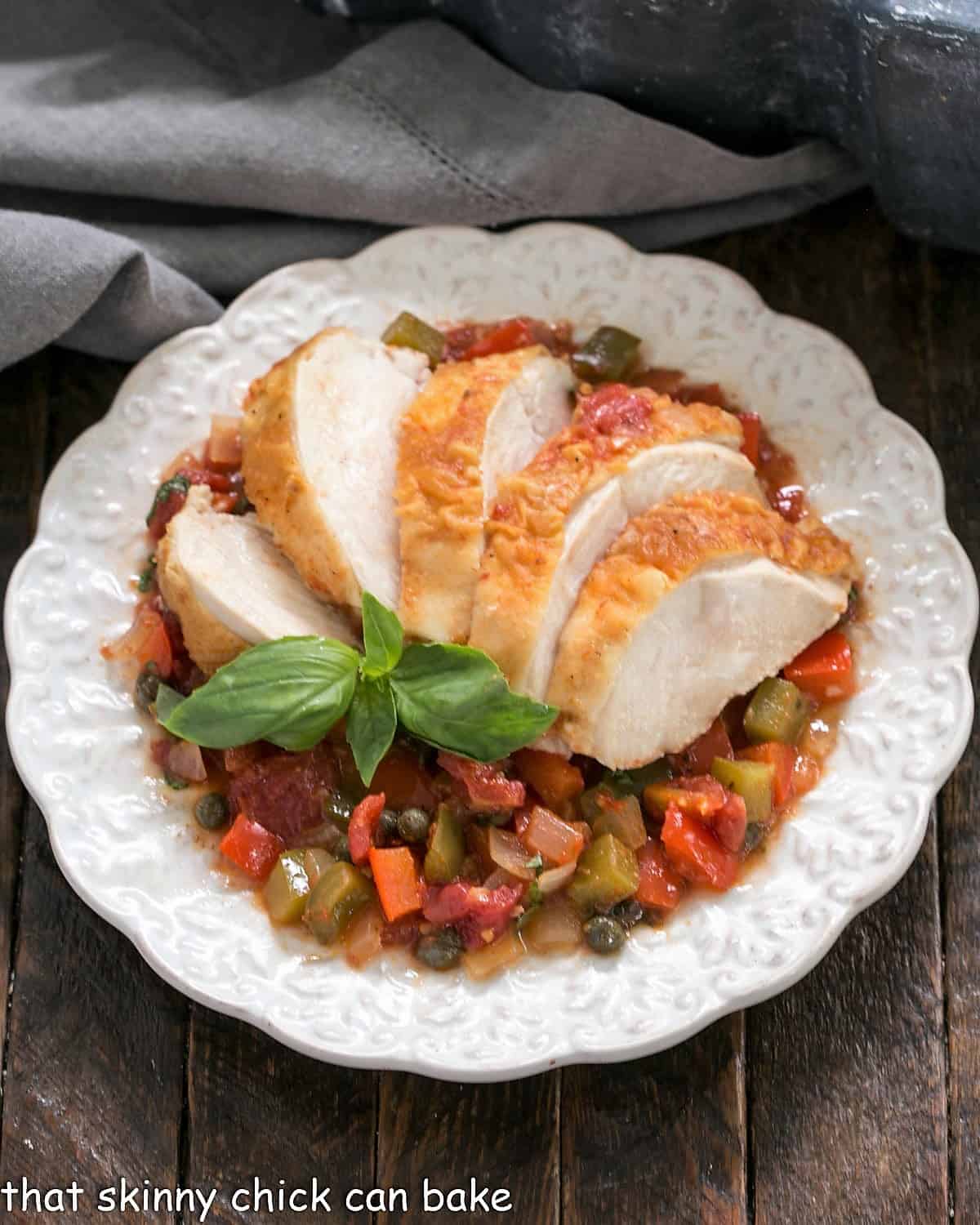 Frequently Asked Questions
What is Chicken Cacciatore?
Chicken Cacciatora or Cacciatore is an Italian-American term that translates to hunter's chicken. It's typically prepared with mushrooms, onions, tomatoes, herbs, and wine. There are other versions besides chicken cooked in this style.
Is Cacciatore Better with Red or White Wine?
Wine is not necessary, but both red and white wine are acceptable.
What is a Substitute for Wine in Chicken Cacciatore?
The wine can easily be left out. Wine, like salt, is a known flavor enhancer so it does provide a certain nuance to this dish. Feel free to add more chicken broth if you'd like a thinner sauce if you omit the wine.
You May Also Like: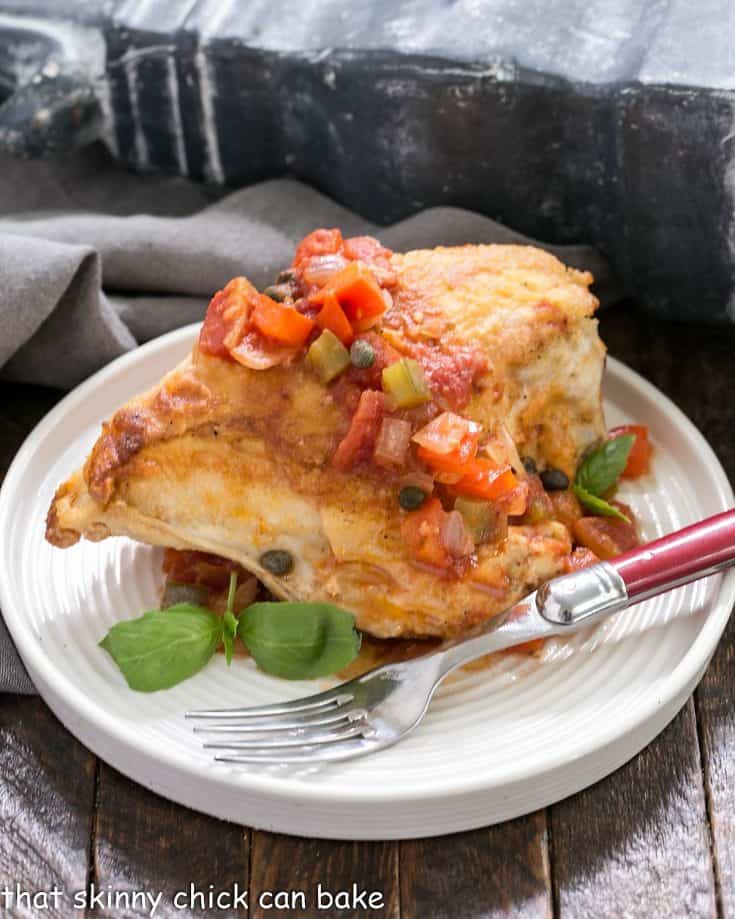 The Recipe:
Chicken Cacciatore
Prep Time 20 minutes
Cook Time 45 minutes
Total Time 1 hour 5 minutes
Yield 4 servings
A classic Italian dish with tomatoes, peppers, and herbs for an easy comforting dinner!
Ingredients
4 chicken breasts with skin and backbone
2 teaspoons salt, plus more to taste
1 teaspoon freshly ground black pepper, plus more to taste
1/2 cup flour, for dredging
3 tablespoons olive oil
1 14-ounce bag Birds Eye Recipe Ready Chopped Seasoning Blend (or one medium onion and one red bell pepper seeded and chopped
3 garlic cloves, minced
3/4 cup dry white wine, I used vermouth
1 ( 28-ounce) can diced tomatoes with juice
3/4 chicken broth
3 tablespoons drained capers
1 1/2 teaspoons dried oregano
1/4 cup chopped fresh basil leaves
Instructions
Combine flour, salt, and pepper in a large Ziploc bag. Add chick breasts, one at a time, and shake in the bag till each is covered with flour.
Set on a plate till oil is heated.
In a large saute pan, heat the oil on medium-high. Add the chicken pieces to the pan and saute just until brown, about 5 minutes per side. Transfer the chicken to a plate and set aside.
Add the chopped veggies and garlic to the same pan and saute over medium heat until the onion is tender about 5 minutes. Season with salt and pepper.
Add the wine and simmer until the liquid is reduced in half. Add the tomatoes with their juice, broth, capers, and oregano.
Return the chicken to the pan and turn them to coat in the sauce. Bring the sauce to a simmer. Continue simmering over until the chicken is just cooked through, about 30 minutes.
Serve over Parmesan mashed potatoes, rice, or pasta. Sprinkle with fresh basil to serve.
Recommended Products
As an Amazon Associate and member of other affiliate programs, I earn from qualifying purchases.
Nutrition Information:
Yield:
4
Serving Size:
1
Amount Per Serving:
Calories: 700
Total Fat: 28g
Saturated Fat: 6g
Trans Fat: 0g
Unsaturated Fat: 19g
Cholesterol: 166mg
Sodium: 33032mg
Carbohydrates: 41g
Fiber: 10g
Sugar: 13g
Protein: 64g
Note: This post may contain affiliate links; view
my Disclosure Policy
for details. I earn a small percentage from any purchase you make by clicking on these links at no extra cost to you.