Cheesy Spinach Dip
Cheesy Spinach Dip is one of the best dip recipes for any occasion! It's a warm dip, loaded with spinach, artichoke hearts, and cheese.
Do you always head straight to the Spinach and Artichoke Dip when you see it at a party? I'm with you all the way!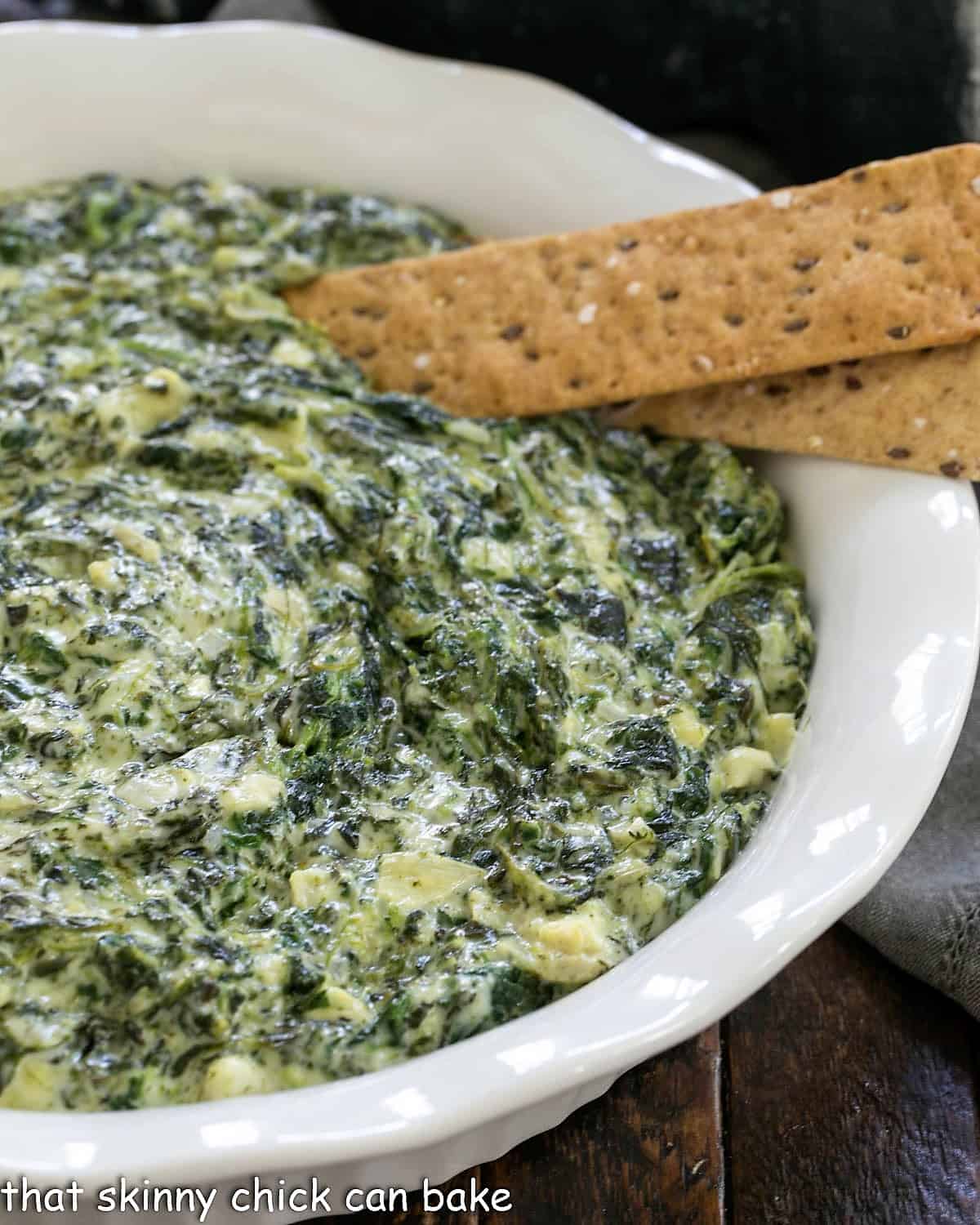 Why You Must Make
This is a gourmet twist on the first spinach artichoke dish I tried back in the 80s!
That one was novel and delicious, but this one has loads more flavor and is irresistible.
It's a restaurant copycat recipe from Houston's, which I had not heard of until I read the recipe. Knowing someone went to the trouble to crack the code of a restaurant appetizer also means that it's got to be darned tasty!
I remember the first time I tasted a spinach artichoke dip. It was after a shift at work and I was hanging out with a bunch of nurses. One had us take a bite of her dip and guess the secret ingredient (this always makes me nervous ever since a friend tried to coerce me into trying chocolate-covered ants, with the same approach!). The mystery ingredient was artichoke hearts, not so common back then! I loved the stuff with my first bite.
How to Make  
If I'd ever heard of or been to Houston's, I could give you a comparison of this to that. But, nope, you'll just have to trust that it's a darn good warm spinach dip.
Cook the spinach, artichokes, and onion in the microwave.
Make the cheesy cream sauce on the stovetop.
Mix the two components together and place in a heat safe casserole dish. Serve hot.
I made it ahead of time and gently reheated the dish in the microwave before heading to a party. When the hostess asked who made the spinach dip, I knew it wasn't just me that loved it. Bill and I took the teeny bit of leftovers home and I added a few spoonfuls to my Sunday omelet and the hubby ate his on crackers. We weren't going to let one morsel go to waste. It's just that fabulous.
And if you're looking for a meatier appetizer, this Buffalo Chicken Dip is very popular, too! Check out this Fiesta Corn Dip, these Antipasto Skewers, and these Mini Spinach Souffles for other party fare.
Frequently Asked Questions
What to Eat with Spinach Dip?
Tortilla scoops and chips, crackers, toasts, and/or sturdy vegetables like carrot sticks, celery sticks, bell pepper slices, and cucumber rounds all work well with this dip.
What's in Spinach Artichoke Dip?
There are loads of recipes. Some have mayonnaise, cream cheese, or sour cream. Many use frozen chopped spinach, but others use fresh spinach. Both unmarinated and marinated artichoke hearts are used. The first recipe I ever made only used Parmesan cheese, but now you can find recipes with all sorts of melty cheeses utilized.
Can You Make Spinach Artichoke Dip Ahead of Time?
Yes, you can make it ahead of time, cover and store it in the refrigerator. Bake it right before your guests arrive. You can also make, bake, then microwave gently to reheat for your company.
How Long Can You Keep the Leftovers?
It's safe to keep leftover spinach dip for up to 4 days as long as it wasn't left out at room temperature for longer than 2 hours.
What Can You Make with Leftover Spinach Dip?
I've used it to fill an omelet, but there are loads of other ideas for the leftover dip. Add to a quiche or frittata. How about in a sandwich, quesadilla or grilled cheese. Add to pasta along with chicken strips and Alfredo sauce or use to stuff chicken breasts.
You May Also Like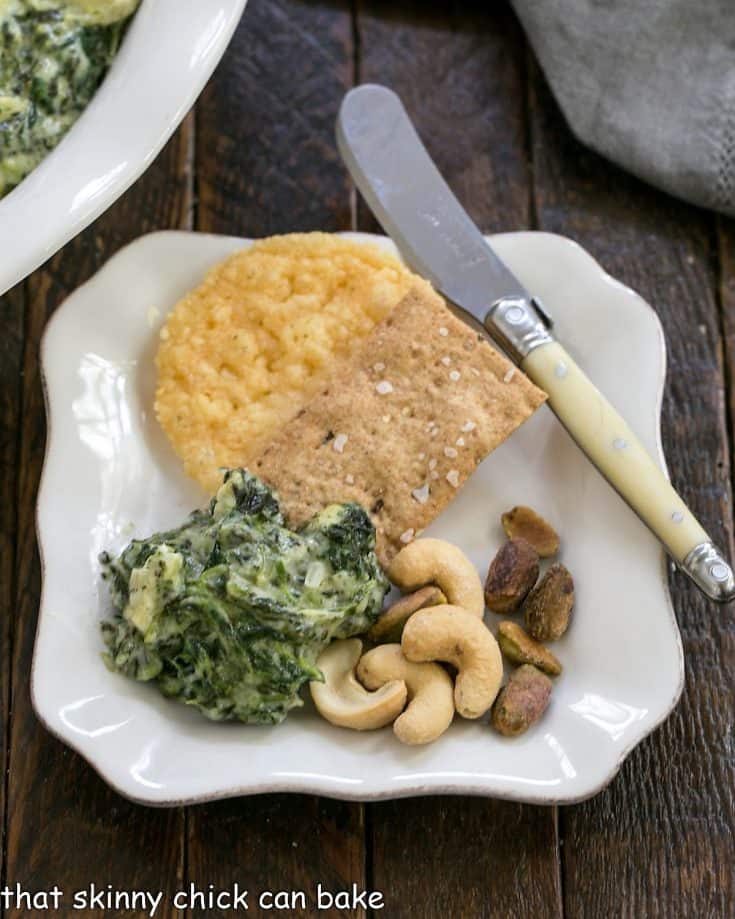 The Recipe:
Warm Cheesy Spinach Dip
Prep Time 15 minutes
Cook Time 25 minutes
Total Time 40 minutes
Yield 12 servings
The best ever cheesy, spinach and artichoke dip! Adapted from Top Secret Recipes.
Ingredients
2 10-ounce boxes frozen, chopped spinach, thawed, and squeezed dry
1 cup chopped canned artichoke hearts, chopped (not marinated)
2 tablespoons minced white onion
1/2 cup heavy cream
1/2 cup sour cream
2 1/2 cups shredded Monterey jack cheese
1/2 cup shredded mozzarella cheese
2/3 cup grated Parmesan
1/2 teaspoon garlic salt
Instructions
Mix together the spinach, chopped artichoke hearts, and onion in a microwave-safe bowl.
Cover bowl loosely with plastic wrap so that steam can escape. Microwave on high for 4 minutes. Remove and set aside.
Combine cream, sour cream, cheeses, and garlic salt in a saucepan and simmer until the mixture thickens, about 10 minutes.
Add the spinach mixture to the sauce and mix to combine. Simmer for another 10 minutes or till the mixture is a good dip consistency.
Place in a serving dish and serve with tortilla chips, crackers, or vegetables.
Recommended Products
As an Amazon Associate and member of other affiliate programs, I earn from qualifying purchases.
Nutrition Information:
Yield:
12
Serving Size:
1
Amount Per Serving:
Calories: 194
Total Fat: 15g
Saturated Fat: 9g
Trans Fat: 0g
Unsaturated Fat: 5g
Cholesterol: 45mg
Sodium: 413mg
Carbohydrates: 6g
Fiber: 2g
Sugar: 1g
Protein: 11g
Note: This post may contain affiliate links; view
my Disclosure Policy
for details. I earn a small percentage from any purchase you make by clicking on these links at no extra cost to you.