Chewy Butterscotch Cookies
These soft, caramelly Chewy Butterscotch Cookies grace the goodie boxes I divvy out to my friends and neighbors for Christmas. You'll go crazy for these crackled cookies with minimal ingredients! They're a family favorite.
Super easy to make, these cookies appeal to all who try them! Butterscotch is the perfect flavor for those who don't like chocolate (gasp!), nuts, mint, and on and on. Roll the sweet, buttery dough balls in sugar and bake. So simple and addictive! This Easy Sugar Cookie Recipe has a delicious depth of flavor from brown sugar!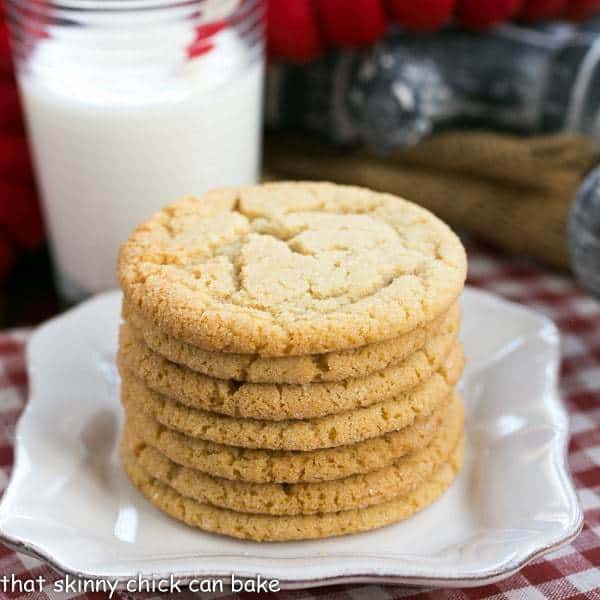 Why You Must Make
These are melt-in-your-mouth cookies with caramel undertones!
Almost everyone loves sugar cookies!
They're perfect for lunch boxes, after-school snacks, and even Christmas cookies. I make these every year for the holidays!
On occasion, my father-in-law would purchase chewy butterscotch cookies at their farmers' market. Chatting up the baker of these gems, he was finally able to obtain the recipe.
We shared the love of so many foods like apple desserts, smoked fish, nuts, and caramel desserts. Though I'm told he was extremely picky and would only eat about two vegetables when he married my mother-in-law, I'm not sure if he or his son, my hubby, had a more persnickety palate. They did both agree that these Brown Sugar Cookies were phenomenal.
How to Make
The butter and brown sugar provide the "butterscotch" flavor. Not the artificial taste from those butterscotch chips, but more like caramel undertones.
Have your butter and egg at room temperature for easy incorporation.
PRO-Tip: Adding a bit of cream of tartar allows for a lovely crackled appearance. Cream of tartar is a white powder that provides a touch of acid to the batter. I also use it in my meringue cookies to stabilize the egg whites.
Use butter, not margarine for the best butterscotch flavor.
Brown sugar is just sugar with molasses added. Feel free to use dark brown sugar for an even richer flavored cookie, but note that the resulting cookies will be darker in color.
PRO-Tip: Using brown sugar provides extra moisture in the dough, thus making for chewy cookies. These Brown Sugar Butterscotch Cookies are rich in flavor and chewy in texture!
Roll the dough balls in sugar before baking provides a sweet, crisp bite as you take your first nibble.
The recipe is simple and straightforward, with forming dough balls and rolling them in sugar taking the most time.
These cookies store well at room temperature in an airtight container for about 3-4 days. They'll also freeze well for about 3 months.
This butterscotch cookie recipe is perfect for any occasion. They're part of the holiday treats I give to my neighbors, but they're ideal for welcoming new neighbors, a family dealing with a new baby or death in the family, a holiday cookie exchange, afternoon tea, or an after-school snack!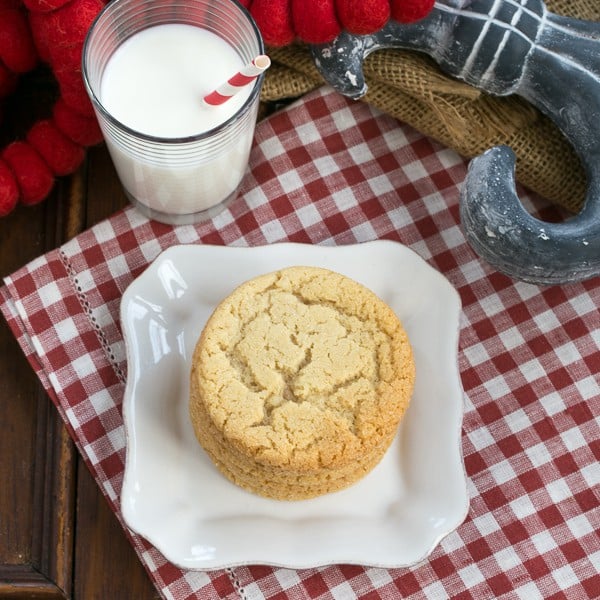 Expert Tips
PRO-Tip: Use a Medium Cookie Scoop (affiliate link);to get even sized cookies..
My dough balls are approximately the size of a walnut and this results in rather large cookies. Not like anyone around here would complain!
If you'd prefer to have smaller cookies, use a   Small Cookie Scoop (affiliate link) and reduce the baking time. There is no need to flatten these dough balls before baking.
After scooping out the dough, roll the dough ball between your palms to make them nice and round.
When your cookies come out of the oven, you have a chance to fix any imperfections. If there's a cookie or two that's not perfectly round, just use your spatula to tap the edges into shape. Be careful as this must be done when the cookies are still hot,
Once the cookies cool for a couple of minutes, they won't be as pliable. Don't forget to grab your hot pad and make any alterations quickly and efficiently.
Bake your cookies on a quarter sheet pan lined with parchment paper for easy removal and easy cleanup. Your cookies will not stick to the pan!
PRO-Tip: Slightly underbake for chewy cookies!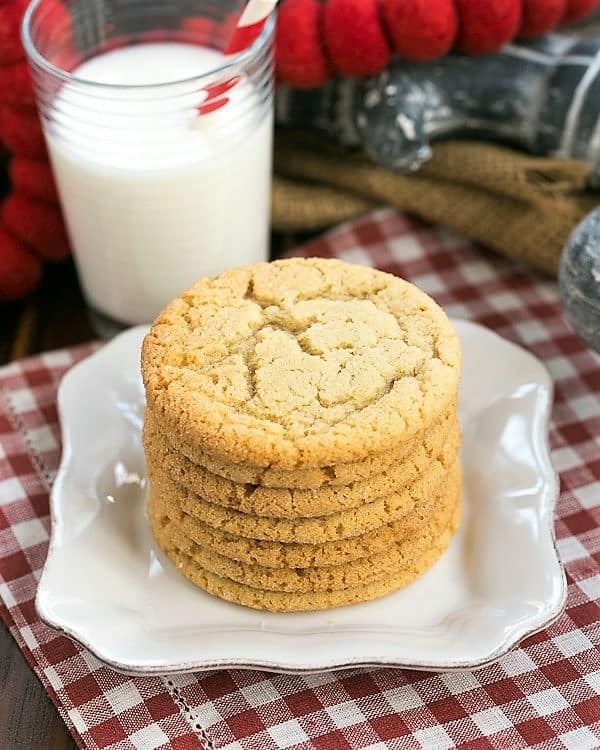 Frequently Asked Questions
What Is Butterscotch?
Butterscotch is a flavor that comes from the combination of brown sugar and butter. It is similar to caramel, but using brown sugar instead of white, granulated sugar. Toffee, on the other hand, is cooked to a hard crack candy stage and is hard, not chewy like butterscotch and caramels
Where Did Butterscotch Originate?
Butterscotch can be traced to Yorkshire, England, where it was first made by a candymaker, Samuel Parkinson, in about 1817.
Where Did Butterscotch Get Its Name?
"There is no consensus, as some historians surmise that the Butterscotch moniker is linked to the country of Scotland. Others think that scotch is short for scorch, after the original scorched butter that was used to make butterscotch candy.
You May Also Like:
Stay in touch through social media @ Instagram, Facebook, and Pinterest. Don't forget to tag me when you try one of my recipes! And if you love the results, please give it a 5-star rating in the recipe card. Note: As an Amazon Associate, I earn from qualifying purchases. Visit my Amazon Store for my favorite products.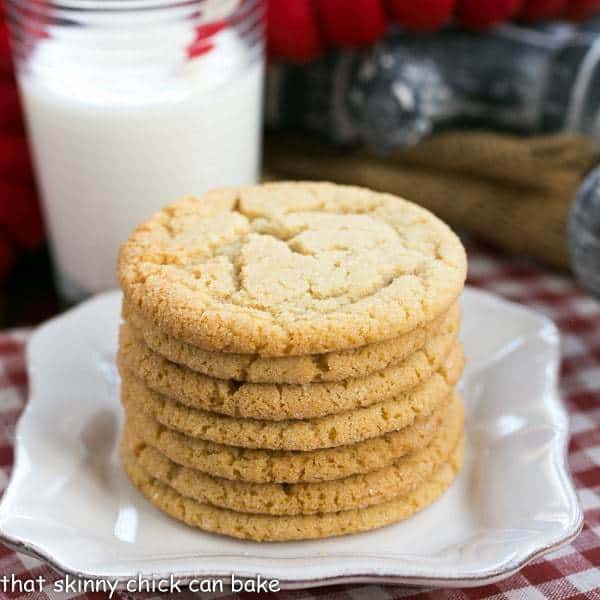 The Recipe:
Butterscotch Cookies Recipe
Prep Time 20 minutes
Cook Time 10 minutes
Total Time 30 minutes
Yield 36 cookies
These Butterscotch Cookies grace the goodie boxes I divvy out to my friends and neighbors for Christmas. Soft and caramelly, they're a family favorite.
Ingredients
1 cup sugar
1 cup brown sugar
1 cup butter (two sticks)
1 egg
2 teaspoons vanilla
2 ½ cups flour
2 teaspoons baking soda
¼ teaspoon salt
2 teaspoons cream of tartar
Sugar, to coat dough balls
Instructions
Preheat oven to 325º.
Cream butter and sugars. Mix in egg and vanilla. Add dry ingredients and mix till incorporated.
Roll out rounded teaspoons of dough, then roll in sugar.
Place on a parchment-lined baking sheet, about 2 inches apart.
Bake for 9-10 minutes (if you make slightly larger cookies, it may take up to 15 minutes). I like these slightly undercooked.
Recommended Products
As an Amazon Associate and member of other affiliate programs, I earn from qualifying purchases.
Nutrition Information:
Yield:
36
Serving Size:
1
Amount Per Serving:
Calories: 121
Total Fat: 5g
Saturated Fat: 3g
Trans Fat: 0g
Unsaturated Fat: 2g
Cholesterol: 19mg
Sodium: 129mg
Carbohydrates: 17g
Fiber: 0g
Sugar: 11g
Protein: 1g
Note: This post may contain affiliate links; view
my Disclosure Policy
for details. I earn a small percentage from any purchase you make by clicking on these links at no extra cost to you.