Easy Refrigerator Bread and Butter Pickles
These easy refrigerator Bread and Butter Pickles taste exactly like the ones my mom used to can. Except, these Refrigerator Pickles are no muss, no fuss!!!
If you're new to canning or don't have all the proper equipment for the full-fledged canning process, this simple recipe for homemade sweet pickles is the perfect place to start!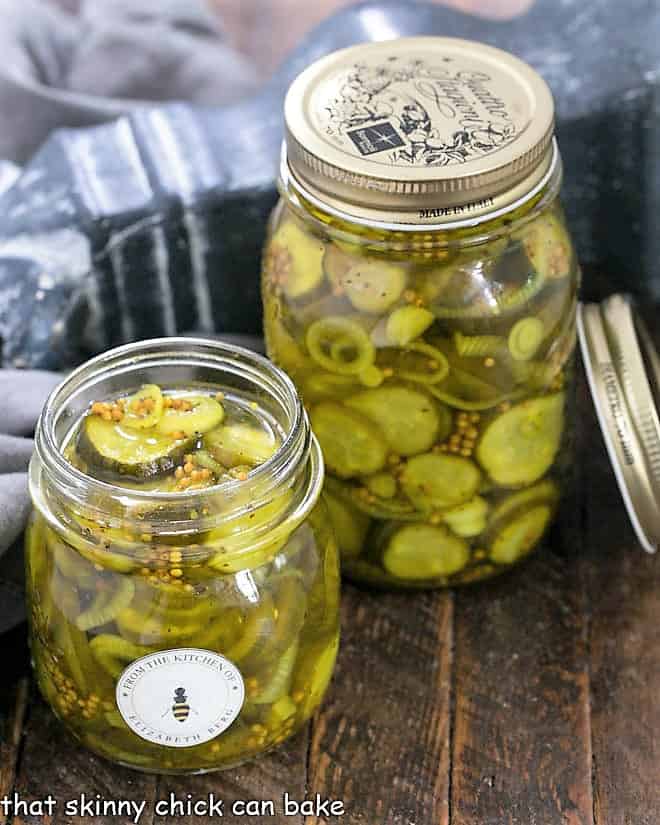 Reader Endorsement:
From Vermaast via Pinterest: I made 24 pints of these bread and butter Pickles and they came out great. They are delicious.
Why You Must Make
If you've never made pickles before, this is an easy recipe that doesn't require processing.
They're sweet and delicious!
Perfect for snacking or adding to a sandwich!
Expert Tips
If you're lazy like me and don't want to go through the full routine of actually canning pickles, these refrigerator pickles bread and butter pickles are perfect for you! The process will still take a few hours, but it's a very simple procedure. Happy preserving!
Buying and Prepping Your Cucumbers
Use the freshest, unblemished cucumbers you can find. Pickling cucumbers are smaller than the variety you may use in your salads, so look for those.
The Pickling Process
Before brining, wash your cucumbers without soap to remove any dirt or contaminants.
To make these pickles, slices of cucumber and onions were heavily salted and covered with ice. Over three hours, the ice began to melt and the vegetables were brined.
A double rinse is needed to remove excess salt and then, the cukes and onions were added to a hot pickling mixture of vinegar, sugar, and spices.
The ratio of vinegar and sugar can vary among recipes as well as the spices used. This recipe hits the mark of perfection for me! Feel free to tweak it to your taste buds. For example, these sweet pickles are pretty sweet, you may want to decrease the sugar, but I find these perfect!
Storing Your Refrigerator Pickles
These bread and butter pickles were packed in jars and cooled before screwing on the lids and refrigerating. Now isn't that simple?
Since this method did not involve sterilization, they should be eaten within a couple of weeks (some sources say they're good for 6-8 weeks).
If you grow pickle-sized cucumbers in your garden, make an extra batch and share these with your friends and neighbors!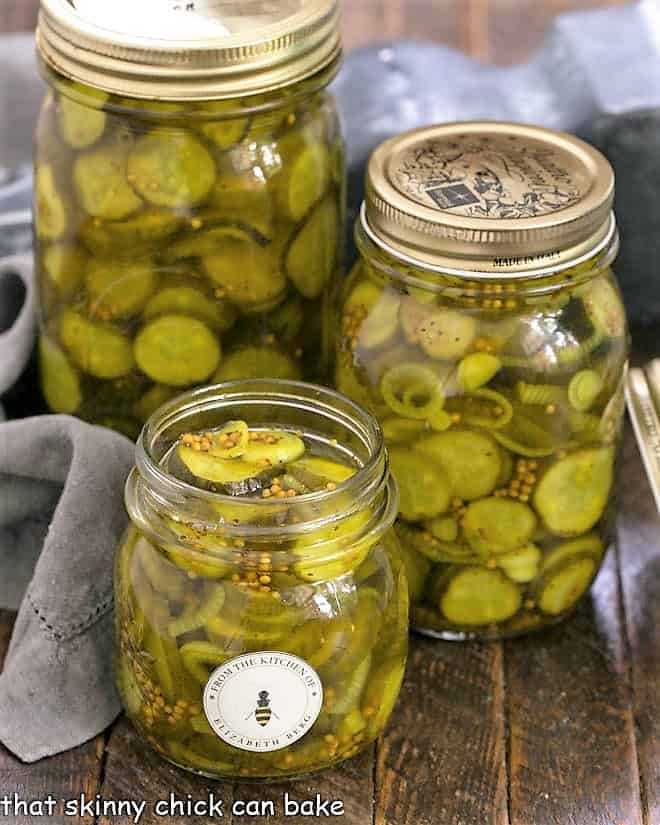 Frequently Asked Questions
What are Refrigerator Pickles?
Unlike true canned pickles that need to be processed in a water bath to make them shelf-safe, refrigerator pickles are actually heated at a higher temperature for a shorter amount of time. This does not hermetically seal them, so they must be stored in the refrigerator for a limited amount of time.
What Are Bread and Butter Pickles?
These refrigerator pickles are nothing more than a subclass of sweet pickles. The origin of their name may come from the Great Depression when they were possibly used as a sandwich filling when combined with bread and butter.
How Long Can You Store Refrigerator Pickles?
Refrigerator pickles will keep well for 3-4 weeks as long as they're stored in the refrigerator. Watch the brine and if it starts looking murky or if the pickles' texture starts to deteriorate, it's time to discard them.
You May Also Like:
Stay in touch through social media @ Instagram, Facebook, and Pinterest. Don't forget to tag me when you try one of my recipes! And if you love the results, please give it a 5-star rating in the recipe card. Note: As an Amazon Associate, I earn from qualifying purchases. Visit my Amazon Store for my favorite products.
Note: I purchased my canning labels from Felix Doolittle. Watch for sales around the holidays.
The Recipe:
Easy Bread and Butter Pickles
Prep Time 15 minutes
Cook Time 15 minutes
Total Time 30 minutes
Yield 1 1/2 quarts
Easy, refrigerator bread and butter pickles like my mom used to make!
Ingredients
2 pounds pickling cucumbers, sliced
8 pearl onions, sliced
¼ cup canning salt
2 cups sugar
2 cups white vinegar
1 tablespoon mustard seed
1 teaspoon celery seed
½ teaspoon ground turmeric
A pinch of ground cloves
Instructions
In a large container, combine the cucumbers, onions, and salt. Cover with crushed ice and mix well. Let stand for 3 hours. Drain; rinse and drain again.
In a large pot, combine the sugar, vinegar, mustard seed, celery seed, turmeric, and cloves and bring to a boil.
Add cucumber mixture, then return to a boil. Remove from the heat.
Carefully ladle the hot mixture into jars.
Let cool, then screw on lids and refrigerate for up to 2 weeks.
If you'd like to store them longer, refer to a canning manual or website for directions.
Notes
Since these aren't processed, they must be refrigerated and eaten within a few weeks.
Nutrition Information:
Yield:
24
Serving Size:
1
Amount Per Serving:
Calories: 73
Total Fat: 0g
Saturated Fat: 0g
Trans Fat: 0g
Unsaturated Fat: 0g
Cholesterol: 0mg
Sodium: 1180mg
Carbohydrates: 18g
Fiber: 0g
Sugar: 17g
Protein: 0g
Each summer, we'd pile into our unairconditioned station wagon and take the eight-hour trek up to visit our North Dakota relatives. There were no seat belts nor radio in that car, either. My dad was a frugal man! We'd kill time by picking out our favorite farmhouses and playing license plate games as we headed north on I-35. Once our trip corresponded with a total eclipse of the sun, so we drove across the Canada border for an awesome show by Mother Nature.
More typically, we'd create our own adventures with our cousins. We climbed into the barn lofts, visited the dogs and horses, ate homemade caramels and tacos, and helped make bread and butter pickles. My dad was more of a dill and garlic sort of guy, but, like my mom and her clan, I loved those sweet pickles flavored with mustard and celery seeds.
I'm certain my aunt, Angela, actually canned hers, but I took the easy route with these easy bread and butter pickles. At that age, I was much more interested in eating refrigerator pickles than paying attention to the process, but I'm delighted it was so easy to replicate the taste.
Note: This post may contain affiliate links; view
my Disclosure Policy
for details. I earn a small percentage from any purchase you make by clicking on these links at no extra cost to you.