One of my dearest friends found this recipe for Slow Cooked Beef Stew deep in the archives of my blog. Her family immediately dubbed it Lizzy Bourguignon. The ultimate compliment. I thought it was worth re-sharing for this week's Sunday Supper theme, One Pot Recipes.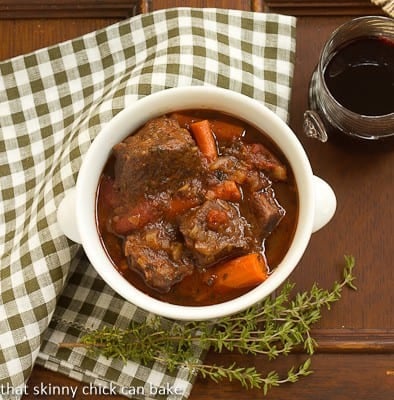 Slow Cooked Beef Stew
This slow cooked dish featuring big chunks of chuck, red wine, lots of shallots and garlic, bacon, carrots and tomatoes brings a French bistro aroma to your kitchen and a thrill to your palate. There's something so old-fashioned and comforting about beef stew. More elegant than your typical stew, you'll find a few extra ingredients that push it over the top— including Cognac and even a bit of orange zest. It will definitely impress your family and friends!
One Pot Recipes
This week's Sunday Supper theme is one-pot recipes. I think Bill, my designated dish washer, wishes I'd make one pot meals every day. His eyes glaze over every time he walks in the kitchen after an exhausting day at work. It typically looks like a tornado blew all the pots, pans and measuring utensils right out of the cupboards. But if he cooked, and I cleaned, we'd be going to bed hungry. Just ask my oldest about the "rice" incident…when his dad cooked dinner using little to no seasonings on anything. Tom gave up rice for years afterward. So make your dish washer happy and try out some of the scrumptious meal ideas below.
"Take the chill off" Chilis, Soups, and Starters
"Put meat on your bones" Stews
"Make room for seconds" Main Dishes
"Can't say no" Desserts
A big thanks to Amy, of Kimchi Mom, for hosting us this week!

Join us for a #SundaySupper chat on twitter each Sunday  at 7:00 pm ET.  Make sure to follow the #SundaySupper hashtag and to include it in your tweets. Check out our #SundaySupper Pinterest board for more fabulous recipes and food photos.
Are you interested in joining us for Sunday Suppers? You can sign up by clicking here → Sunday Supper Movement