French Visitandine Cake
French Visitandine Cake: A vanilla sponge cake topped with berries and cream as a delicious alternative to a biscuit shortcake.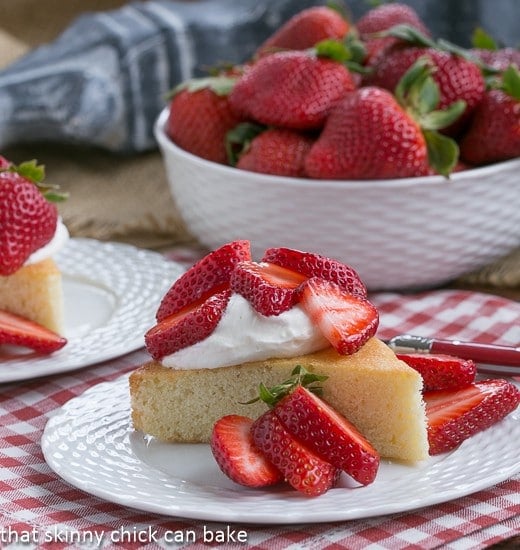 What is a French Visitadine Cake?
You're probably wondering what the heck a Visitandine is. So was I when I saw our first French Fridays with Dorie assignment for April. It turns out, though, that there was no need for trepidation.
A Visitandine is a simple, fine crumb sponge cake named for a Catholic religious order in France. Flavored with just butter and vanilla, Dorie served it layered with cream and berries like a strawberry shortcake. SOLD. And certainly, a strong probability that it will be hubby approved. They're very similar to a Financier, in fact, the name visitidine is now outdated, and the modern name for this cake has merged with financiers.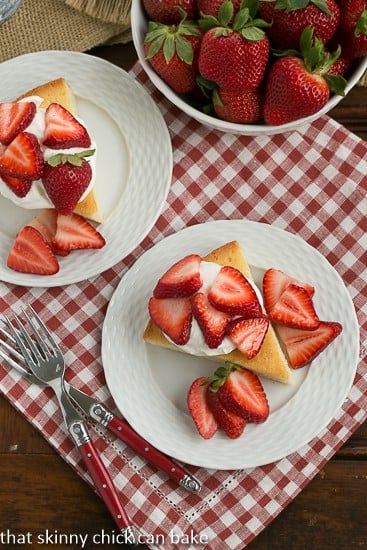 Simple Vanilla Cake
I was taking dinner to a friend and her husband and they didn't want anything too rich. I elected to add a couple of slices of this vanilla gâteau to their meal, along with sliced macerated berries and their juices. At home, I'd offer the option of adding slightly sweetened whipped cream for a more decadent version of this lovely vanilla cake.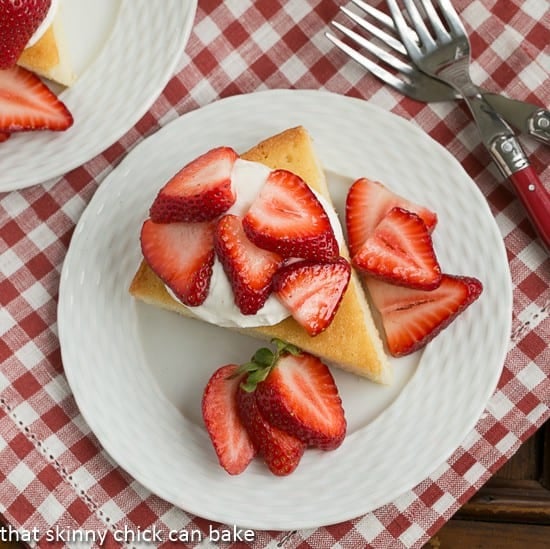 Tips for Making Visitandine
If entertaining, I'd go for an even more gluttonous version by topping each slice with white chocolate whipped cream along with the sliced strawberries. Since there were only a handful of ingredients in this recipe, I made sure to use the best quality ingredients I could locate. Purchase some European butter if your market carries it, and a premium vanilla extract, never imitation. You may also want to brown the butter for a nutty undertone.
Bill went on and on about the magnificence of this dessert. Gushed even. Darned good, terrific, tasty and fabulous were all uttered enthusiastically. He even had the gall to say these were better than the biscuit version of strawberry shortcake I've been making for decades! This cake is a winner. Whether served with just a sprinkling of powdered sugar or as a dolled up strawberry shortcake.
More Strawberry Desserts You'll Love
When strawberries are ripe and fragrant, you'll enjoy this Strawberry Cream Pie. Strawberry Souffles and this Strawberry Filled Meringue Roulade as well! Check out more Cake Recipes to assuage your sweet tooth!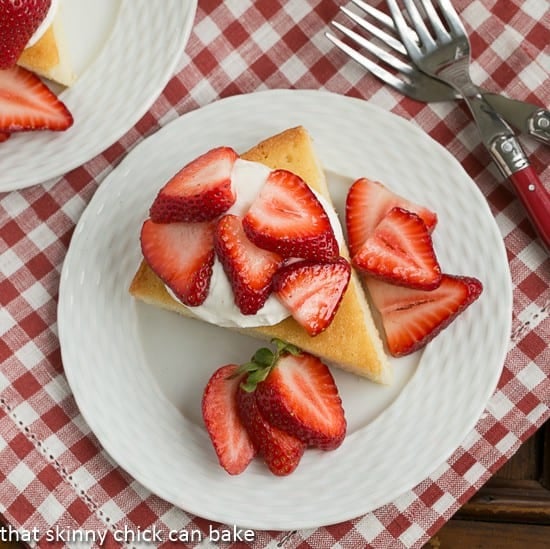 Prep Time 15 minutes
Cook Time 38 minutes
Total Time 53 minutes
Yield 8 servings
A simple French vanilla cake with a fine crumb.
Ingredients
4 large egg whites, at room temperature
3/4 cup flour
2/3 cup sugar
pinch of salt
7 tablespoons butter, melted and slightly cooled
1 teaspoon vanilla
Instructions
Preheat the oven to 350 degrees.
Butter a 10-inch cake pan and line it with a circle of parchment paper, then butter the parchment.
Using a stand mixer fitted with the whisk attachment or in a large bowl with a hand mixer, whip the egg whites until they hold firm peaks but are still glossy.
In another bowl, whisk together the flour, sugar, and salt. Pour in the melted butter, followed by the vanilla, then whisk until all ingredients are combined.
Using a whisk, move half the egg whites into the batter, then whisk them in gently. Using the whisk, fold in the remaining egg whites.
Pour the batter into the prepared pan and smooth the top.
Bake the cake for 33 to 38 minutes, until lightly browned and starting to pull away from the sides of the pan.
Once out of the oven, run a knife or metal spatula around the inside of the pan, then let the cake cool on a rack for about 3 minutes.
Invert the cake onto the rack, remove the parchment, and allow the cake to cool to room temperature.
Serve with sliced berries and whipped cream if desired
Notes
Note that if you use a pan that is larger than 10-inches, the cake will require less cooking time.
Nutrition Information:
Yield:
8
Serving Size:
1 slice
Amount Per Serving:
Calories: 207
Total Fat: 10g
Saturated Fat: 6g
Trans Fat: 0g
Unsaturated Fat: 3g
Cholesterol: 27mg
Sodium: 124mg
Carbohydrates: 26g
Fiber: 0g
Sugar: 17g
Protein: 3g
The recipe can be viewed
here
or on page 436 in Around My French Table by Dorie Greenspan.
Note: This post may contain affiliate links; view
my Disclosure Policy
for details. I earn a small percentage from any purchase you make by clicking on these links at no extra cost to you.