Avocado Tuna Tartare
Avocado Tuna Tartare makes a spectacular, easy, out-of-the-ordinary appetizer! So tasty with tuna, cucumber, avocado, and an Asian dressing!
This Ahi Tuna Tartare is a super easy appetizer that doesn't require cooking, just some dicing, and whisking. It's an elegant dish you can add to your repertoire of recipes for entertaining.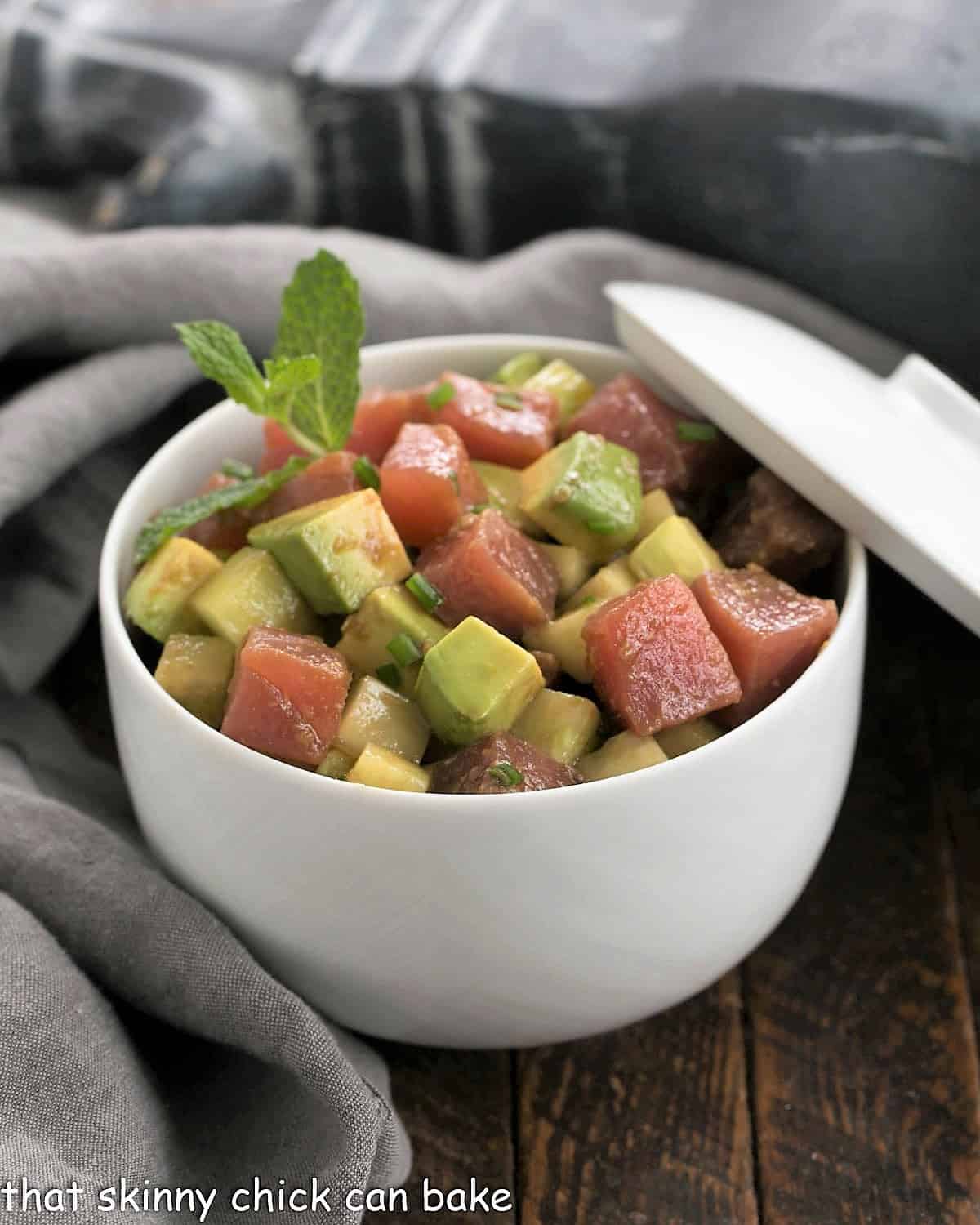 Why You Must Make
If you've loved eating tuna tartare at high-end restaurants, you can now make it at home, for a fraction of the cost!
It's a wonderful starter when you have company for dinner.
Tuna tartare is low in carbs, full of healthy fats, and protein, and delicious!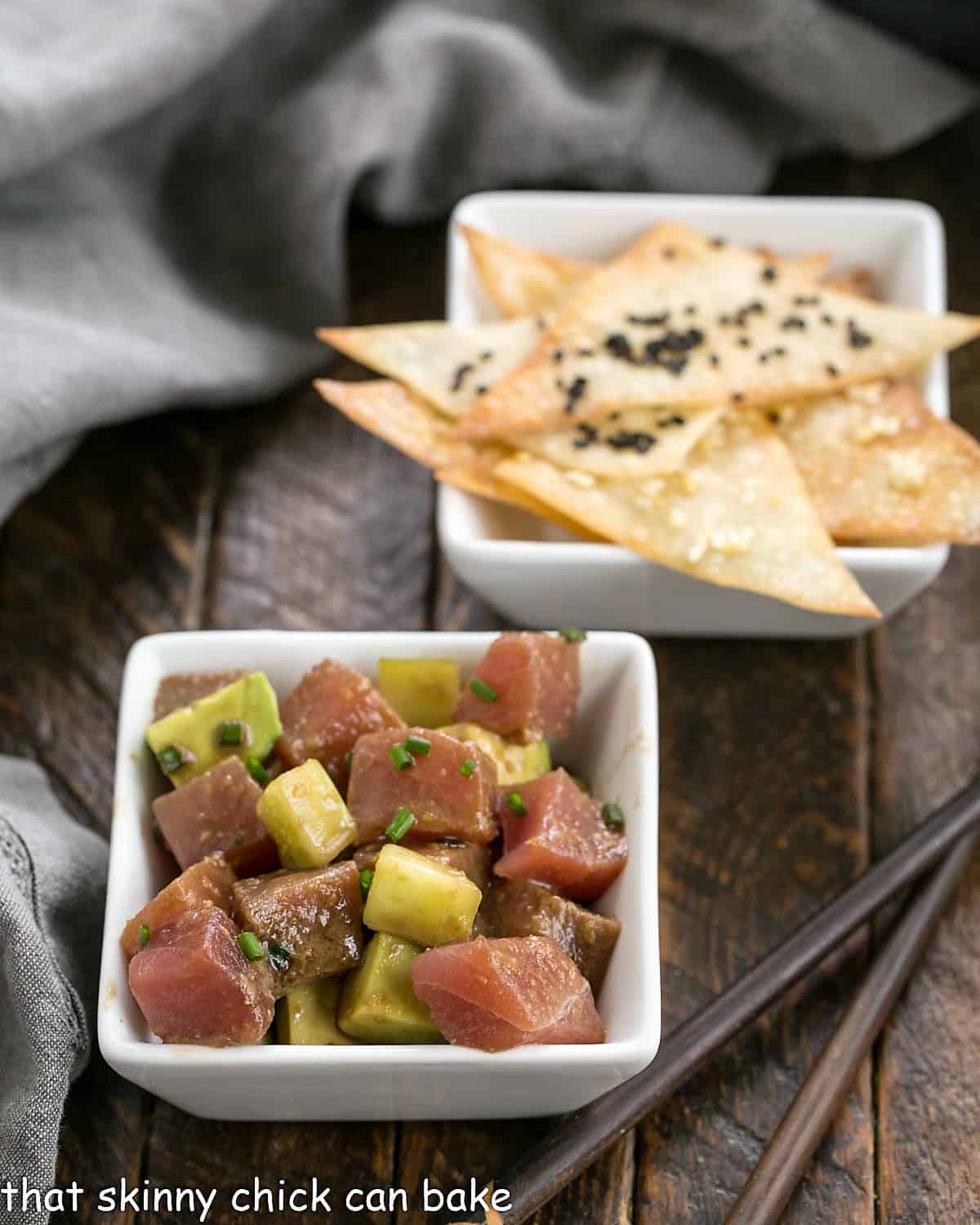 How to Make
Make wonton chips if desired by brushing triangles of Egg Roll Wrappers with oil and sprinkling with sesame seeds, and baking. Note that the sesame seeds don't adhere very well!
Dice the tuna, avocado, and cucumber.
Whisk together the dressing.
Pour the dressing over the diced ingredients plus the chopped chives, and gently toss them together.
Serve with wonton crisps. May sprinkle with more chives and sesame seeds if desired.
Keep refrigerated until ready to serve.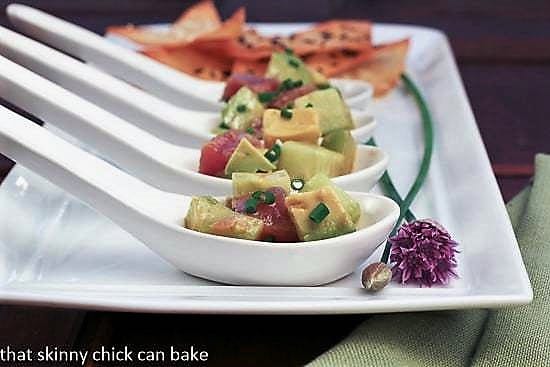 Photo circa 2012
Expert Tips
I first had tuna tartare years ago at Todd English's Olives in Aspen, Colorado. We were on a family vacation and my parents were babysitting while Bill and I had a rare night out on the town. I remember nothing of the dinner except my appetizer, with which I fell madly and utterly in love. So when I recalled a tuna tartare recipe that called for both sesame oil and sesame seeds, I had my excuse to whip up a dish that would be mine, all mine. I savored every bite.
If you make this for company, don't prepare it too far in advance. The soy in the dressing will mute the colors of the individual components. But do allow some time for the sauce to flavor all the ingredients, about an hour in the refrigerator will do.
Cut all the components into similar-sized cubes. This will make it easier to eat.
Make sure you purchase your tuna from a reputable fishmonger. Since you will not be cooking your fish, very fresh sushi-grade ahi tuna is imperative.
Make sure to keep your tuna tartare well chilled until you serve it.
Frequently Asked Questions
What is Sushi-Grade Ahi Tuna?
Sushi Grade is a label given by wholesalers or sellers to indicate the highest quality of seafood. It's for seafood that they feel is safe to be eaten raw.
But unlike beef, there is no governing body, like the USDA, to grade fish. So make sure to buy your seafood from a source with a pristine reputation.
Why is it Called Tuna Tartare?
Tartare refers to seasoned raw ground meat or seafood often shaped into cakes. French-trained Chef Tachibe invented this dish in 1984 and added "tartare" to honor his culinary background.
Is it Safe to Eat Raw Tuna?
It is generally safe to eat when bought from a reputable source and the tuna has been frozen, which eliminates parasites. It's not recommended to serve raw seafood to the very young, elderly, or immune-compromised.
What is Wasabi?
Wasabi or Wasabe is the Japanese version of horseradish. The green condiment is described as "sharp, pungent, and fiery in flavor," according to The Food Lover's Companion. It's available in a paste or powder and comes from an Asian root.
You May Also Like:
If you like ahi tuna, check out my Ahi Tuna Nicoise for a wonderful lunch or dinner!
The Recipe:
Tuna Avocado Tartare
Prep Time 10 minutes
Cook Time 9 minutes
Total Time 19 minutes
Yield 6 servings
An Asian inspired appetizer with avocados, cucumbers, Ahi tuna and chives!
Ingredients
12 wonton wrappers, cut in half on the diagonal
Olive oil
Sesame seeds
2 tablespoons soy sauce
1 tablespoon unseasoned rice vinegar
1 tablespoon fresh lemon juice
1 ½ teaspoons wasabi paste
¾ teaspoon toasted sesame oil
8 ounces sushi grade ahi tuna, cut into ⅓ inch cubes
1 avocado, cut into ⅓ inch cubes
1 cup cubed English cucumber (peeled and cut into ⅓ inch cubes)
Chopped fresh chives
Instructions
Preheat oven to 350º. Line a baking sheet with parchment and arrange wonton triangles on the pan. Brush with olive oil if desired.
Bake till golden, about 9 minutes. Cool.
Whisk together the soy, vinegar, lemon juice, wasabi, and sesame oil.
Add tuna, avocado, cucumber, and fresh chives to taste. Stir gently to combine.
Serve with wonton crisps. May sprinkle with more chives and sesame seeds if desired.
Notes
Do not mix with the dressing too early if making for company as the tuna will darken from the soy sauce. But it actually tastes better the next day---so if you're not picky about the appearance, go ahead and make it ahead of time.
Adapted from Bon Appetit
Recommended Products
As an Amazon Associate and member of other affiliate programs, I earn from qualifying purchases.
Nutrition Information:
Yield:
6
Serving Size:
1
Amount Per Serving:
Calories: 244
Total Fat: 14g
Saturated Fat: 2g
Trans Fat: 0g
Unsaturated Fat: 11g
Cholesterol: 11mg
Sodium: 546mg
Carbohydrates: 22g
Fiber: 4g
Sugar: 2g
Protein: 9g
Note: This post may contain affiliate links; view
my Disclosure Policy
for details. I earn a small percentage from any purchase you make by clicking on these links at no extra cost to you.