Heath Bar Blondies
This Heath Bar Blondies recipe is absolutely delicious! With semisweet chocolate discs, toffee chunks, and brown butter, this Blondies Recipe was a home run!
I adore toffee and anytime can add it to a dessert, I consider it a victory. Plus, these were enhanced by nutty brown butter. These toffee-laden Chocolate Chip Blondies are perfect for toffee fans, blondies fans, and chocolate chip cookie fans.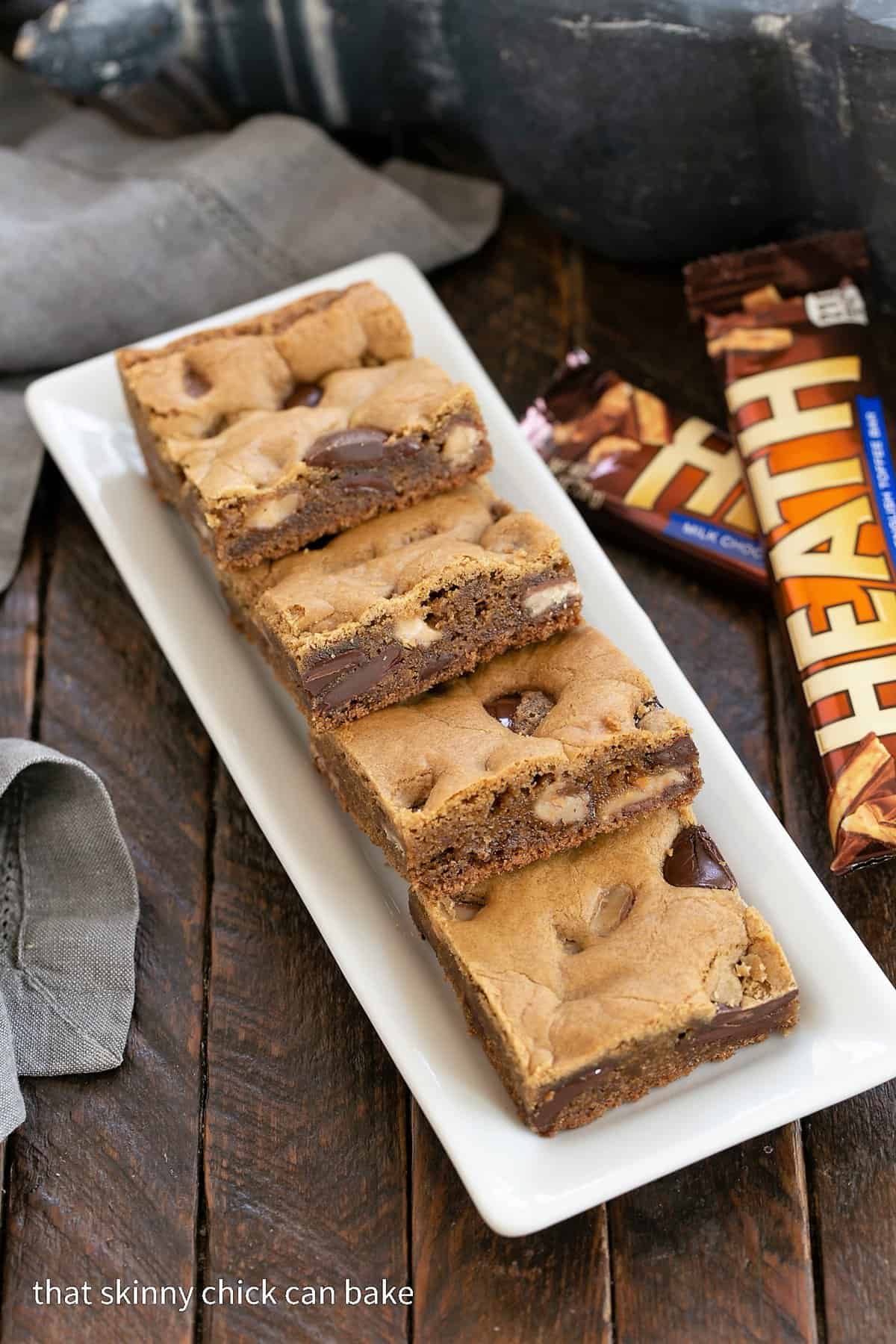 Why You Must Make
These cookie bars are full of toffee chunks and semi-sweet chocolate disks! The pièce de résistance was the big chunks of Heath bars; those bagged toffee bits just don't do the trick.
They are made with brown butter which adds richness and a fabulous nutty undertone.
They're chewy and super tasty!! 
Bars are so much easier to make than individual cookies.
Reader Endorsement:
From Greg: Kate of Food Babbles linked this recipe in a recent tweet, and I was immediately attracted to it because of the toffee/chocolate combo and the use of browned butter in the batter. I just got back into my own kitchen from a road trip and made these blondies instantly. They're outrageously good. Great balance of textures and flavors. Next time I'm doubling the recipe and baking it in a 9 x 13 pan. Brava skinny chick!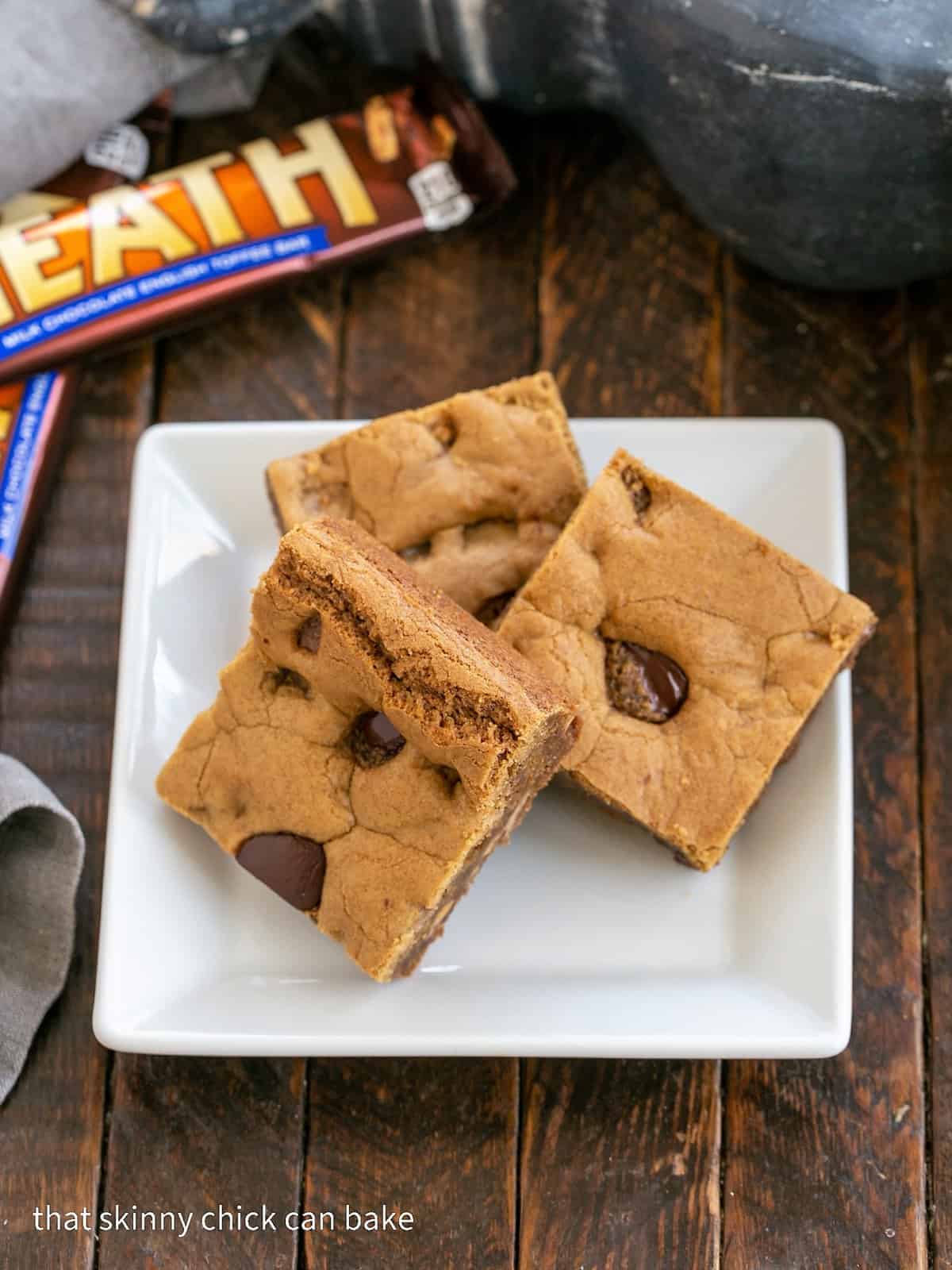 Expert Tips
Have all your ingredients at room temperature for the best incorporation. Set your eggs and butter on the counter for an hour or two before you start making the dough. Note that the butter is melted in this recipe, so it doesn't need to be at room temperature.
Always use real butter and real vanilla extract, not imitation.
Some blondie recipes add an extra egg yolk since the addition of more fat helps make moist and chewy brownies.
Other recipes add cornstarch. This may take the place of some of the flour without adding gluten, making a softer texture.
Use brown (or even dark brown) sugar in your recipe. The molasses in brown sugar adds additional moisture.
PRO-Tip: If you don't have dark brown sugar on hand, you can make your own by adding a tablespoon of molasses to a cup of brown sugar and mix until it's incorporated.
Do not overmix when you stir in the flour. Too much mixing will over-activate the gluten, which can toughen the blondies.
Do not overbake.
Toffee Blondies Verdict
These Heath Bar Blondies were spectacular. The interiors were soft and chewy which contrasted perfectly with the crispy edges. And there was also that bit of crunchy toffee and creamy chocolate in every bite. The hubby is not into anything with toffee, so he totally ignored these decadent bar cookies.
I tucked some toffee-laden cookie bars in the freezer to send to Nick in the dorms (and so that I wouldn't be tempted to shovel them ALL into my mouth) and then took samples to my knitting friends. I loved seeing the big smiles when I mentioned toffee. Then I smiled right back when seconds of these Heath Bar Blondies were taken.
Frequently Asked Questions
What are Blondies?
Blondies or Blonde Brownies are bar cookies made without cocoa or melted chocolate in the batter. Typically flavored with vanilla along with the marvelous taste of real butter, they can also have nuts, chocolate chips, dried fruit, candies, etc. as add-ins.
What is the Difference Between Brownies and Blondies?
Brownies have chocolate in the batter and therefore are dark brown in color. They often have more eggs and less flour than blondies, adding to their fudginess. Blondies, as mentioned above, are usually flavored with vanilla extract.
How Do You Make Brown Butter?
Brown butter, or beurre noisette, is butter cooked over medium heat to a light hazelnut color. Noisette means hazelnut in French.
First, melt the butter over medium heat. Watch as it bubbles and foams, swirling occasionally.
It will also turn cloudy, then clear. The milk solids will start to darken and the butter will turn golden brown.
Once a nutty aroma is detected and the butter is the color of hazelnuts, remove from heat.
Strain to remove the milk solids if desired.
What Does Brown Butter Taste Like?
Delicious!!! Its flavor comes from the Maillard reaction, the same reaction that makes seared meat so irresistible. This reaction breaks the animal proteins in the butter into hundreds of flavor compounds, according to tastecooking.com. The resulting flavor is sweet, savory, caramelly, and a little nutty.
You May Also Like:
Stay in touch through social media @ Instagram, Facebook, and Pinterest. Don't forget to tag me when you try one of my recipes! And if you love the results, please give it a 5-star rating in the recipe card. Note: As an Amazon Associate, I earn from qualifying purchases. Visit my Amazon Store for my favorite products.
The Recipe:
Blondies with Heath Bar Chunks Recipe
Prep Time 20 minutes
Cook Time 25 minutes
Total Time 45 minutes
Yield 16 servings
Chewy cookie bars chock full of Heath Bar chunks!
Ingredients
1/2 cup butter
1 cup dark brown sugar
1 egg
1 teaspoon vanilla
1 cup flour
1/4 teaspoon salt
1/2 teaspoon baking soda
1/2 cup Heath bar chunks (2 1.4-ounce bars cut into chunks)
1/2 cup semi-sweet chocolate chunks or discs
Instructions
Preheat the oven to 350º. Line 8 x 8-inch pan with non-stick foil or regular foil sprayed with nonstick cooking spray. Set aside.
Melt butter in a saucepan over medium heat and continue cooking, swirling the pan occasionally, till it just turns brown and smells nutty. You do not want it to burn, so watch carefully.
Combine brown butter and brown sugar. Beat for a couple of minutes till well combined, then add egg and beat till the batter becomes smooth. Mix in vanilla.
Mix in flour, salt, and baking soda till just combined.
Fold in Heath bar and chocolate chunks or disks.
Spread into the prepared pan and smooth the top with an offset spatula. Bake for 20-25 minutes or till the edges start to pull away from the sides of the pan.
Cool, then cut into bars to serve.
Notes
Have egg at room temperature for the best incorporation.
Once you add the flour, do not overmix.
Recommended Products
As an Amazon Associate and member of other affiliate programs, I earn from qualifying purchases.
Nutrition Information:
Yield:
16
Serving Size:
1 bar
Amount Per Serving:
Calories: 134
Total Fat: 4g
Saturated Fat: 2g
Trans Fat: 0g
Unsaturated Fat: 1g
Cholesterol: 15mg
Sodium: 99mg
Carbohydrates: 24g
Fiber: 1g
Sugar: 18g
Protein: 2g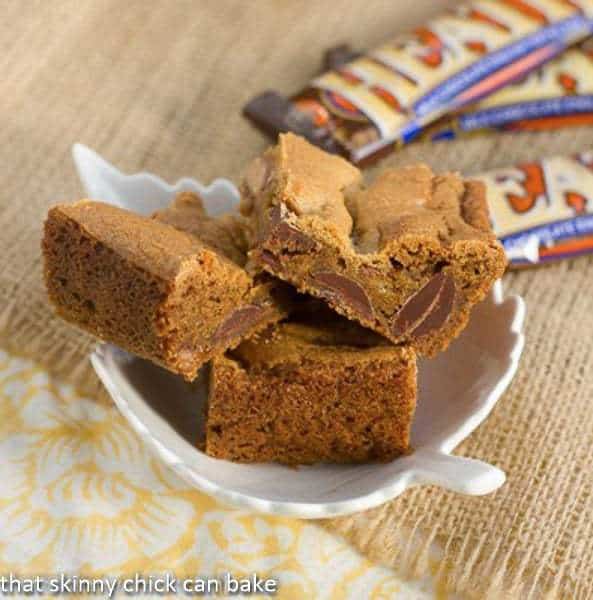 The Homers lived around the corner from us…and Mary was my best friend. Mr. Homer's contribution to the goodie tray their family delivered to neighbors at Christmas time was toffee. I left all the fudge and divinity for my sisters but claimed every bit of Homer toffee, a perk of being the bossy older sibling. And just so I can continue this once-a-year indulgence, I make 3 batches of English toffee to give to my friends and neighbors. I like to get it out of the house as fast as I can before I eat more than a couple of shards. I do keep a supply of Heath bars in the pantry. Though not to eat straight up as you might think, to use in cookies.
Since a month had gone by since my last bite of toffee, I had to do something with my stash. I decided to take the simple route and make these Heath Bar Blondies. Once again, I turned to brown butter to up the caramel undertones of the base, plus I added a healthy dose of dark brown sugar for another boost of flavor. Heath bar chunks and chocolate disks pushed these over the top!
Note: This post may contain affiliate links; view
my Disclosure Policy
for details. I earn a small percentage from any purchase you make by clicking on these links at no extra cost to you.