Spicy Pork Quesadillas
A quick, easy, packed-full-of-flavor entree like these Spicy Pork Quesadillas, is certain to thrill the whole family. You won't even break a sweat getting dinner on the table.
Once you learn How to Make Quesadillas, they'll be on your menu frequently. They can be served for any meal of the day, and often made with leftover ingredients in your refrigerator!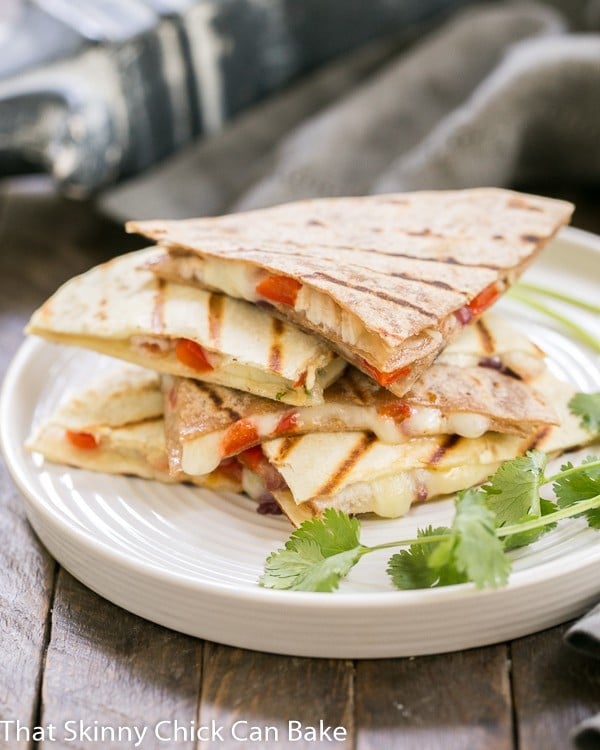 Why You Must Make
We are huge pork fans at our house, but I'd yet to make a quesadilla featuring pork. Quesadillas are such an easy meal, and always a hit.
Pile on your favorite Tex-Mex ingredients like pickled jalapenos, Monterrey Jack cheese, sautéed onions, and bell peppers, fresh cilantro as well as sliced or shredded leftover pork.
Cook on a grill pan and your spicy pork quesadillas dinner is ready in a matter of minutes!
They're easy to customize with ingredients already in your refrigerator. Swap out the cheese or meat with what you have on hand.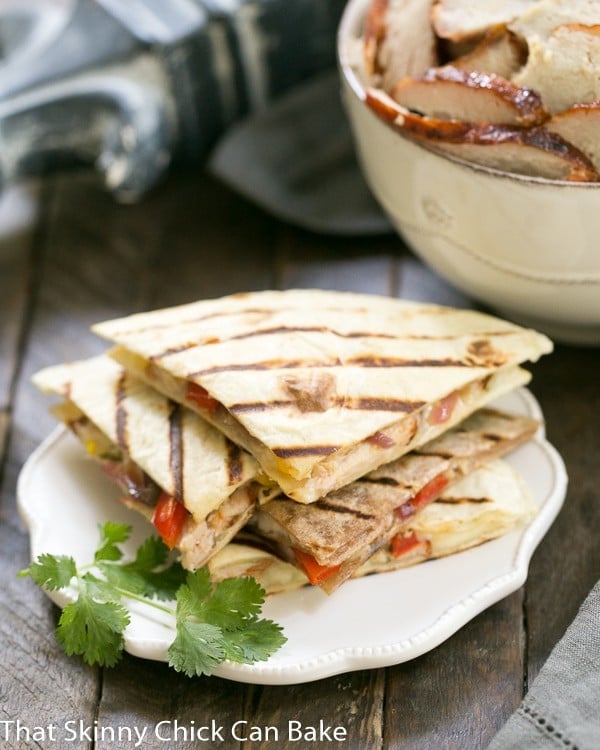 How to Make Quesadillas
Prep your filling ingredients.
Add a touch of oil or butter to your skillet and heat the pan.
Place a tortilla in the skillet.
Add your filling ingredients to the tortilla. The amount will vary depending on whether you fold the single tortilla in half or top with a second tortilla. Use less if planning to fold.
When the cheese starts to melt, either fold your tortilla in half or add another tortilla to the top and flip.
Continue cooking until the quesadilla is lightly browned and the filling is hot.
Cut into wedges and serve.
Repeat after wiping the pan as needed.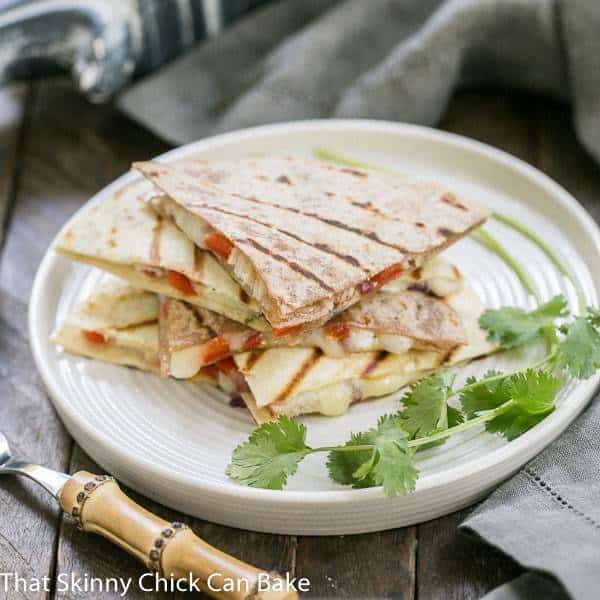 Expert Tips
Quesadillas are easily adaptable. As long as you have tortillas and cheese, you can invent your own depending upon what is in your kitchen.
Besides dinner, quesadilla wedges are great for snacks and appetizers.
They're also wonderful on game day when the family is parked in front of the TV.
Use your favorite tortillas. Flour tortillas are the most pliable, but corn and whole wheat will work, too.
Don't overfill or the fillings may fall out when flipping.
Make sure you don't scrimp on the cheese as it's the glue that keeps the quesadillas together.
Cook over medium heat. If the heat is too high, the exterior will burn before the cheese melts.
Lightly grease the cooking surface. That will encourage browning.
Tex Mex recipes make some of the quickest dinner recipes. My family loves tacos and fajitas. If you are a chicken lover, these Cheesy Chipotle Chicken Quesadillas are marvelous, too!
Frequently Asked Questions
What are Quesadillas?
Quesadillas are a snack, appetizer, or main dish made of flour or corn tortillas filled with a savory mixture of meat, cheese, beans, and/or vegetables, folded in half and toasted.
What Do Mexicans Call Quesadillas?
The Mexican term for quesadillas is Sincronizadas, which translates to synchronized in English.
Are Quesadillas Unhealthy?
The fillings will determine whether a quesadilla is healthy or unhealthy. To make a healthier quesadilla, go light on the cheese and load it up with vegetables instead of meat.
What Can You Put in a Quesadilla?
The options are endless. Make breakfast quesadillas with scrambled eggs, bacon or sausage, and cheese. Use leftover dinner ingredients plus cheese to invent your own versions. Just make sure to add a melty cheese to help seal your quesadilla.
How Do You Cook a Quesadilla?
Make your quesadillas in a skillet or on a grill pan, on a grill, or on a sheet pan in the oven. The goal is to gently brown, heat the fillings, and melt the cheese.
You May Also Like:
Stay in touch through social media @ Instagram, Facebook, and Pinterest. Don't forget to tag me when you try one of my recipes! And if you love the results, please give it a 5-star rating in the recipe card. Note: As an Amazon Associate, I earn from qualifying purchases. Visit my Amazon Store for my favorite products.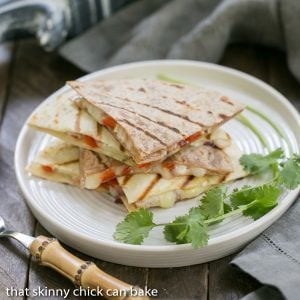 The Recipe:
Spicy Pork Quesadillas
Prep Time 20 minutes
Cook Time 30 minutes
Total Time 50 minutes
Yield 6 servings
An easy quesadilla recipe using grilled pork, Monterey Jack, onions, and peppers.
Ingredients
1/2 red onion, thinly sliced
1 red bell pepper, cored and thinly sliced
2-3 tablespoons olive oil, divided
Kosher salt, to taste
8 ounces Monterey Jack cheese, grated
1-2 fresh jalapeno peppers, thinly sliced or pickled jalapenos
1.5-2 pounds seasoned pork tenderloins.
12 flour tortillas
Instructions
Grill, or roast, your pork to 150º. Allow to rest, then slice into very thin, bite-sized pieces. You will use only about half the loin. Set aside.
Place 1 tablespoon of olive oil in a skillet. Add onion and bell pepper, and sprinkle with a pinch of salt. Cook until tender. Set aside.
To make quesadillas, brush the skillet or grill pan with olive oil. Heat the pan, then add one tortilla, ¼ cup of cheese, some of the onions and peppers, a few slices of jalapeno, and slices of the grilled pork.
Top with another tortilla and cook till the bottom is browned and the cheese is melted. Flip and cook until the second side is browned.
Cut quesadillas into quarters and serve.
Notes
May use any leftover griled or roasted pork, too.
Nutrition Information:
Yield:
6
Serving Size:
1 quesadilla
Amount Per Serving:
Calories: 675
Total Fat: 32g
Saturated Fat: 12g
Trans Fat: 0g
Unsaturated Fat: 17g
Cholesterol: 94mg
Sodium: 889mg
Carbohydrates: 57g
Fiber: 4g
Sugar: 2g
Protein: 38g
Note: This post may contain affiliate links; view
my Disclosure Policy
for details. I earn a small percentage from any purchase you make by clicking on these links at no extra cost to you.