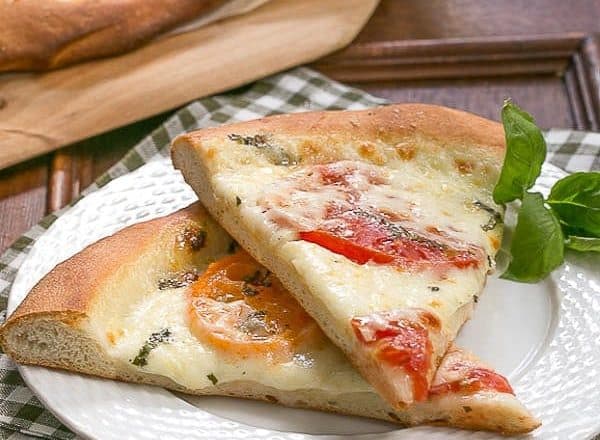 Simple, fresh ingredients combine to make my family's favorite Homemade Pizza Margherita!
Homemade Pizza Margherita for a Quick Supper
By now, many of you know about how darn picky my family is! There are very few recipe that please them all. Pizza Margherita is always a hit and so simple to make. The first time I served this pizza featuring fresh tomatoes, mozzarella and basil, it became an instant family favorite and was soon a regular on our meal rotation. 
When my oldest was in college, this was on our Friday night menu when he trekked home for the weekend. Though I have a feeling he'd be just as happy with a meat lover's  or sausage and mushroom pizza! During Lent, the fish haters were happy when it was a meatless pizza and not tuna casserole for dinner. Served with a seasonal tossed salad, Pizza Margherita won't break your budget or your diet!

Pizza Dough from Scratch

Much as I love the ease of using a premade pizza dough, it's even better to have some homemade on hand. This recipe makes two crusts, so park half in the freezer for another meal. Or double the toppings and make two pizzas!
I always pat my pizza dough out on a sheet of parchment, top it and slide both the pizza and parchment right onto my preheated pizza stone in the oven. This technique makes for easy clean up and avoids the mess of dusting a pan with cornmeal. I use fresh mozzarella, but slices or shredded would be fine, too. And making this dish with fresh garden tomatoes and basil makes for a delicious meal that's quite economical, too.
Choose Dreams
In the winter, I make this pizza with meatier plum tomatoes, but thinly sliced garden tomatoes are a terrific option in the summer. I lay the slices out over paper toweling to let the juices drain to avoid a soggy crust. Purchasing premade dough makes this a snap to prepare, but homemade pizza dough is even better. I snip basil from my herb garden, too, so at the peak of tomato season, all that's needed from the market is a ball of fresh mozzarella. Of course, shredded mozz will work, too; but if you haven't experienced the latter, please give it a try. Then after dinner, gather the family and take a walk around the block. It's a great habit and will rev up your metabolism while providing more time to chat, laugh, reminisce and bond. This recipe is part of the Family Healthy Fit Lifestyle campaign for AmFam. Over the next few weeks, the Sunday Supper team will be sharing healthy recipes for the family on the go, for those watching their budget all while encouraging the family to get moving and get healthy.
Weekday Supper Inspiration
Check out the delicious line up for this week:
Monday – Turkey and Barley Casserole by Cindy's Recipes and Writings
Tuesday – Warm Shrimp and Avocado Salad by Family Foodie
Wednesday – Caprese Chicken Panzanella Salad by Peanut Butter and Peppers
Thursday – Pizza Margherita by That Skinny Chick Can Bake
Friday – Chicken and Broccoli Pesto Pitas by Curious Cuisiniere
Visit our #WeekdaySupper Pinterest board for wonderful weekday menu suggestions all month long!


Print
Homemade Pizza Margherita
My family's favorite pizza!
Author:
Prep Time: 20 minutes
Cook Time: 15 minutes
Total Time: 35 minutes
Yield: 1 pizza 1x
Category: Pizza, Bread
Cuisine: Italian
Ingredients
Dough:
1 ½ cups warm water, 105-115 degrees (use a thermometer)
3 tablespoons honey
2 ¼ teaspoons active dry yeast, (one 1/4 ounce packet, I prefer Red Star Yeast)
4 cups bread flour or all-purpose flour
1 tablespoon salt
3 tablespoons olive oil
Topping:
8-ounce ball of fresh Mozzarella, sliced
2 medium to large garden tomatoes or 4–6 plum tomatoes, cut into thin slices and drained on paper toweling
Fresh basil, cut into thin strips
Kosher salt
Freshly ground black pepper
Extra virgin olive oil
Instructions
Combine water, honey, and yeast. Let rest about 5-10 minutes..mixture should be foamy. Mix flour and salt the bowl of a stand mixer fit with the dough hook. Knead on low speed (check your manufacturer's instructions so you don't burn out your motor) or knead by hand for 10 minutes. Dough should be elastic and slightly sticky.
Oil a mixing bowl, add dough then turn to coat dough with oil. Cover with plastic and let rise in a warm place until doubled in size, about an hour.
Place pizza stone into oven and preheat to 450º.
Punch dough down and divide dough in half (freeze half for use later). Pat out dough into a large circle onto parchment paper, top with tomatoes, cheese, then season with salt, pepper and basil strips. Drizzle with olive oil. Using pizza peel, slide pizza and parchment onto pizza stone. Bake about 15 minutes or till crust is brown and cheese is bubbly.
Notes
Dough recipe adapted from Cuisine at Home (note that this recipe will make enough for 2 pizzas. Save half for another day or double the toppings).
Total time does not reflect proofing time.
Join American Family Insurance for more great recipes on their Health and Fitness Pinterest Board. You can also connect with them via their Website, Linkedin, Youtube, Google+, Twitter,Facebook and their Pinterest Account.
This post is sponsored by American Family Insurance. All opinions are my own.
Note: This post may contain affiliate links; view
my Disclosure Policy
for details. I earn a small percentage from any purchase you make by clicking on these links at no extra cost to you.