Pink Lemonade Cupcakes
These tender Pink Lemonade Cupcakes start with tender vanilla cake topped with a swirl of perfectly pink lemonade buttercream frosting!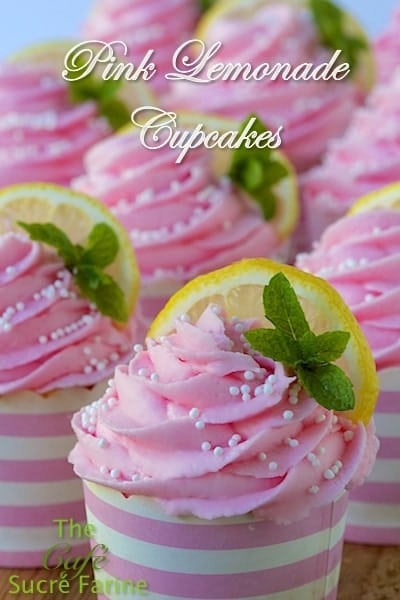 The baker is these fabulous pink lemonade cupcakes is Chris, of The Café Sucré Farine, one of those bloggers you like and connect with immediately. This sweet mom, grandmother, and terrific cook is a true friend, as well. We crossed paths via Foodbuzz as well as the Secret Recipe Club, where I was lucky enough to be assigned her inspirational blog for one month.
I was in awe of her yummy desserts and awesome cake decorating skills, but after baking up her incredible toffee cookies for the SRC, I knew I'd have to visit more often. Recently, I did a guest post for Chris when she needed some time off to bond with her newest grandbaby, the precious Emery Kate. And when she generously offered to share one of her delightful recipes with you all, I jumped at the chance (of course). I knew the end of April and beginning of May was a crazy time and today I'm actually traveling to Illinois for my dear father-in-law's funeral, and so I'm honored to present Chris in my stead with her Pink Lemonade Cupcakes:
Hello, all you lovely friends of Lizzy! I'm Chris from over at
The Café Sucré Farine
and I'm excited to be visiting today at
That Skinny Chick Can Bake
. To me, it's delightful that, these days, we can make sweet friends online, from all over the world and Liz is one of my favorites! Though I dearly wish we could share a cappuccino or a cup of tea together and one of these yummy cupcakes, being a guest blogger here today is the next best thing. It may be good that we don't live closer; I have a feeling that neither of us would get much done as we'd have so much to chat about and so many recipes to share!
Pink Lemonade Cupcakes
These Pink Lemonade Cupcakes have been swirling around in my brain for the past few weeks. A bridal shower for a young friend gave me the perfect occasion to put my ideas together ………….. everyone seemed to love the results!
Easy Vanilla Cupcake Recipe
I used my favorite vanilla cupcake recipe, adapted from Cook's Illustrated. The fine folks at Cook's Illustrated call this recipe The Perfect Cupcake. That's quite impressive, coming from them as they test, tweak and review a zillion recipes before describing something as "perfect".
The amazing thing is that it's also the easiest cake recipe I've EVER made! How cool is that? Instead of the classic creaming of the butter and sugar and alternating the wet and dry ingredients into the batter as you continue to mix, this recipe calls for throwing everything into the mixer bowl, pushing the "go" knob and mixing for less than a minute! Crazy huh? It may sound crazy but IT WORKS! Every time! Soft, fluffy, delicious cupcakes in no time flat! I love it, don't you?
Dreamy Pink Lemonade Buttercream
The pink lemonade buttercream icing is my own concoction. I love a smooth, creamy icing and usually add a bit of cream cheese for delicious flavor and dreamy piping. Pink lemonade adds delicious, fresh, fun flavor and a garnish of thinly sliced lemon and a tiny sprig of mint makes a dessert worthy of any special occasion ………….. or just to tell someone they're special! Thanks so much for letting me visit, Lizzy, it's been so much fun!
~~ Chris
More Cupcake Recipes You'll Love: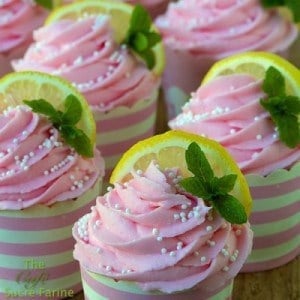 The Recipe:
Pink Lemonade Cupcakes
Prep Time 40 minutes
Cook Time 24 minutes
Total Time 1 hour 4 minutes
Yield 12
Tender vanilla cupcakes with pink lemonade buttercream frosting!
Ingredients
For cupcakes:
1 ½ cups all-purpose flour
¾ cup sugar
2 teaspoons baking powder
½ teaspoon salt
8 tablespoons butter (room temperature)
½ cup buttermilk or sour cream (room temperature)
2 large eggs (room temperature)
2 teaspoons vanilla extract
Buttercream:
1 ½ sticks or 12 ounces butter (at room temperature)
3 ounces cream cheese (I use the low fat, not no-fat at room temperature)
6 tablespoons pink lemonade concentrate (from frozen concentrate)
1 teaspoon vanilla extract
8 cups powdered sugar
milk or half and half (as needed)
Instructions
For Cupcakes:
Adjust oven rack to middle position; heat oven to 350 degrees F. Line 12 muffin/cupcake tins with paper or foil liners.
Whisk together flour, sugar, baking powder, and salt in bowl of standing mixer fitted with paddle attachment. Add butter, buttermilk (or sour cream), eggs, and vanilla; beat at medium speed until smooth and satiny, about 30 seconds. Scrape down sides of bowl with rubber spatula and mix by hand until smooth and no flour pockets remain.
Divide batter evenly among cups of prepared tin. Bake until cupcake tops are pale gold and toothpick or skewer inserted into center comes out clean, 20 to 24 minutes. Remove the cupcakes from tin and transfer to wire rack; cool cupcakes to room temperature before frosting.
For buttercream:
Place butter and cream cheese in the bowl of an electric mixer and beat on medium-high speed for 3 minutes, stopping to scrape the bowl once or twice.
Reduce the speed to low and add the pink lemonade concentrate, vanilla and powdered sugar. Beat on lowest speed until all of the powdered sugar is incorporated, then increase to medium-high and beat until light and fluffy, about 3-4 more minutes, scraping the bowl as needed. If the icing is too thick add a bit of milk or half and half, if too thin add a bit more powdered sugar (see note below).
Enough icing for 24 cupcakes (or more - see note below)
Notes:
~ It's sometimes difficult to get just the right consistency for piping buttercream. I usually put a little portion into my decorating bag and try it on one cupcake. If you pipe the cupcake and the icing seems to "wilt" or have trouble keeping it's shape, add a bit more powdered sugar. It the icing is difficult to pipe and you have to use force as you pipe, you need to add a bit of milk or half and half. Icing should flow fairly effortlessly from piping bag.
~ This recipe makes a generous portion of icing, enough for a double batch of these cupcakes. I usually do make a double batch because they freeze well and when I need a dessert in a hurry, I can just pull them out and thaw. Even with a double batch, you may have a bit of icing left over. Unused buttercream can be stored in the refrigerator in an airtight container; let it come to room temperature and then give it a quick whip in the mixer before using.
For these swirled cupcakes, I used a Wilton 1M tip.
Notes
There will be excess frosting. Store covered in the refrigerator for up to a week.
Recipe courtesy of Chris of The Cafe Sucre Farine
Nutrition Information:
Yield:
12
Serving Size:
1 cupcake
Amount Per Serving:
Calories: 836
Total Fat: 46g
Saturated Fat: 29g
Trans Fat: 2g
Unsaturated Fat: 14g
Cholesterol: 153mg
Sodium: 571mg
Carbohydrates: 104g
Fiber: 0g
Sugar: 88g
Protein: 5g
Chris can be found on Twitter, Facebook, Google+, Pinterest and, of course, her lovely blog The Café Sucré Farine. Thank you so, so much, Chris. xo
Note: This post may contain affiliate links; view
my Disclosure Policy
for details. I earn a small percentage from any purchase you make by clicking on these links at no extra cost to you.