Oatmeal Cookies with Chocolate Chips
Oatmeal cookies with chocolate chips – Classic chewy oatmeal cookies get a dose of chocolate and almonds in this old-fashioned oatmeal cookie recipe!
I get a major craving for oatmeal cookies about once a season and these oatmeal chocolate chip cookies hit the spot. Soft and chewy, they're packed full of chocolate with a bonus of almond meal in the batter for extra protein and a textural boost. Though not exactly healthy, these are definitely Healthier Oatmeal Cookies than your typical recipes.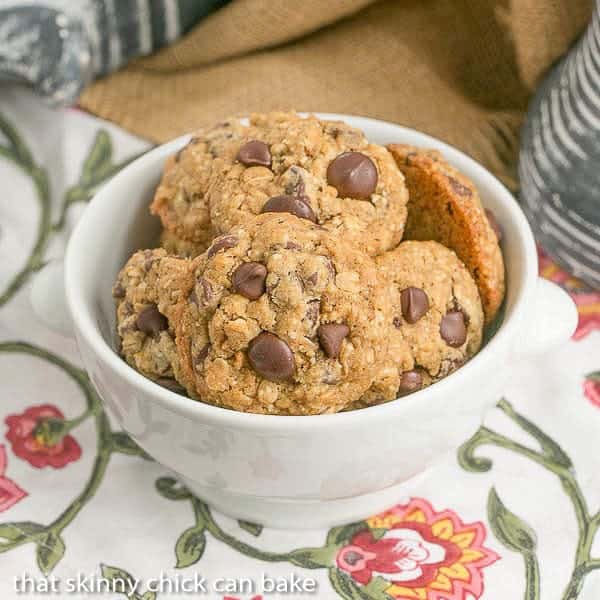 Why You Must Make these Healthy Oatmeal Cookies
Besides TWO different kinds of chocolate chips, these oatmeal cookies have an unusual addition that provides a healthy twist. I pulled some sliced almonds from the freezer and dumped them in my mini food processor. Pulsing the frozen nuts for a minute or two turned them into powdery almond flour or meal. Barely discernable except for a few flecks, which of course my family had to drill me about.
Nick was heading back to college and was game to sample one. Not usually a big oatmeal cookie fan, he enjoyed these enough to take some back to campus. They are chewy, soft, and irresistible. And the almonds provide a boost of nutrients. I had to hide the remainder in my freezer to minimize temptation.
Healthier Cookies
I wouldn't categorize these oatmeal cookies with chocolate chips as a health food, but this is a "healthier" oatmeal cookie recipe than my usual cookies. The oats and almond meal add fiber plus the eggs and almond meal both add protein. Just don't eat a dozen at one sitting! Though you may be tempted.

Frequently Asked Questions
How Bad Are Oatmeal Cookies for You?
Granted, there's sugar and butter, but one of these oatmeal cookies is healthier than many other dessert options. As mentioned above, they have fiber, whole grains, protein, and antioxidants from dark chocolate.
Can You Use Quick Oats for Oatmeal Cookies?
I prefer the texture of regular oats, but in a pinch, quick oats will work for most oatmeal cookie recipes.
What Causes Oatmeal Cookies to Be Hard?
There are a few potential reasons for hard cookies. First, they could be overmixed, activating the gluten. Or overbaked. Or there may be too much flour if it was mismeasured. The best way to measure flour is to scoop with your measuring cup, then use a finger or offset spatula to level off the top of the cup.
Store them in an airtight container and if you add a piece of bread to the container, it will help keep the cookies moist.
Tools Needed to Make Oatmeal Cookies with Almond Flour
Other Favorite Oatmeal Cookies: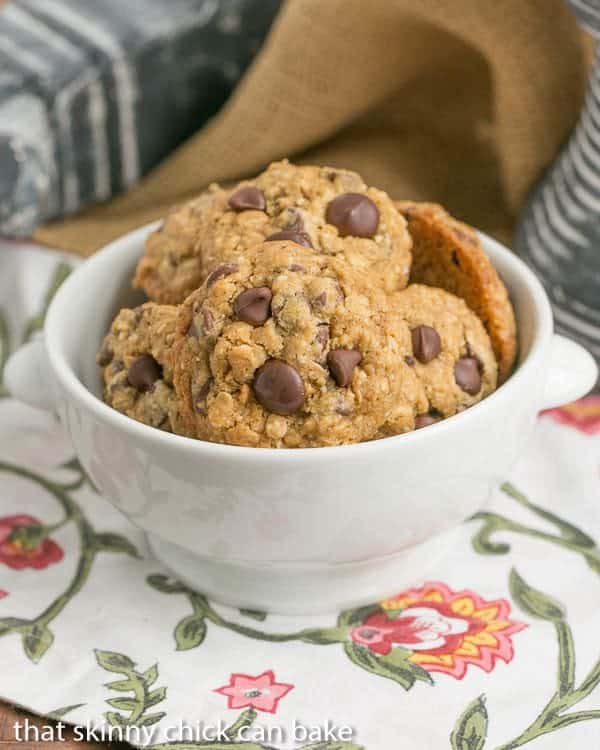 The Recipe:
Oatmeal Chocolate Chip Cookies
Prep Time 20 minutes
Cook Time 12 minutes
Total Time 32 minutes
Yield 3 dozen
Double chocolate chip oatmeal cookies with a boost of texture from almond meal
Ingredients
3/4 cup butter, at room temperature
3/4 cup dark brown sugar
1 egg, room temperature
1 teaspoon vanilla extract
1 cup flour
1 cup oatmeal
1/2 cup almond meal (you can make your own by whizzing about 3/4 cup frozen, sliced almonds in a food processor, till powdery)
1 teaspoon baking powder
1/4 teaspoon of salt
3/4 cup bittersweet chocolate chips
1/2 cup semisweet chocolate chips
Instructions
Cream butter and sugar in a mixing bowl with a wooden spoon.
Beat in the egg and the vanilla extract till well incorporated.
Add the oats, almond meal, flour, baking powder and salt and mix till combined.
Fold in the chocolate chips.
Refrigerate the cookie dough for 1 hour.
Heat the oven to 350º. Line a baking sheet with parchment paper.
Scoop rounded teaspoonfuls of dough onto the prepared baking sheet. Gently flatten the cookies.
Bake in preheated oven for 10-12 minutes.
Allow cookies to cool on the baking sheet for a few minutes before transferring to a wire rack to finish cooling.
Nutrition Information:
Yield:
36
Serving Size:
1 cookie
Amount Per Serving:
Calories: 110
Total Fat: 7g
Saturated Fat: 4g
Trans Fat: 0g
Unsaturated Fat: 3g
Cholesterol: 15mg
Sodium: 67mg
Carbohydrates: 10g
Fiber: 1g
Sugar: 5g
Protein: 2g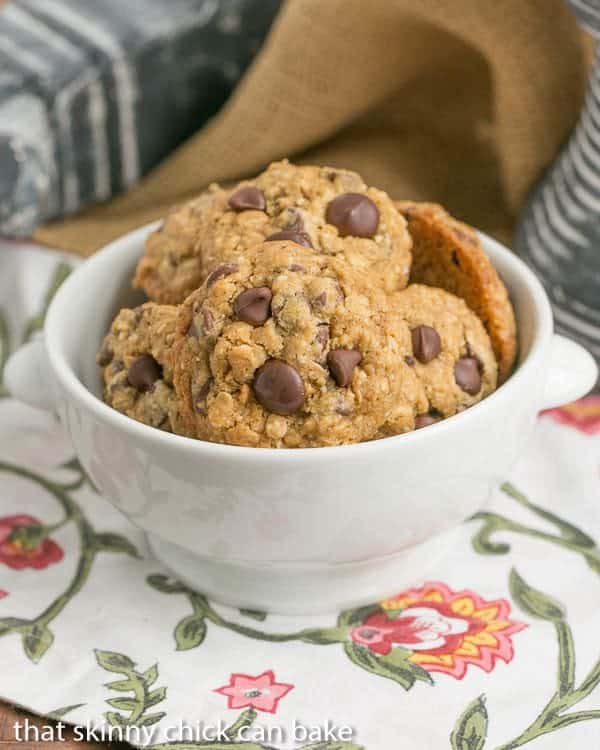 Adapted from Roxana's Home Baking.
Note: This post may contain affiliate links; view
my Disclosure Policy
for details. I earn a small percentage from any purchase you make by clicking on these links at no extra cost to you.