Mozzarella Stuffed Meatballs
These Mozzarella Stuffed Meatballs are tender, flavorful, and filled with gooey cheese! You'll savor every bite.
This Easy Meatball Recipe with Mozzarella is a winner that your family will request again and again! Guaranteed.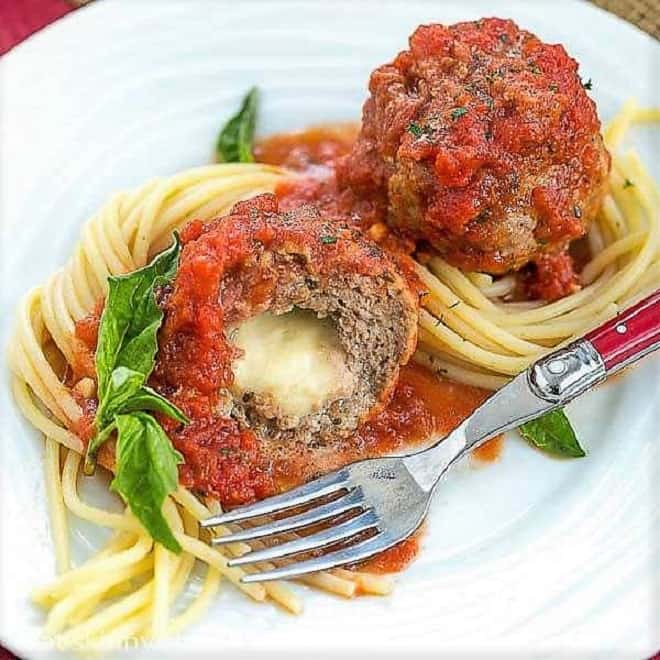 Why You Must Make
When Nick was in high school, I schlepped along a stack of recipes to one of his basketball games. I am well known for taking a book to sporting events—my attention span is better when my kiddo is playing, but I definitely need reading material. One of my girlfriends and I thought a recipe for stuffed mozzarella stuffed meatballs looked intriguing, so we both flagged it and I made them shortly after. What a disappointment. They were bland and not worth the effort.
If you're looking for a way to jazz up your spaghetti and meatballs, give this stuffed meatballs recipe a try.
Meatballs are yummy on their own, but filled with gooey mozzarella makes them even better.
This is a delicious family-friendly dinner recipe!
Fast forward to last week. I had some leftover mini fresh mozzarella balls in my fridge, and I decided to develop my own recipe.
Ingredient Notes
Kitchen Staples – Onion, Garlic, Sugar, Milk, Salt, Pepper, Eggs, Olive Oil
Plum Tomatoes – 1 large can (28 ounces) of plum tomatoes
Dried Basil and Dried Oregano – Spices lose their potency over time. If yours have been in your pantry for years, consider replacing them for more flavorful results.
Bread – I use white bread, but whole wheat or even a leftover hamburger bun works, too. Process into crumbs. I used my food processor.
Small Fresh Mozzarella Balls – Also known as ciliegine. Use an 8-ounce container packed in water and drain well before using. If you cannot find these, you can use a larger ball of fresh mozzarella and cut it into small pieces.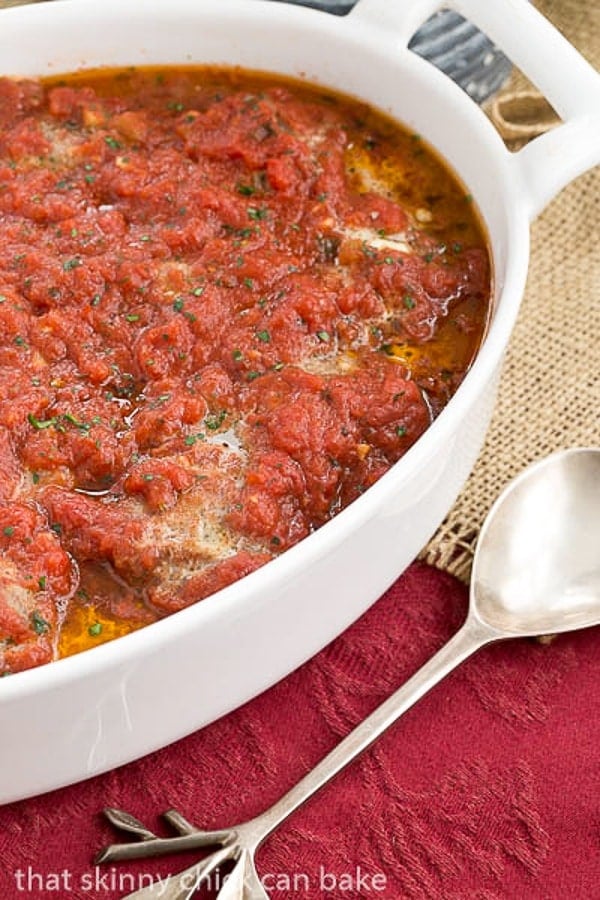 How to Make
Is there anything that makes your mouth water more than the aroma of a garlic-laden dish simmering away in the oven? Well, maybe chocolate chip cookies baking or a turkey roasting, but it's up there in my top 5.
Scoop out about a quarter cup of the meatball mixture. The meatballs need to be large enough to completely enclose the mozzarella.
Pat the meat into a flat circle and place a small ball or piece of mozzarella in the center.
Fold the meat up and around the cheese, making sure it's covered completely. If there's any break in the casing, the mozzarella will ooze out as it melts.
Place the cheese-stuffed meatballs into a baking dish, then cover with marinara.
Bake until the meatballs are cooked through. You can check by cutting into one of them to make sure the meat is no longer pink.
I promise, these stuffed meatballs are worth the wait! Feel free to cook them in your favorite spaghetti sauce, and if you ever have a spare afternoon give this Classic Italian Meat Sauce a whirl. The depth of flavor is incredible!
Recipe Tips
Use a good brand of jarred marinara sauce to shorten the prep time.
Make all your meatballs the same size to ensure they're all done cooking at the same time. I like using a quarter cup scoop (cookie disher).
Serve with a loaf of crusty bread or even garlic bread.
Serve over pasta. It can be spaghetti, penne or any favorite shape.
Use ground beef for your meatballs, but I also like the combination of ground beef, ground pork, and ground veal for more flavor and a lovely texture.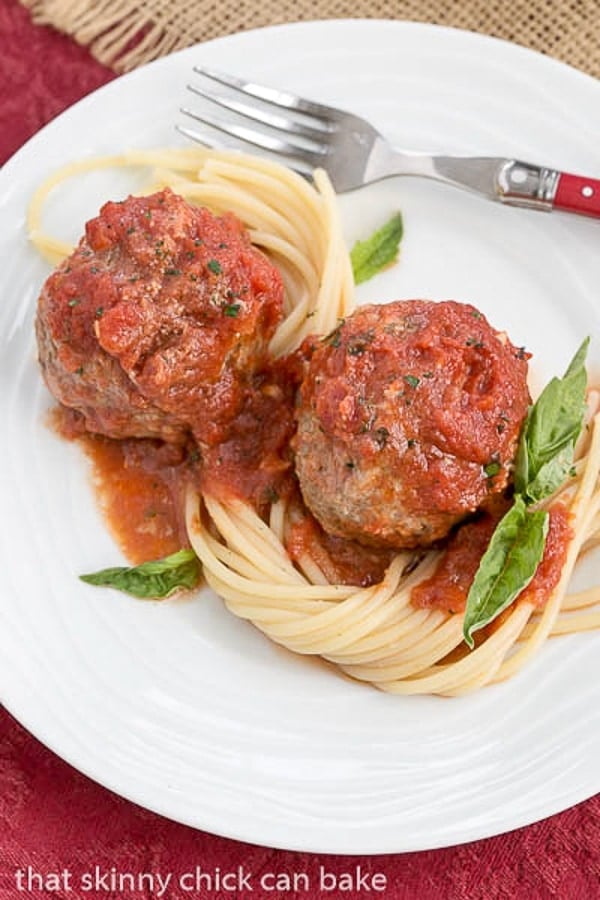 Frequently Asked Questions
How Do You Make Stuffed Meatballs?
To stuff meatballs, take a quarter cup of homemade meatball mixture and flatten into a disk. Place a small ball of cheese in the middle and fold the meat up and around the cheese. Make sure the cheese is completely encased to avoid cheese oozing out while these cook.
How Long Do You Bake Stuffed Meatballs?
This recipe takes about an hour to bake in the oven. If your marinara is freshly made and hot, it may take less time. You can use a meat thermometer to make sure the meatballs are done. They should reach 160° to ensure they're safe to eat.
Can You Freeze Stuffed Meatballs?
Yes, you can freeze stuffed meatballs for at least a month if kept airtight. I freeze cheese-filled ravioli and tortellini, so it makes sense that these meatballs will also freeze well.
Can You Fill Stuffed Meatballs with Other Cheeses?
Yes, any gooey cheese will work well. Fontina would be delicious, but you can even veer from the Italian cheeses and try sharp Cheddar instead.
You May Also Like:
Stay in touch through social media @ Instagram, Facebook, and Pinterest. Don't forget to tag me when you try one of my recipes! And if you love the results, please give it a 5-star rating in the recipe card. Note: As an Amazon Associate, I earn from qualifying purchases. Visit my Amazon Store for my favorite products.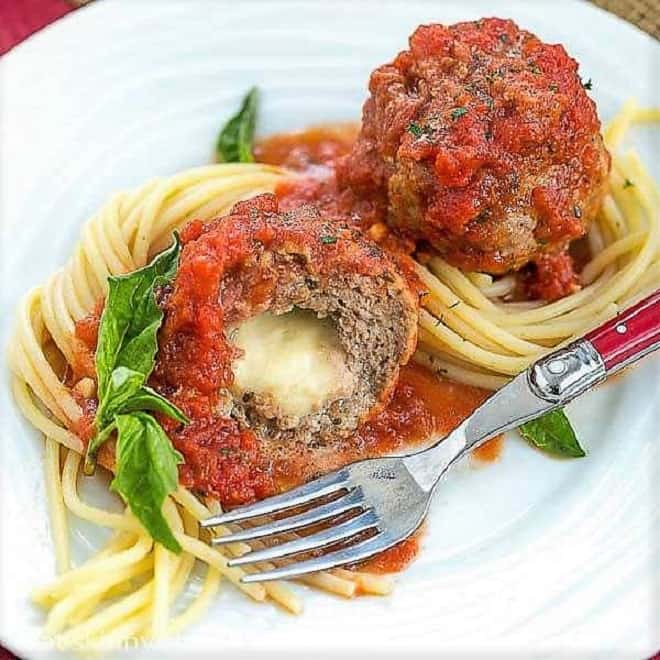 The Recipe:
Mozzarella Stuffed Meatballs Recipe
Prep Time 30 minutes
Cook Time 1 hour 30 minutes
Total Time 2 hours
Yield 6 servings
Tender meatballs filled with gooey mozzarella were a hit with my family!
Ingredients
For marinara sauce:
3 tablespoons olive oil
½ onion, finely chopped
2 cloves garlic, minced
1 large can (28 ounces) plum tomatoes
½ teaspoon dried basil
¼ teaspoon dried oregano
¼ teaspoon sugar
Salt and pepper to taste (I used ½ teaspoon salt and a few grates of freshly ground black pepper)
For meatballs:
2 slices of bread, processed into crumbs
½ cup milk
1 ½ pounds ground beef
¼ cup grated Parmesan cheese
1 egg, lightly beaten
1 teaspoon salt
Freshly ground black pepper, to taste (I used about 1/4 teaspoon)
¼ teaspoon dried basil
¼ teaspoon dried oregano
1 8-ounce container of small fresh Mozzarella balls packed in water (ciliegine)
Instructions
¼Make marinara by heating oil in a large saucepan. Add onions and cook till soft, then add garlic and cook a minute or so till fragrant. Stir in tomatoes, basil, oregano, sugar, salt, and pepper to taste. Chop tomatoes into chunks with your spatula. Simmer until sauce thickens, 10-15 minutes. Cover and keep warm while you prepare the meatballs.
Preheat oven to 350º. Grease a 2-quart oven-safe dish and set aside.
Combine bread crumbs and milk in a large bowl. Add the rest of the ingredients and mix together using your hands. Be careful not to compact the mixture.
Drain mozzarella balls and set them aside. Using a ¼ cup scoop, form balls of meat. Flatten each and add a mozzarella ball to the middle of the disk. Enclose the mozzarella in the meat by folding the sides up and over the cheese. Reshape into balls.
Add meatballs to the bottom of the prepared dish. Pour marinara sauce over the meatballs. Cover with aluminum foil and cook for 1-1½ hours or till meatballs are completely cooked through.
Serve warm with pasta, if desired.
Notes
You can use a jar of good quality marinara if you don't want to make your own.
Recommended Products
As an Amazon Associate and member of other affiliate programs, I earn from qualifying purchases.
Nutrition Information:
Yield:
6
Serving Size:
1
Amount Per Serving:
Calories: 501
Total Fat: 33g
Saturated Fat: 11g
Trans Fat: 1g
Unsaturated Fat: 18g
Cholesterol: 152mg
Sodium: 690mg
Carbohydrates: 10g
Fiber: 1g
Sugar: 2g
Protein: 40g
Note: This post may contain affiliate links; view
my Disclosure Policy
for details. I earn a small percentage from any purchase you make by clicking on these links at no extra cost to you.