Homemade Potato Bread
Light, tender, and totally irresistible, this Homemade Potato Bread is the perfect sandwich loaf! Save some mashed potatoes and bake a couple of tasty loaves!
My parents went on a health kickback in the '70s. Carob and whole grains came into the kitchen. My sisters and I begged for mushy Wonder bread; we didn't understand this phase. We longed for good ol' white sandwich bread, like this soft, sliceable Potato Bread Recipe.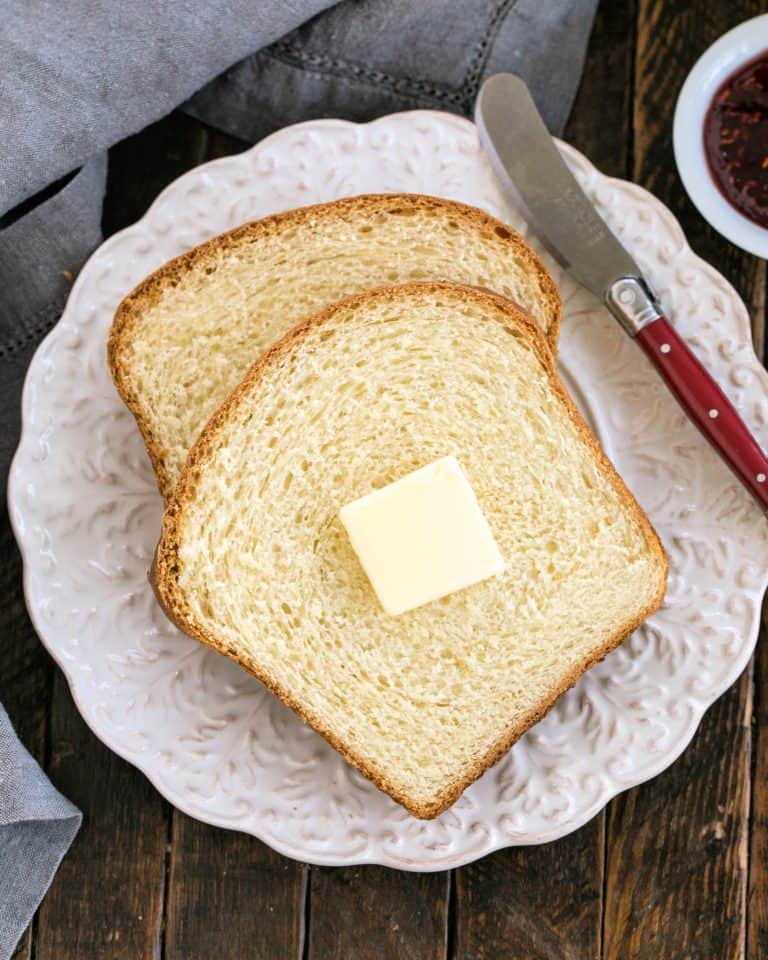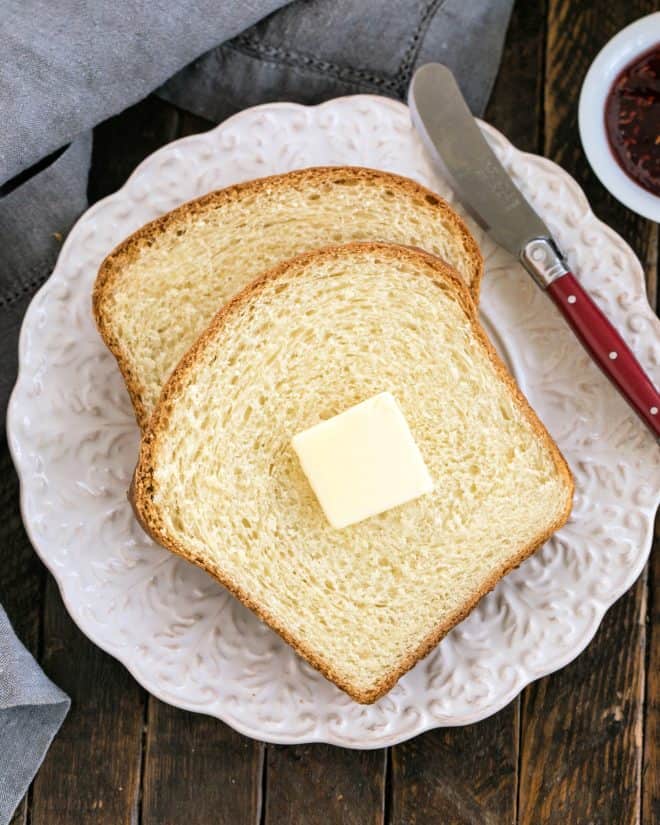 Why You Must Make
On occasion, though, my mom would pick up a loaf of fluffy potato bread from the market. Those memories were my inspiration for this homemade potato bread made with mashed potatoes. And it was seriously one of the best bread recipes I've made in years.
Mashed potatoes replace some of the flour in this bread recipe, and from there some magic happens.
It's soft, and fluffy with a yellow tinge from the addition of potatoes and even a subtle potato undertone.
The addition of mashed potatoes allows this bread to stay softer and fresher longer than ordinary wheat bread.
Potato bread is delicious for sandwiches or simply smeared with butter and jam for breakfast or snacks.
Ingredient Notes:
Add these ingredients to your shopping list. You'll be set to make this marvelous loaf!
Kitchen Staples – Sugar, Table Salt, Butter
Instant Yeast – I prefer Red Star Platinum yeast
Potatoes – Use a potato you'd use for mashed potatoes like russet or Yukon Gold, reserving the potato water to use in the recipe, too.
Eggs
All-purpose flour – I use King Arthur Flour brand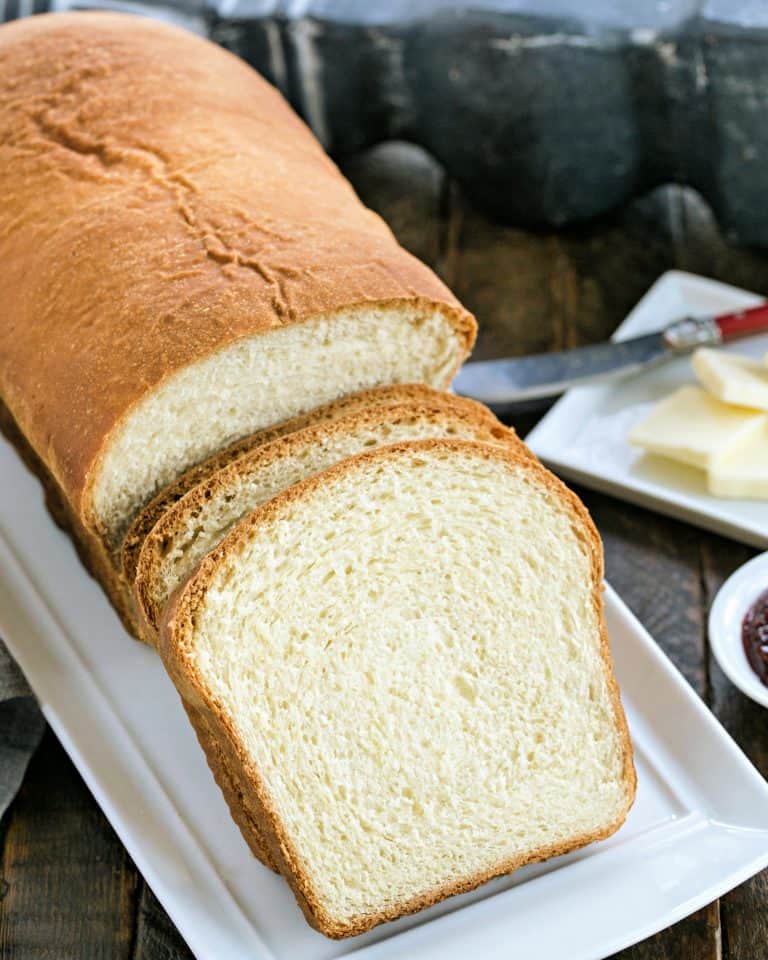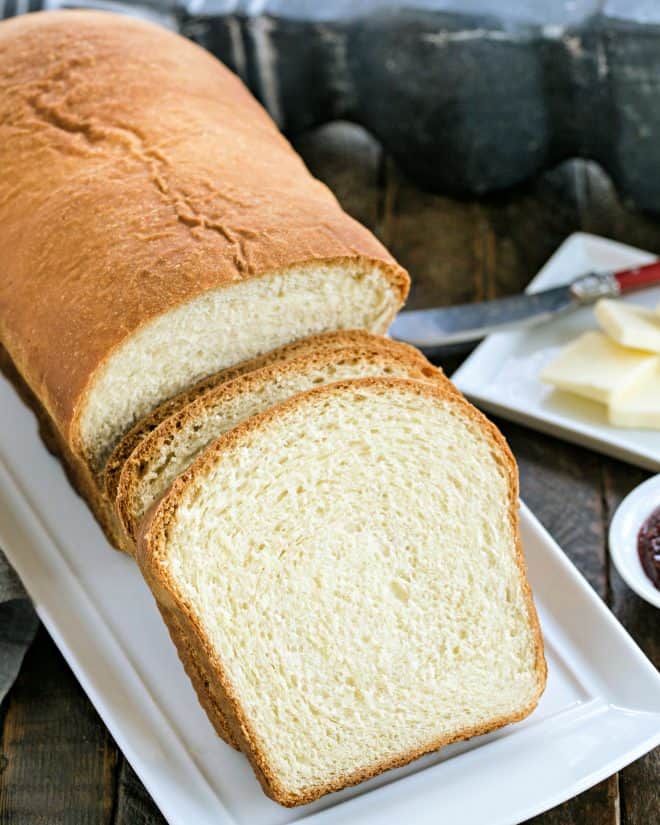 How to Use
This is the ultimate sandwich loaf. Soft and slightly sweet, it's perfect for any fillings: pb and j, ham and cheese, whatever. Hubby got home from work early and I told him he had to sample a slice. I knew he'd confirm my review.
Smear with soft butter.
Use it for your morning toast.
Try slices for French toast!
How to Make
Once you make a loaf of yeast bread, you'll know the drill. Here are the abbreviated steps to making these loaves.
Using your stand mixer (or by hand), mix together all of the dough ingredients.
Knead with the dough hook.
Scrape the dough into a greased bowl, cover and let rise in the refrigerator.
Divide dough in half, shape into loaves and place in prepared loaf pans.
Cover with plastic and let rise.
Preheat the oven to 350°.
Bake as directed or until the internal temperature of the bread reaches 190°F.
Remove from the oven, cool for a few minutes, then release from the pans onto a cooling rack.
Expert Tips
If you're new to making yeast bread, there's a little trial and error, but an even less than perfect loaf can taste fabulous! There's the kneading, proofing, and baking. You'll be captivated by the smell of bread baking in the oven, so it's definitely worth a try!
First, and foremost, you must use fresh yeast (not expired). If the yeast is old or inactive, your bread will not rise properly. 
PRO-Tip: To test if your yeast is active,  put some warm water (110-115º, no hotter) in a small bowl. Add a little sugar, mix, then add a small amount of your yeast and mix again.  Let it rest and in a few minutes, you should see the yeast become foamy. If this doesn't happen, you will need to purchase fresh yeast. Most packets and jars have expiration dates, but yeast can "expire" before the date if not stored properly.
Once you know you have fresh yeast, you can start the mixing process. Follow your recipe's directions on what order to add and mix your ingredients.
PRO-Tip: If you need to proof the yeast in water (a typical instruction unless you're using instant yeast), the water temperature should be 105-115º. Hotter than that will kill some or all of the yeast. Use a cooking thermometer to double-check the temperature. Since instant yeast is mixed with the flour and other ingredients first, the water can be a bit hotter, 120-130º according to Bob's Red Mill, but I still aim for 120º or less.
Bread can definitely be mixed and kneaded by hand, but if you have a stand mixer, using the paddle attachment, then the dough hook to knead, saves time and effort. Just keep an eye on your mixer so it doesn't overheat.
PRO-Tip: Plus, this dough is sticky so a stand mixer makes it easier to knead.
Usually, bread needs rising periods, also known as "proofing." The times listed are suggestions, most times you'll want the dough size to double. It's important not to overproof or underproof!
Proof in a warm spot in your kitchen. If it's too hot, your bread will rise too fast and the texture may not be ideal and the flavors that occur with a slower rising will be lacking, too. PRO-Tip: 85º is the ideal temperature for proofing.
Bake according to your recipe's instructions.
PRO-Tip: If you're unsure if your loaf is done, use an instant read thermometer and look for an internal temperature of 190º.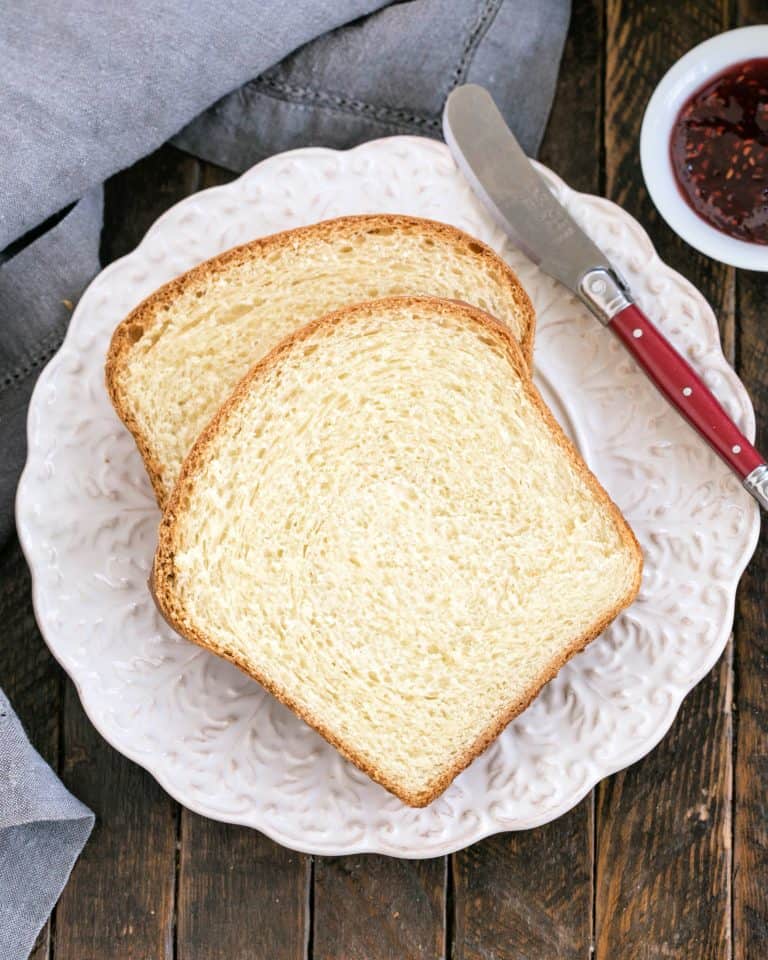 Frequently Asked Questions
What is Potato Bread?
Potato bread is a bread recipe that has mashed potatoes or even potato flour worked into the dough. The potatoes replace some of the flour in the recipe.
It's quite similar to a loaf of white bread but a little softer and fluffier. With less flour in the recipe, there's less gluten and that results in a more tender loaf of bread.
Is Potato Bread Gluten-Free?
The name of this bread might be misleading, but since regular, all-purpose flour is one of the main ingredients, this bread is not gluten-free.
Can You Use Instant Potatoes to Make Mashed Potatoes for this Potato Bread Recipe
Yes, you can definitely use Instant Potatoes to make the mashed potatoes needed in this recipe. Don't add butter or buy a flavored variety. You won't have any potato water to add to the recipe, so just use plain tap water.
Plus, check the amount of sodium per serving as you may need to decrease the salt in the recipe if the instant potatoes are salty.
Is Potato Bread Healthy?
Potato bread has more fiber and protein when compared to whole wheat bread due to the addition of potatoes. Plus,  it's also a source of zinc, iron, and potassium.
But the addition of potatoes also increases the number of carbohydrates in the loaf. Check the recipe card below for detailed nutritional information per slice when each loaf is cut into 16 slices.
Why Do You Refrigerate the Dough Overnight?
The slower rise or retarding of the bread dough in the refrigerator allows the yeast to build deeper flavors and provides a better texture than proofing at a warm room temperature. Refrigerate for 12-18 hours for the best results. The dough should be covered with plastic while in the refrigerator so the surface does not dry out.
How Do You Store Potato Bread?
Once it's cooled, it will keep for 3-4 days at room temperature, in a plastic bag. If there's a cool, dry, dark space in your kitchen, that would be ideal.
Any longer than that, place the bread in a freezer-grade Ziploc bag or wrapped in plastic, then foil for up to 3 months. Let your bread defrost in the bag so it doesn't dry out.
You May Also Like:
The Recipe:
Homemade Potato Bread
Prep Time 30 minutes
Cook Time 50 minutes
Total Time 1 hour 20 minutes
Yield 2 loaves
A delectable Potato Bread Recipe that's ideal for sandwiches or anytime you want a fabulous fresh loaf of yeast bread.
Ingredients
1 tablespoon instant yeast (I love Red Star Platinum yeast)
½ cup sugar
1 ¼ to 1 ½ cups lukewarm water or potato water*
¾ cup (12 tablespoons) butter, at room temperature
2 ½ teaspoons salt
2 large eggs
1 cup mashed potatoes (from about 1/2 pound of potatoes)
6 ½ cups all-purpose flour (King Arthur preferred)
Instructions
Beat together all of the dough ingredients, using the paddle attachment of your stand mixer for 4 to 5 minutes at medium-high speed, stopping the mixer to scrape down the sides and bottom of the bowl as needed. The mixture should start to become smooth and a bit shiny.
Switch to the dough hook, and knead the dough at medium speed (only if your mixer will tolerate it) for 7 minutes, stopping to scrape the dough into a ball a couple of times during the process.
Scrape the dough into a ball (it will be sticky), and place it in a lightly greased bowl, then cover with greased plastic wrap. Refrigerate overnight or for up to 24 hours.
Remove the dough from the refrigerator, divide it in half, and shape each into 9-inch logs. Place into greased 9 x 5-inch bread pans.
Cover the pans with lightly greased plastic wrap, and allow the dough to rise until it comes about 1" over the rim of the pan. Since the dough is cold, this will take anywhere from 2 to 4 hours. Preheat the oven to 350°.
Bake the loaves for 25 minutes. Tent with aluminum foil, and bake for an additional 15 to 25 minutes, until the bread is a deep golden brown, and a digital thermometer inserted into the center of one of the loaves registers at least 190°F.
Remove the bread from the oven, and let rest a couple of minutes in pans before removing the loaves from their pans to rack to finish cooling
Notes
*Potato water is the boiling water used to cook the potatoes. Use the larger amount of liquid in drier, winter months.
Note that total time to make this bread must consider how long you refrigerate your bread dough. It's well worth doing for at least 12 hours!
Adapted from King Arthur Flour
Recommended Products
As an Amazon Associate and member of other affiliate programs, I earn from qualifying purchases.
Nutrition Information:
Yield:
32
Serving Size:
1 slice
Amount Per Serving:
Calories: 123
Total Fat: 1g
Saturated Fat: 0g
Trans Fat: 0g
Unsaturated Fat: 0g
Cholesterol: 12mg
Sodium: 194mg
Carbohydrates: 25g
Fiber: 1g
Sugar: 3g
Protein: 3g
Note: This post may contain affiliate links; view
my Disclosure Policy
for details. I earn a small percentage from any purchase you make by clicking on these links at no extra cost to you.