Chocolate Peanut Butter Krispie Bars
These Chocolate Peanut Butter Krispie Bars are a chocolate, peanut butter cereal treat with 3 irresistible layers! Reese's fans take note. Peanut butter-laden Rice Krispies are topped with a chocolate peanut butter layer, then a chocolate layer!
Wow, this is a Scotcheroos Recipe on steroids!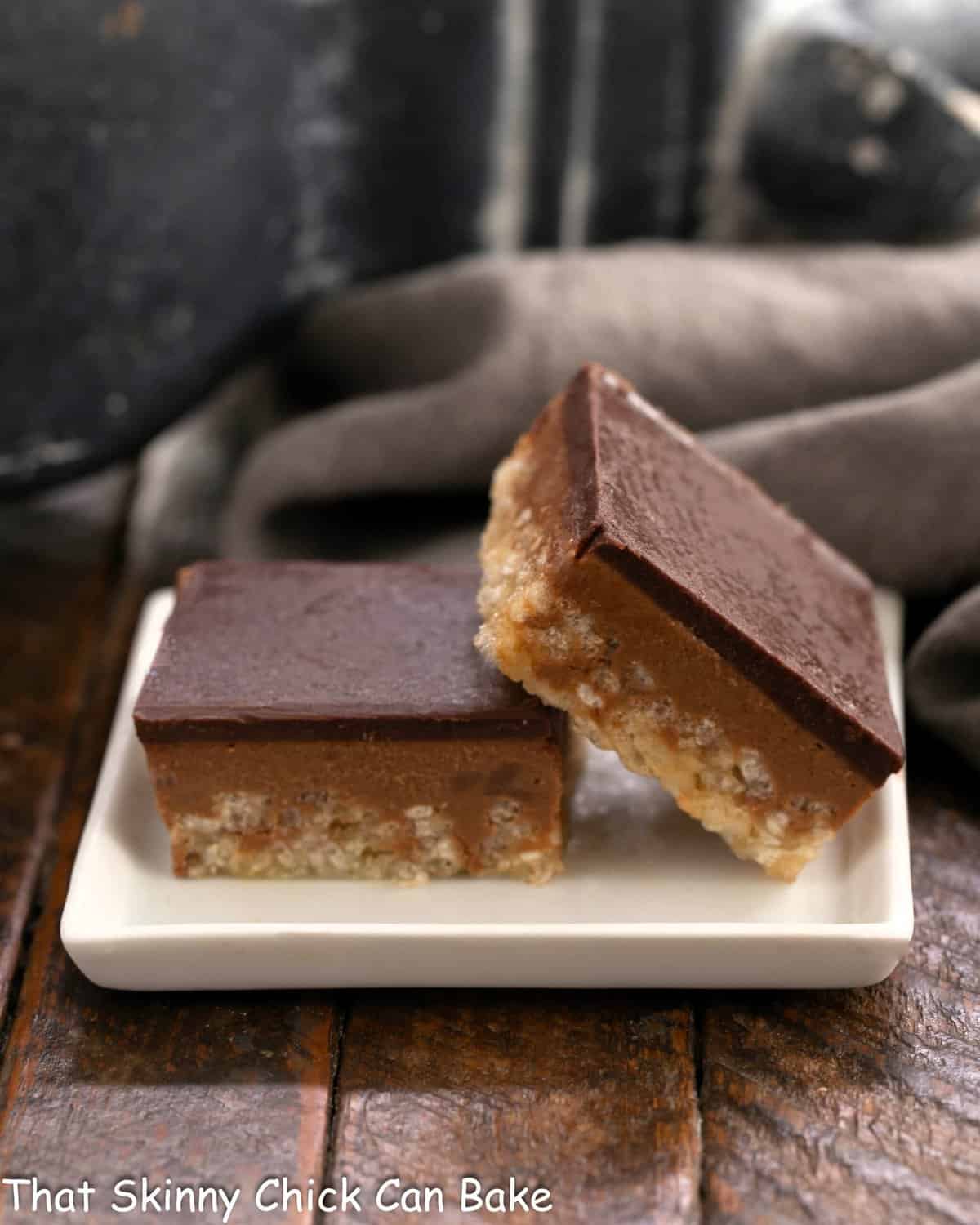 Why You Must Make
There are THREE layers versus the typical 2 layers in peanut butter rice krispie treats or scotcheroos!
They are a twist on the classic Scotcheroos made with corn syrup, Rice Krispies, and a melted chocolate chip or chocolate and butterscotch chip topping!
They are a fun treat for any peanut butter dessert fans!
I made this Chocolate Peanut Butter dessert for the 3 peanut butter chocolate lovers in the household. When home from college breaks many eons ago, I remember rushing into the kitchen, even before unpacking, to make either pumpkin bread or peanut butter Rice Krispie Treats. I wonder what nutrients my body was missing for me to have such intense cravings?? Maybe my diet of popcorn and Diet Cokes wasn't nutritionally sound??? I adore the classic Scotcheroos made with peanut butter, corn syrup, Rice Krispies with a topping of melted chocolate chips (my mom's version did not contain butterscotch chips), so I was dying to try these babies as much for myself as two of my children.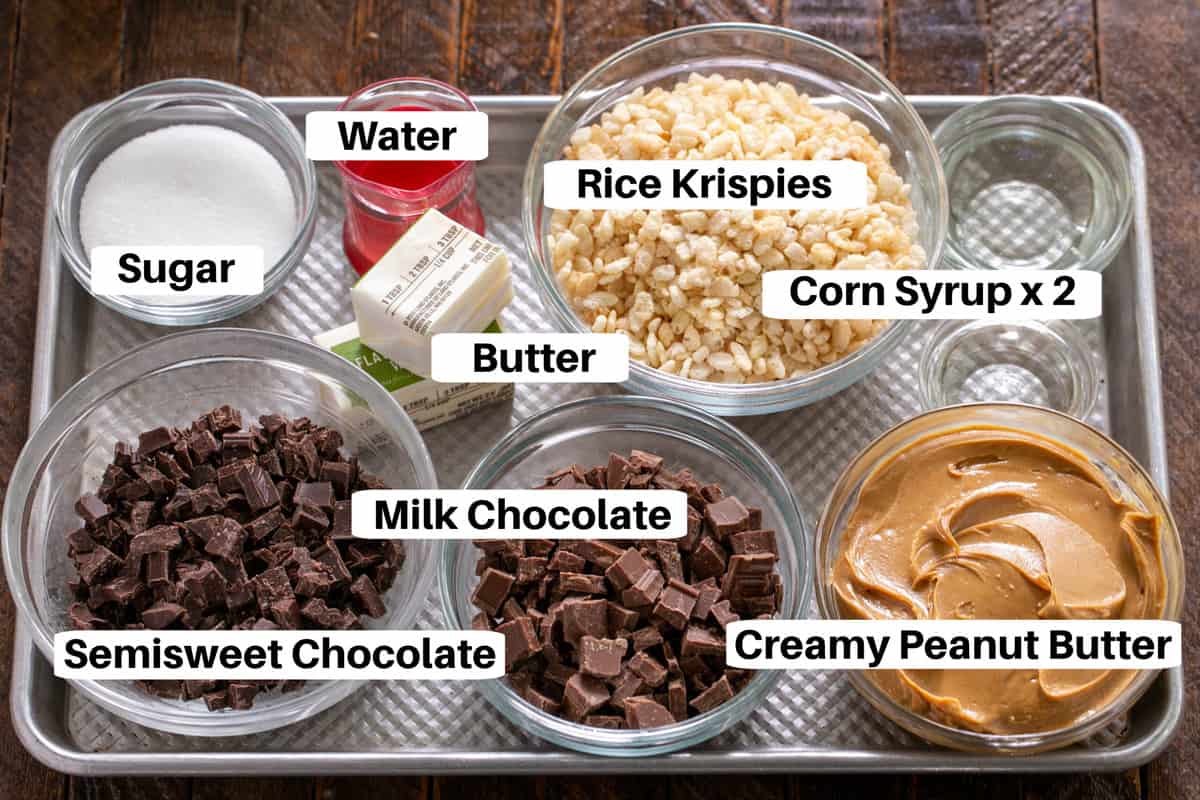 Ingredient Notes
Kitchen Staples – Water, Sugar, Butter
Rice Krispies – I used Kellogg's brand, but a generic brand will work well. Do not use a puffed rice cereal as it is not interchangeable.
Corn Syrup – Light, not dark corn syrup.
Milk Chocolate – I use Ghirardelli Bars, chopped. Chocolate chips will also work, but you'll need to weigh them.
Semisweet Chocolate – Ghirardelli Bars, chopped.
Creamy Peanut Butter – I used Jif brand.
How to Make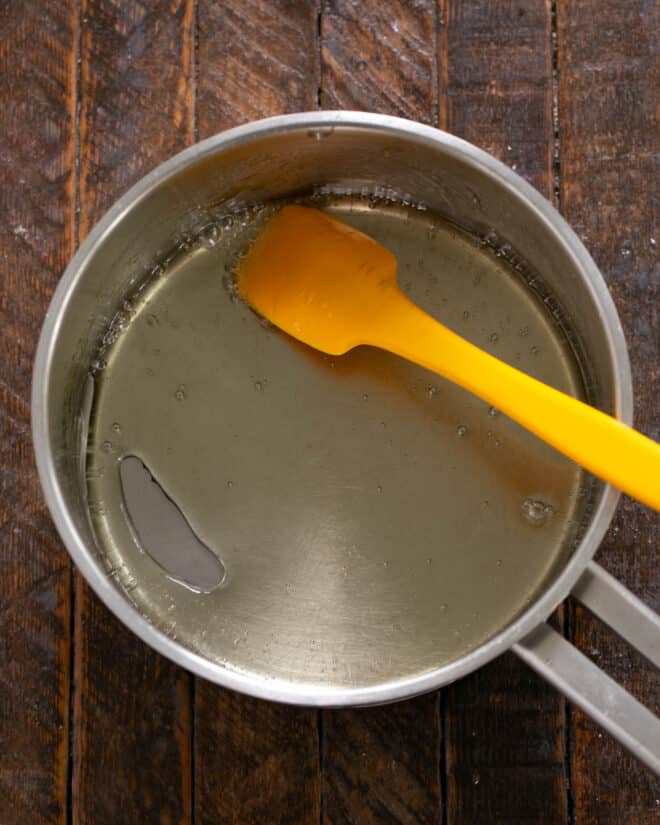 Recipe Tips
Well, these did not disappoint. You Reeses fans MUST try these.
A candy thermometer is necessary to make the base…but this cook's tool can easily be found at the supermarket. Rice Krispies are mixed with hot sugar syrup to form the base, then a mixture of peanut butter and milk chocolate form the middle layer, and a creamy topping of melted semi-sweet chocolate completes this trifecta of deliciousness.
Don't pack the rice krispie layer too firmly. You want it level but not overly compressed.
To make perfect, clean-cut squares, first, chill your bars. Then take a large sharp knife and run it under very hot water, wipe it dry, cut, wipe, reheat, and repeat.
Store in the refrigerator so the chocolate doesn't get too soft.
If you want to stack your bars in a container, place a piece of wax or parchment paper between layers.
When Tom was over for one of our Sunday night family dinners, I told him he could take some of these home. Katie's look of exasperation said it all…she did not want her brother to abscond with HER bars. So you might want to break out the 9 x 13 and make a double batch. They are totally delectable and capable of starting a family feud…though my two oldest agreed to split the remainder of these bars 50-50. Whew.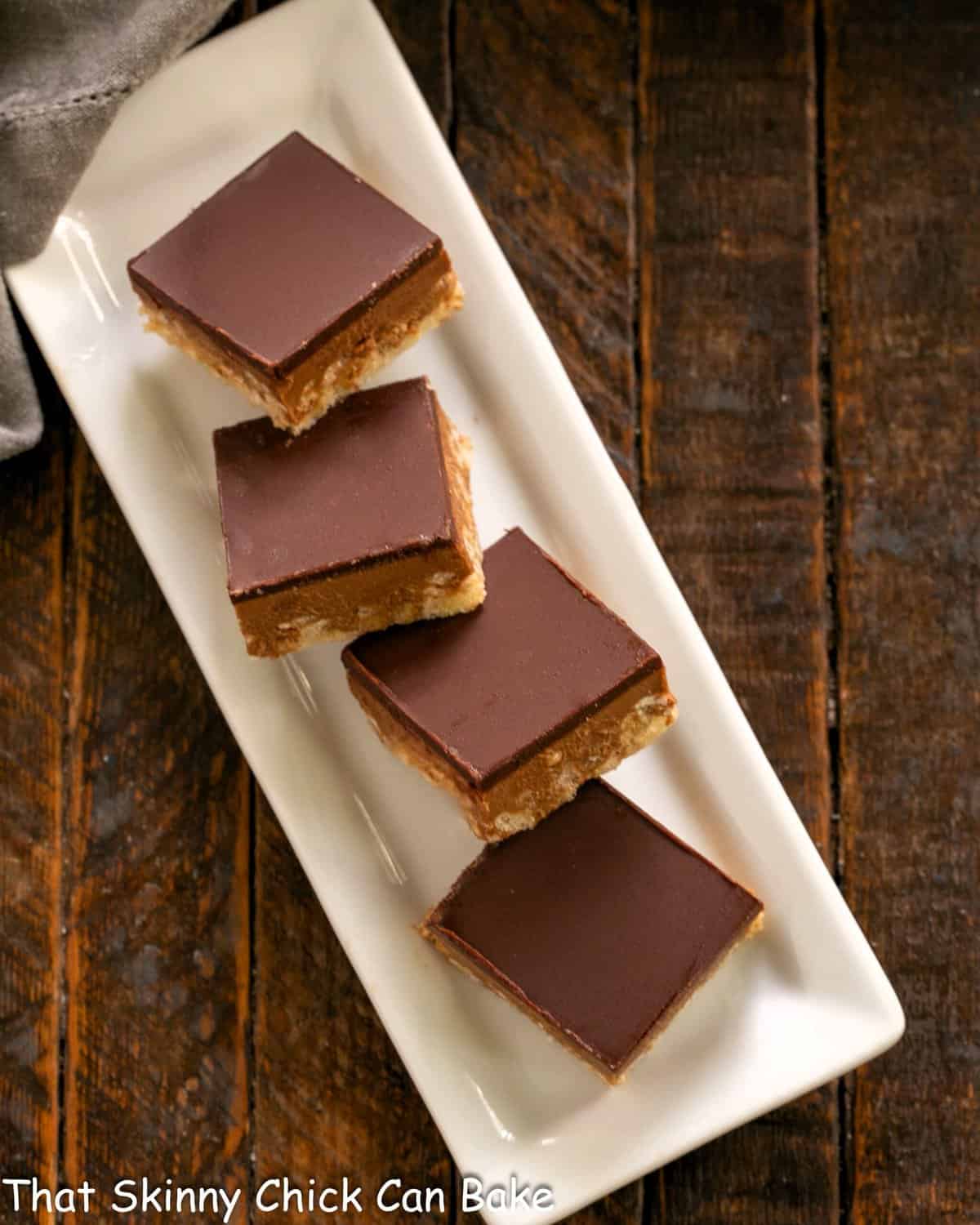 Frequently Asked Questions
Why Do Rice Krispie Treats Get Hard?
If you pack the Rice Krispie mixture with a heavy hand when adding it to the pan, the compressed RKTs can be hard to bite into. Also, with this version, if you overcook the sugar syrup, the bottom layer could possibly reach the hard crack stage, making it brittle when it cools, but this is less likely.
Can you make this in a 9 x 13-inch pan? 
Yes, but you'll want to double the recipe.
Are Peanut Butter Rice Krispie Treats a good pre-workout snack?
Regular Rice Krispie Treats are made with rice krispies, butter, and marshmallows, so they're packed with simple carbohydrates. So a snack like the traditional RKTs would provide almost instant energy if eaten before working out. This version has more fat from the chocolate and peanut butter, so they'd take a little longer to digest and not as helpful to for eat pre-workout as a source of energy.
You May Also Like
Stay in touch through social media @ Instagram, Facebook, and Pinterest. Don't forget to tag me when you try one of my recipes! And if you love the results, please give it a 5-star rating in the recipe card. Note: As an Amazon Associate, I earn from qualifying purchases. Visit my Amazon Store for my favorite products.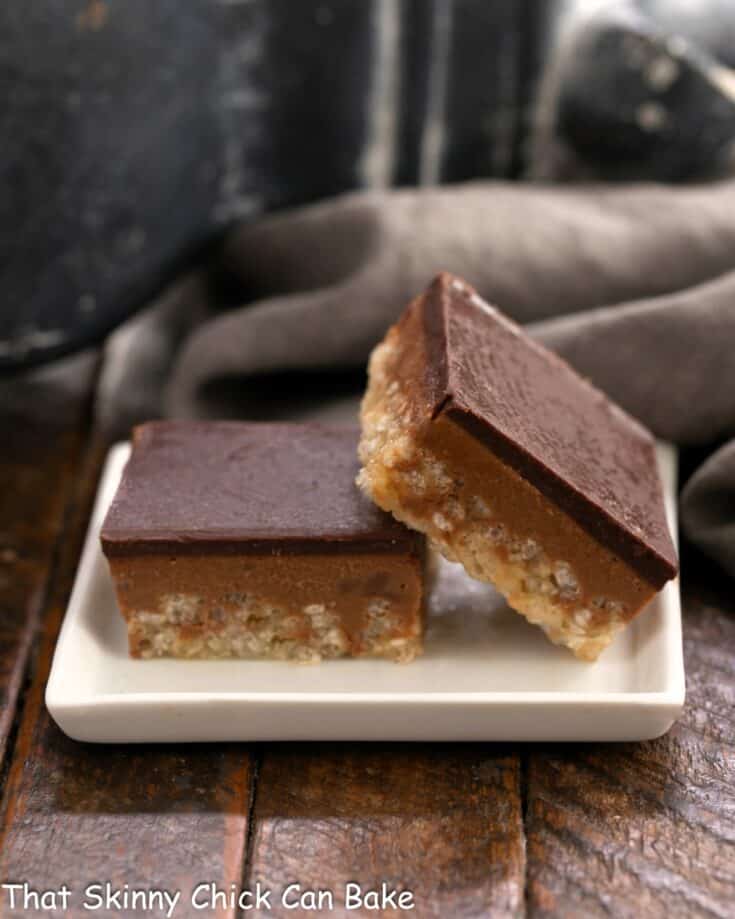 The Recipe:
Chocolate Peanut Butter Krispie Bars
Prep Time 30 minutes
Cook Time 15 minutes
Total Time 45 minutes
Yield 9-16 bars, depending on size
Chocolate Topped Peanut Butter Rice Krispie Bars. Adapted from Baked Explorations.
Ingredients
For the crispy layer:
1 ¾ cups Rice Krispies cereal
¼ cup water
¼ cup sugar
3 tablespoons light corn syrup
3 tablespoons melted butter
For the milk chocolate peanut butter layer:
5 ounces milk chocolate, coarsely chopped
1 cup creamy peanut butter
For the dark chocolate top layer:
4 ounces semisweet chocolate, coarsely chopped
1 tablespoon light corn syrup
4 tablespoons butter
Instructions
For the crust, line an 8 x 8-inch pan with non-stick foil or spray regular foil with cooking spray.
Pour the water into a small saucepan. carefully add the sugar and corn syrup into the center of the pan, avoiding the sides of the pan. Stir the mixture with a wooden spoon or silicone spatula.
Put a candy thermometer in the saucepan, cook over medium-high heat, and bring to a boil. Cook until the mixture reaches the soft ball stage, 235º.
Remove from heat, stir in the butter, and pour the mixture over the crispy rice cereal. Quickly stir the cereal until it is thoroughly coated. Use a silicone spatula to press the mixture into the baking pan. Let the crust cool to room temperature.
For the chocolate peanut butter layer: In a large microwave-safe bowl, heat the peanut butter and chocolate gently until melted. Stir until well combined and pour evenly over the crust. Chill for one hour.
Make the dark chocolate icing layer: In another microwave-safe bowl, heat the chocolate, corn syrup, and butter till melted. Stir till smooth. Pour over the peanut butter layer and spread evenly over top. Chill for an hour or till the layer hardens.
Cut into nine squares. Store the bars in the refrigerator.
Notes
Adapted from Diva Entertains blog (no longer on the site).
Recommended Products
As an Amazon Associate and member of other affiliate programs, I earn from qualifying purchases.
Nutrition Information:
Yield:
9
Serving Size:
1
Amount Per Serving:
Calories: 462
Total Fat: 32g
Saturated Fat: 14g
Trans Fat: 0g
Unsaturated Fat: 15g
Cholesterol: 27mg
Sodium: 256mg
Carbohydrates: 42g
Fiber: 3g
Sugar: 30g
Protein: 8g
Note: This post may contain affiliate links; view
my Disclosure Policy
for details. I earn a small percentage from any purchase you make by clicking on these links at no extra cost to you.