Chocolate Earthquake Cake
This Chocolate Earthquake Cake is a rich, tasty cake that is supposed to sink in the middle! Topped with ganache, whipped cream, and berries, it's picture-perfect!
This One-Layer Chocolate Soufflé Cake is ideal for those times you don't want a huge dessert. It's wonderful for small gatherings.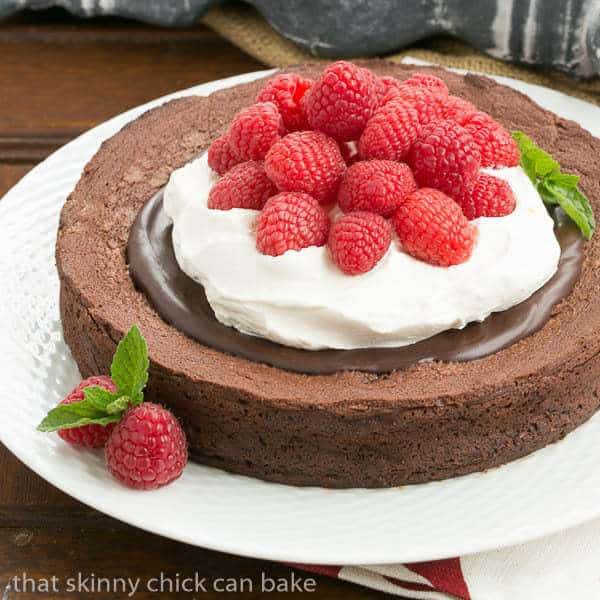 Why You Must Make
It's chocolate on chocolate!!
Jazzed up with a cloud of sweet whipped cream and beautiful red raspberries, it's a show stopper.
With just one layer, this souffle cake is great when you don't want a full-sized layer cake.
The cake part of this recipe comes from Ina Garten!
Tips for Making
PRO-Tip: Use a springform pan for easy release of the cake after it's baked. Lining the bottom with a round of parchments prevents the cake from sticking.
PRO-Tip: Make sure no yolk (or oil residue on the bowl or beaters) contaminates the egg whites or they won't beat properly.
Don't worry if your cake sinks in the middle as it cools. This happens with soufflés and with this soufflé cake.
If you don't want to fill the indentation with chocolate, adding a simple layer of sweetened whipped cream and berries before serving works well. Just note that the whipped cream will separate over time unless you stabilize it by using a product like Whip It.
Ina Garten's version is a gluten-free chocolate cake since she uses 1 tablespoon of gluten-free flour in her recipe. It works wonderfully with all-purpose flour, too. If you don't have her Make It Ahead Cookbook, you may want to check it out (affiliate link).
This cake can be kept at room temperature for 6 hours before serving. Once the whipped cream is added, it must be refrigerated.
How to Make a Souffle Cake
My mom baked up the first chocolate earthquake cake I ever sampled. I don't have her recipe, but this one-layer cake is another winning version!
Preheat the oven and prep your pan.
Separate the eggs and beat the whites until light and fluffy.
Make the chocolate batter.
Fold the whipped whites into the batter.
Bake as directed.
When the whites were folded into the chocolate batter and baked, they provided the lift to the otherwise non-leavened cake. But as it cooled, it was destined to crack and fall, thus resembling the ground after an earthquake! Ina talks about the sunken area in the middle of the cake to be filled with chocolate ganache.
In actuality, mine barely sank, but the ganache, and then whipped cream and raspberry topping really played well off the dense, rich cake whether needed to disguise any malformations or not! I took this cake to a holiday luncheon and my hostess, who is gluten-free, loved that this chocolate earthquake cake recipe only had a tablespoon of flour. Using a gluten-free substitute, like Cup 4 Cup, would turn this into a wonderful gluten-free dessert. You might also like this Chocolate Soufflé Cake.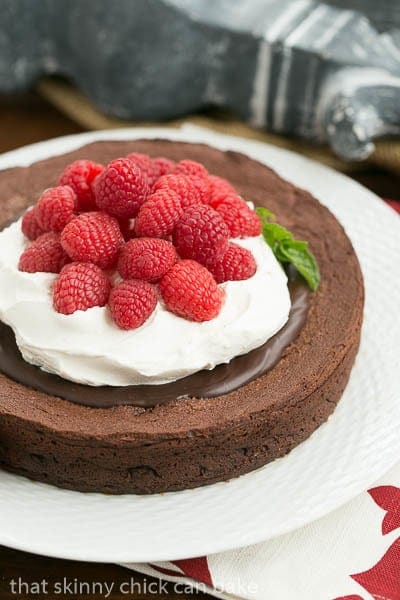 Culinary Term:
To Fold: When you see the term fold in a recipe, it is a mixing technique to gently combine a lighter mixture (like whipped egg whites) into a heavier mixture (like a chocolate cake batter). Using a rubber spatula, the process involves cutting vertically through the two mixtures, scraping along the bottom of the bowl, and bringing the spatula back up the nearest side. The bowl is rotated slightly and the same cutting process is repeated over and over until the mixture is homogeneous.
Frequently Asked Questions
Can a Soufflé Cake be made Gluten-Free?
Yes, with just one tablespoon of flour, it's easily made gluten-free by replacing it with Cup-4-Cup or another gluten-free all-purpose flour.
Why Is this a Soufflé Cake?
A traditional souffle is considered a cake. Like when making a soufflé, in this cake recipe, a flavored mixture is mixed with whipped egg whites and baked. When removed from the oven, this cake is sturdier than other souffles. It will fall, but not collapse completely.
Why Do Soufflés collapse?
The hot air that's trapped in a souffle begins to escape once it's removed from the oven, causing the soufflé to collapse.
You May Also Like:
Stay in touch through social media @ Instagram, Facebook, and Pinterest. Don't forget to tag me when you try one of my recipes! And if you love the results, please give it a 5-star rating in the recipe card. Note: As an Amazon Associate, I earn from qualifying purchases. Visit my Amazon Store for my favorite products.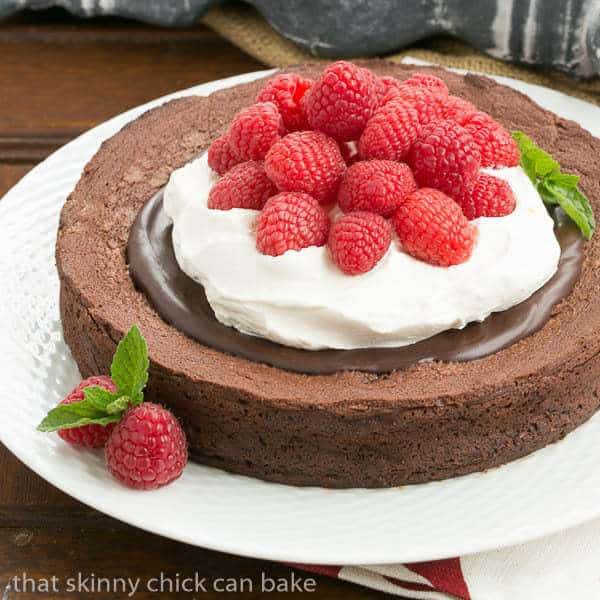 The Recipe:
Chocolate Earthquake Cake
Prep Time 30 minutes
Cook Time 15 minutes
Total Time 45 minutes
Yield 10 servings
Rich, dense, chocolate cake inspired from Ina Garten's new cookbook, Make It Ahead.
Ingredients
19 ounces semisweet chocolate, coarsely chopped, divided
10 tablespoons butter cut into pieces, at room temperature
1 tablespoon flour
1½ tablespoons sugar
1/8 teaspoon salt
5 eggs at room temperature, separated
1/4 cup heavy cream
1/2 cup heavy cream, sweetened and whipped and fresh berries for serving, optional
Instructions
Preheat the oven to 425° F.
Grease an 8-inch spring-form pan and line the bottom with parchment paper.
Place the one pound of chocolate in a large heat-proof bowl set over a pan of simmering water and stir occasionally until the chocolate is melted.
Off the heat, immediately stir in the butter, flour, sugar, and salt with a rubber spatula.
Whisk in the egg yolks until smooth.
Put egg whites in mixer and beat until they form soft peaks.
Scrape the egg whites into the chocolate mixture and fold them in very carefully with a rubber spatula, just until combined.
Scrape the mixture into the prepared pan, smooth the top, and bake for 15 minutes exactly. (Make sure oven is accurate-next time I will bake it 13 minutes!)
Turn the oven off and leave the cake in the oven, cracking the door open a bit.
Let cake cool in the oven for 1 hour.
The cake will sink in the middle.
Remove sides of pan and place cake on your cake stand.
Put 3 ounces of chocolate and the 1/4 cup heavy cream in a microwave safe bowl and heat gently until it is melted and smooth.
Pour this into the center of the cake.
Allow to cool. To serve, topped with whipped cream and berries if desired.
Notes
Make sure no egg yolk or oil contaminates the egg whites or they will not whip properly.
Recommended Products
As an Amazon Associate and member of other affiliate programs, I earn from qualifying purchases.
Nutrition Information:
Yield:
10
Serving Size:
1 slice
Amount Per Serving:
Calories: 473
Total Fat: 37g
Saturated Fat: 22g
Trans Fat: 1g
Unsaturated Fat: 13g
Cholesterol: 144mg
Sodium: 163mg
Carbohydrates: 39g
Fiber: 4g
Sugar: 33g
Protein: 6g
Wondering why this Chocolate Earthquake Cake is a hometown favorite? My dad was a physics professor at Iowa State University, often referred to as Moo U. An idyllic little university town, we lived just blocks away from the campus. But my father had wanderlust. He grew up on the near north side of Chicago and loved nothing better than our summer vacations hiking in Aspen or camping in the National Parks out west.
When I was a junior in high school, he thought we should pack up our worldly possessions and spend a sabbatical year at the University of British Columbia in Vancouver. Oh, the drama this caused with his 4 daughters—a lot of estrogen in play. But it was like a dream vacation–sailing on English Bay in the summer, skiing on Grouse Mountain in the winter. And learning how to say about properly and punctuate sentences with "eh."
And here comes my logic. Being on the west coast of the continent, Vancouver does experience tremors—and so my Chocolate Earthquake Cake now fit the hometown theme. Granted, I never felt an earthquake in Vancouver, though I have in Iowa, but work with me here!!!
Note: This post may contain affiliate links; view
my Disclosure Policy
for details. I earn a small percentage from any purchase you make by clicking on these links at no extra cost to you.