Bourbon Maple Glazed Carrots
Try these scrumptious, easy and elegant Bourbon Maple Glazed Carrots for dinner guests or holiday entertaining. A few simple ingredients make for a special occasion side dish!
This Glazed Carrots Recipe is easy and elegant and you'll want seconds and thirds!
Why You'll Love my Best Glazed Carrots Recipe
Years ago, I was given a bottle of bourbon-spiked maple syrup. Besides being a decadent pancake topper, I whipped up these elegant glazed carrots for an upscale holiday side dish.
Glazing carrots is such an easy way to turn a normal vegetable side dish into something company-worthy! And this recipe doesn't require any gourmet maple syrup to make it.
Maple Glazed Carrots
This fancy cooked carrots recipe can definitely be reserved for dinner guests or family holiday dinners, but they're so easy to make, but I wouldn't recommend it. These carrots are a super simple side dish that takes a little extra time to cook.
Reducing the glaze takes about 30 minutes after already having to cook the carrots. But besides the extra step, there's nothing complicated about these glazed carrots. And if you ask my hubby, he'd tell you they were worth the wait!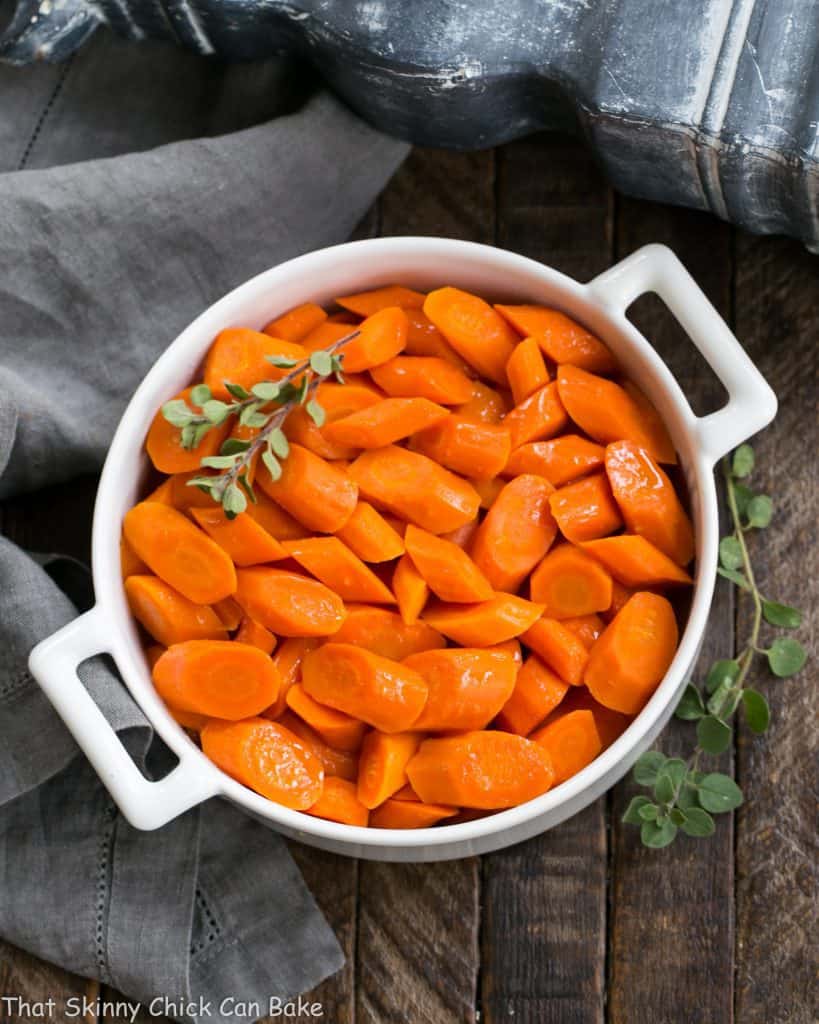 How to Make Glazed Carrots
My usual method of making glazed carrots is to cook carrot slices or coins in water until tender, drain, then add butter and brown sugar to the carrots and heat until the sugar is melted.
This recipe adds another step by using a more flavorful cooking liquid which includes chicken broth, maple syrup, and bourbon. Once the carrots are tender, they're removed and the liquid is reduced to a glaze.
Tips for Cooking Glazed Carrots
The addition of maple syrup and bourbon gives some zest to ordinary carrots. If you don't like cooking with alcohol, feel free to leave it out. If you're serving children, the long reducing time should boil out almost all the alcohol.
Make sure the carrots are covered in the chicken broth, syrup, bourbon, and butter so they all cook at the same rate.
Pro-Tip: Alcohol, like salt, is a flavor enhancer. Another reason this recipe is a winner!
PRO-Tip: For a vegetarian version, feel free to use vegetable stock or salted water instead of the chicken broth.
Reduce the glaze to about 1 cup. The time will vary depending on how vigorously the liquid is boiling.
If your chicken stock is salty, you may not need to add any extra salt to the carrots. Taste before seasoning. A little black pepper is recommended.
Our dogs love carrots and come running when they hear the vegetable peeler. Here's Lambeau, circa 2010.
More Holiday Side Dishes:
You Might Like: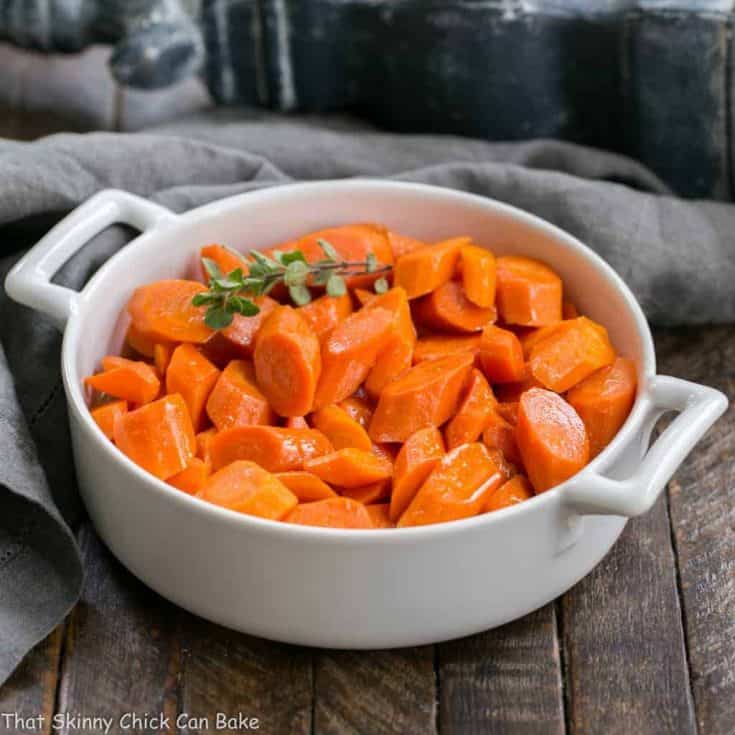 The Recipe:
Bourbon Maple Glazed Carrots
Prep Time 10 minutes
Cook Time 50 minutes
Total Time 1 hour
Yield 8
A simple maple syrup, bourbon glaze to take your carrots to the next level!
Ingredients
3 pounds carrots, peeled and cut into thick diagonal slices
4-5 cups chicken stock
1/2 cup maple syrup
1-2 tablespoons bourbon
1/4 cup (1/2 stick) butter
1 tablespoon cider vinegar
Freshly ground black pepper, to taste
Salt, to taste (taste before seasoning)
Instructions
In a large saucepan, combine carrots, chicken stock, maple syrup, bourbon and butter. Bring to a boil, then decrease to a simmer till carrots are tender, 30-40 minutes.
Remove carrots to a bowl, leaving the liquid in the pan. Bring the liquid to a gentle boil, and reduce the mixture to 1-1 1/4 cups, about 30 minutes. Return carrots to the pan and add vinegar, salt and pepper to taste. Serve.
Nutrition Information:
Yield:
8
Serving Size:
1
Amount Per Serving:
Calories: 336
Total Fat: 8g
Saturated Fat: 2g
Trans Fat: 0g
Unsaturated Fat: 5g
Cholesterol: 18mg
Sodium: 1032mg
Carbohydrates: 49g
Fiber: 5g
Sugar: 28g
Protein: 16g
Note: This post may contain affiliate links; view
my Disclosure Policy
for details. I earn a small percentage from any purchase you make by clicking on these links at no extra cost to you.