Cranberry Cognac Trifle
This elegant Cranberry Cognac Trifle is a show stopping holiday dessert!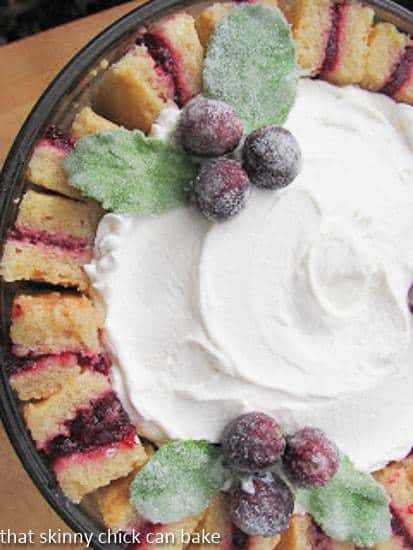 Cranberry Cognac Trifle
My dad took a sabbatical in Glasgow, Scotland, nearly 20 years ago, and one of their lovely neighbors invited us over for dinner. Fresh raspberries from the bushes in the back yard, Bird's custard, plus cake and jam were transformed into this incredible classic British dessert. I've made a few since then, but recently this Cranberry Cognac Trifle from Gourmet caught my eye.
Holiday Trifle
What a perfect, and beautiful, dessert for the holidays. A cranberry cognac trifle will definitely dazzle your guests! It's best to make this the day before serving, so that all the flavors meld and the custard soaks into the cake.
For those short of time, this Martha Stewart Cranberry Trifle gives the option of using store bought pound cake, a nice alternative.
Cranberry Cognac Trifle…adapted from Gourmet
For the cake:
12 egg yolks
2 1/4 cups sugar
6 tablespoons whole milk
1 1/2 teaspoons vanilla
1 1/2 cups flour
3/4 teaspoon salt
6 egg whites
For the cranberry jam:
1 vanilla bean, halved lengthwise
12 ounce bag of cranberries (may use frozen cranberries, unthawed)
1 1/2 cups sugar
1/2 cup fresh orange juice
1/2 cup water
For custard:
3/4 cup sugar
3 tablespoons cornstarch
4 cups whole milk
2 teaspoons freshly grated orange zest (only orange part…avoid zesting into the white)
10 egg yolks
1 teaspoon vanilla
For cognac syrup:
1 cup water
1/2 cup sugar
2 4-inch strips orange zest
2/3 cup cognac
Sugared cranberries and mint:
1 tablespoon powdered egg white (meringue powder)
1 tablespoon warm water
6 fresh mint leaves
9 raw cranberries
1/4 cup sugar
Whipped topping:
1 1/3 cup heavy cream
1/4 cup powdered sugar
1 tablespoon cognac
1/4 teaspoon vanilla
1 envelope Whip-it (cream stabilizer), optional
To assemble:
Cranberry jam (can be made 4 days ahead)
Cognac syrup (can be made 4 days ahead)
Custard (can be made 3 days ahead)
Whipped Topping (make right before serving)
Cake (can be made 2 days ahead, wrapped and refrigerated or frozen up to a month)
To garnish:
Sugared cranberries and mint (mint will only keep a few hours before darkening)
To make cake, preheat oven to 350º. Butter three 15 x 10 x 1/2 inch baking pans. Line with parchment, butter top of parchment and dust with flour.
Whisk together yolks, 1 1/2 cups sugar, milk and vanilla till well combines. Whisk in flour and salt. With electric mixer, whip egg whites till they form soft peaks. Add remaining 3/4 cups sugar and beat on high till stiff peaks form.
Fold a third of the egg whites into the the batter, then fold in the remaining whites. Divide the mixture between the three pans. Tap gently to remove air bubbles. Bake 10-12 minutes…one at a time. Cool in pans.
To make jam, scraped seeds from vanilla bean into a medium sized saucepan. Add cranberries, sugar, orange juice and water. Bring to a boil, stirring occasionally, then reduce to a simmer and cook about 20 minutes longer…stir every now and then. Puree jam in a food mill set over a bowl. Cool at room temperature, stirring occasionally. Cover and refrigerate till needed.
To make cognac syrup, bring all ingredients to a boil in a saucepan, stirring occasionally, till sugar is dissolved. Reduce to a simmer and cook 5 more minutes. Cool.
To make custard, whisk 1/4 cup of the sugar, cornstarch, and a pinch of salt in a medium saucepan. Whisk in 1/4 cup milk till smooth, then stir in remaining milk and orange zest. Bring to boil, whisking frequently. Fill sink or a large bowl with ice and water. Whisk together yolks and remaining sugar in a large bowl or glass measuring cup. Add about 1/2 cup of the hot milk mixture while whisking vigorously to temper the yolks. Whisk in more of the milk,then return the yolk mixture back to the saucepan. Cook, while stirring constantly, till mixture reaches 170º. Do not bring to a boil. Pour this custard mix through a fine sieve into a Pyrex or metal bowl. Stir in vanilla and set in ice water, making sure water is not high enough to spill into bowl. Allow to cool, stirring occasionally. Cover and store in fridge till needed.
To make garnish, mix egg whites and warm water in small bowl. Dip berries and mint leaves in mixture, removing excess with fingers. Coat with sugar and place on a rack to dry.
To assemble trifle, cut around perimeter of cakes with knife to loosen. Cover with wax or parchment paper and flip out onto rack. Remove parchment from bottom of cake and put a fresh sheet of wax or parchment on top of cake. Repeat with other two cakes. Cut cakes in half from long side to long side. Spread 1/3 of jam on half of each cake…almost to edge. Use wax or parchment paper to flip plain half of cake on top of jam topped half.
Cut each "sandwich" into 3/4 inch strips (going which ever direction makes the best length for your trifle dish. Line perimeter of 3 1/2 quart trifle bowl with these sandwich strips. Trim tops and brush cake strips with cognac syrup. Brush scraps with cognac syrup.
Put some of the cake scraps onto bottom of trifle bowl in one layer. Top with 1 cup of custard, then another layer of cake, and another 1 cup of custard. Repeat again if there's room in your bowl. Cover and refrigerate till time to serve.
To serve, whip cream with powdered sugar, cognac, vanilla and Whip-it, if using, till soft peaks form. Mound on top of trifle. Garnish with sugared berries and mint.
Note: This post may contain affiliate links; view
my Disclosure Policy
for details. I earn a small percentage from any purchase you make by clicking on these links at no extra cost to you.