Apple Topped Pork Medallions with Calvados Cream Sauce
Years ago, I served these Apple Topped Pork Medallions with Calvados Cream Sauce on Christmas Eve. But this gourmet entree is easy enough for a week night!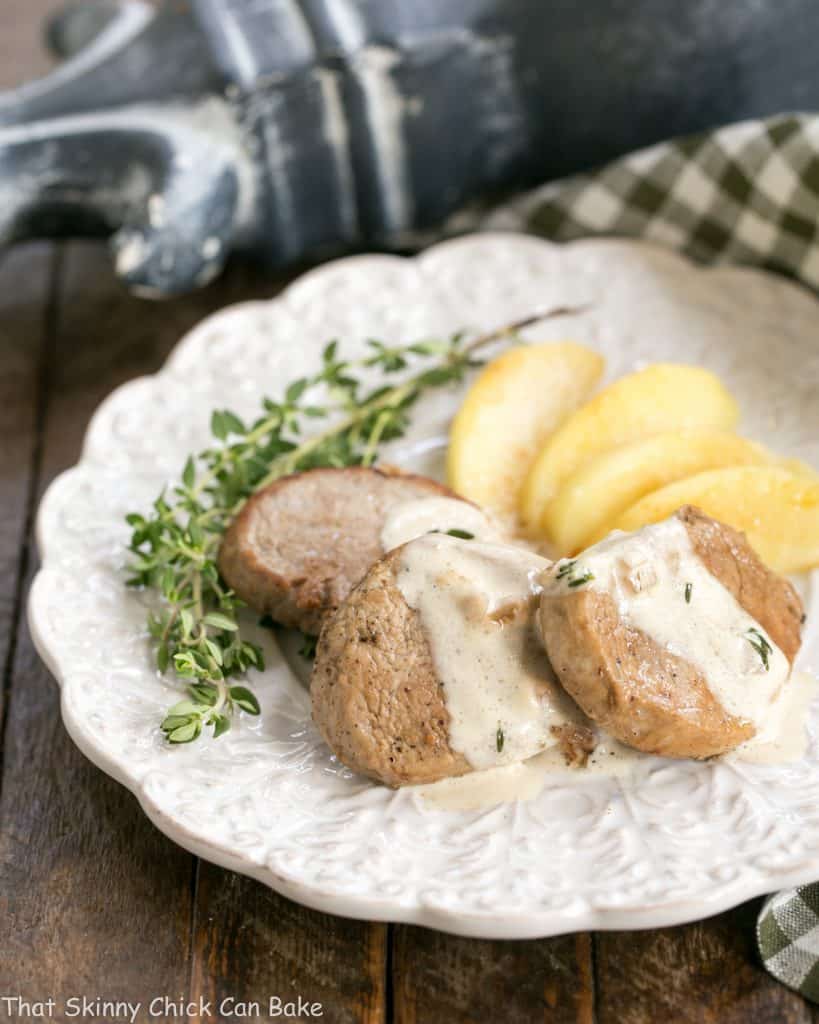 Apple Topped Pork Medallions
For years, these fabulous apple topped pork medallions were our traditional Christmas Eve dinner. As a child, I was more likely to have a steaming bowl of oyster stew. My three sisters and I would be buzzing with excitement around our dining room table in anticipation of midnight Mass and Santa's arrival. We relished this special meal and my mom would buy oyster crackers, another once a year treat.
No oyster fans in this house besides me, so with beef on tap for Christmas, this entree hit the mark perfectly for Christmas Eve. The Calvados cream sauce wasn't too shabby, either!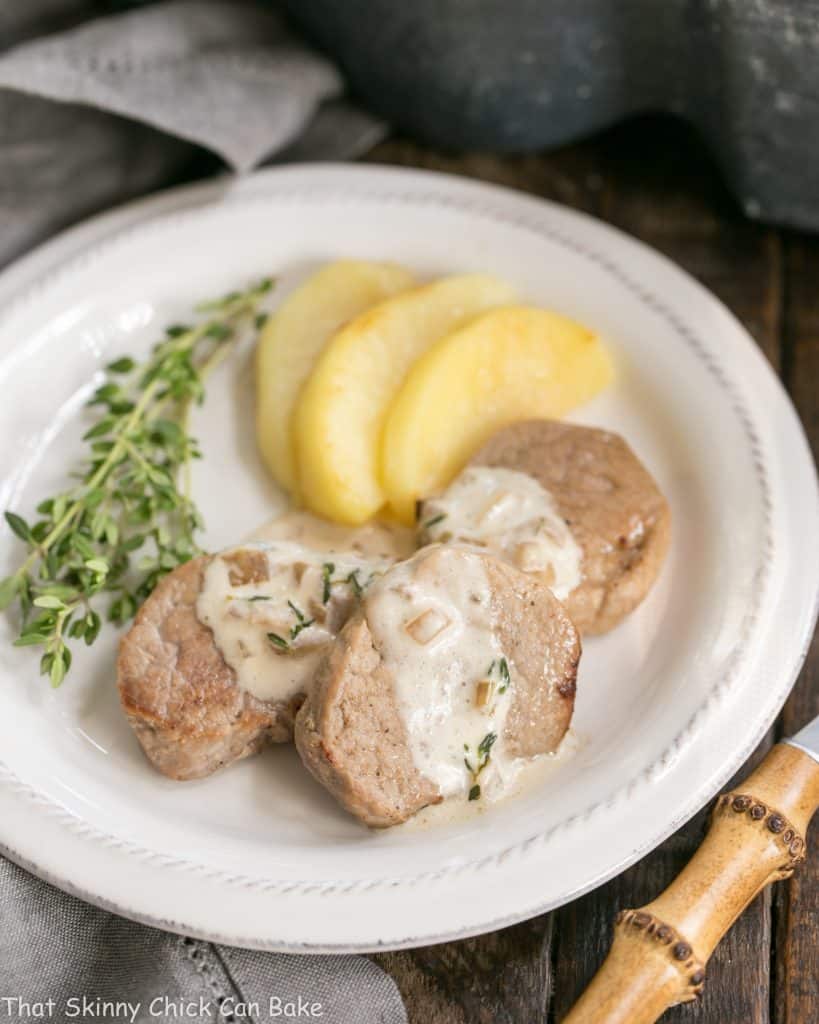 Calvados Cream Sauce
The apples were cooked with a sprinkling of sugar and butter, then the pork was sauteed with more butter! But what pushed this easy dinner recipe over the top was the simple cream sauce spiked with Calvados, a French apple brandy and a sprinkle of fresh thyme. Much as I wanted to drizzle this Calvados cream sauce right into my mouth, I restrained myself and saved it for the pork!
Zyliss Cook Ultimate Non-Stick Frying Pan Giveaway – Now Closed
I cooked up these pork and apples in a brand new, high tech Zyliss Cook Non-Stick Frying Pan. No oil or butter was needed due to the Rockpearl Plus Swiss Technology used to create the 3-layer, non-stick surface. Of course, I needed butter for flavor, but it's good to know it is not necessary!
This saute pan comes with a glass lid for easy viewing and has an unprecedented 10 year non-stick guarantee! Plus the ergonomic soft touch handle makes lifting and shaking a breeze. Zyliss has graciously offered my readers 10% off on all Zyliss Cook products. This Zyliss Cook promotional code can be used at check out: cook2017.
More Excellent Features:
Metal tool safe
Dishwasher safe (say, what???)
Oven safe to 356° F
Easy to clean
Hard wearing and durable (won't scratch easily)
Even heat distribution
My only complaint was probably due to user error. When I cranked the heat to try to brown the pork, and definitely went over the safe temperature, I caught a faint aroma resembling burnt plastic. Keeping your pan at medium heat, as recommended, should prevent this from happening.

The Zyliss saute pan in action!
More Pork Recipes You'll Love:
The Recipe:
Apple Topped Pork Medallions with Calvados Cream Sauce
Prep Time 10 minutes
Cook Time 20 minutes
Total Time 30 minutes
Yield 4 servings
An easy, restaurant-worthy entree!
Ingredients
5 tablespoons butter, divided
4 golden delicious apples, peeled, cored and sliced
1 teaspoon sugar
1 1/2 pounds pork tenderloin, cut into 1-inch slices and pounded into medallions
2 tablespoons chopped shallots
1 tablespoon fresh thyme leaves
1/4 cup apple brandy, I used Calvados
1 cup heavy cream
1/4 cup apple cider
Instructions
Melt 2 tablespoons of butter in a large skillet. Add the apples and sugar and cook over medium high heat till golden brown, about 5 minutes. Remove from pan.
Melt 2 more tablespoons of butter in skillet. Season pork with salt and pepper and saute over medium high heat, till cooked through, about 2 minutes per side. Remove from pan and cover with foil to keep warm.
Add last tablespoon of butter to skillet. Cook shallots over medium heat til soft, about 2 minutes. Add thyme, then Calvados. Scrape up browned bits and allow Calvados to reduce to a glaze. Stir in cream and cider and cook till thickened, about 3 minutes. Season with salt and pepper if desired.
Reheat apples. Arrange pork on plate, garnish with apples, and top with cream sauce.
Notes
Recipe adapted from Bon Appetit
Nutrition Information:
Yield:
4
Serving Size:
1
Amount Per Serving:
Calories: 516
Total Fat: 37g
Saturated Fat: 23g
Trans Fat: 1g
Unsaturated Fat: 11g
Cholesterol: 129mg
Sodium: 153mg
Carbohydrates: 29g
Fiber: 5g
Sugar: 22g
Protein: 11g
Disclosure: I was given a Zyliss saute pan to review and one to giveaway. I was not paid to write this post or review this pan. All opinions are my own.
Note: This post may contain affiliate links; view
my Disclosure Policy
for details. I earn a small percentage from any purchase you make by clicking on these links at no extra cost to you.