Apple Topped Pork Medallions with Calvados Cream Sauce
Years ago, I served these Apple Topped Pork Medallions with Calvados Cream Sauce on Christmas Eve. But this gourmet entree is easy enough for a weeknight!
Fanning out the sauteed apples and drizzling the Pork Tenderloin Medallions with a luscious cream sauce makes this a company-worthy entree!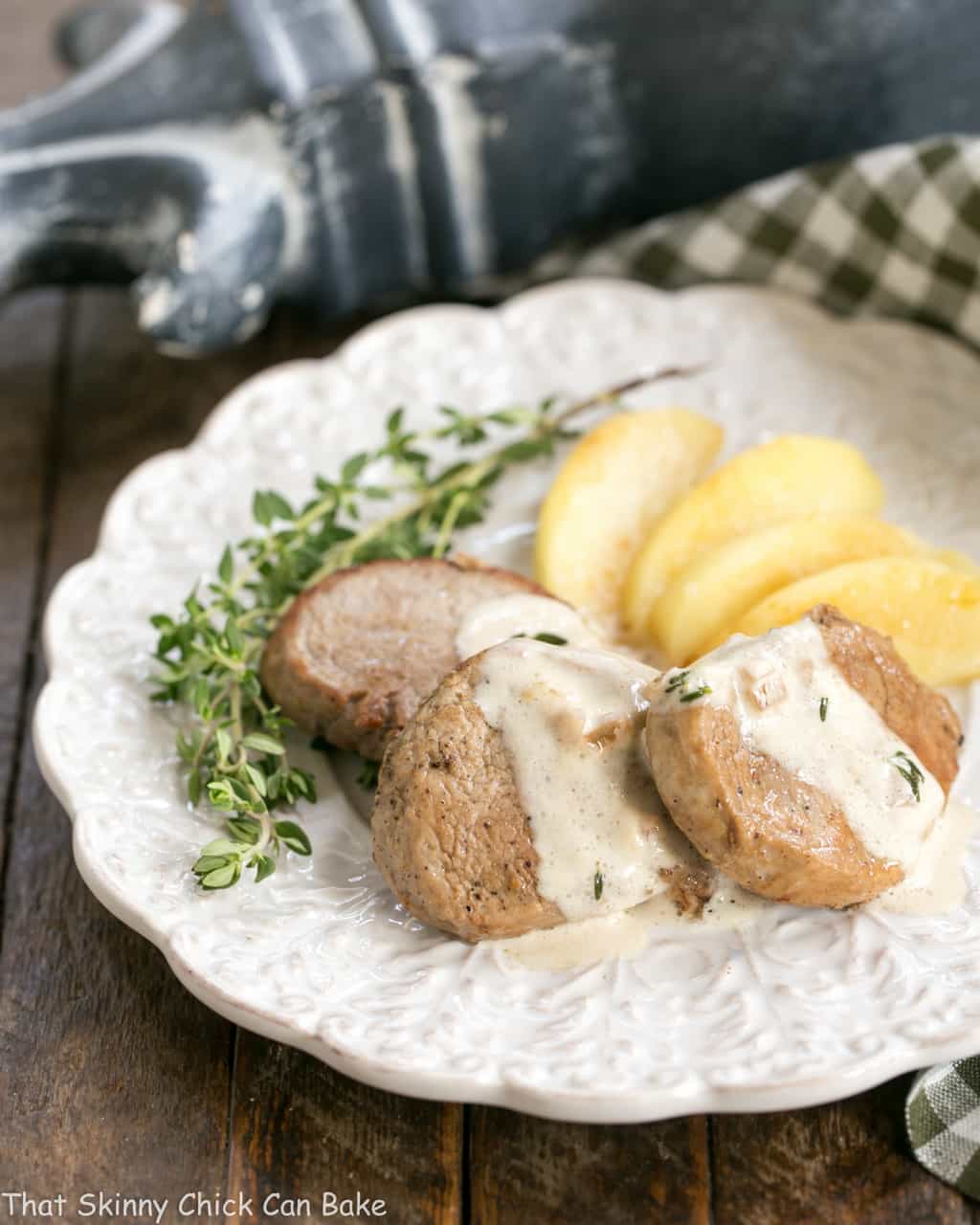 Why You Must Make
For years, this pork medallions recipe was our traditional Christmas Eve dinner.
It's easy to make, yet elegant enough for a special occasion or holiday.
The Calvados cream sauce pushes this recipe over the top!
As a child, I was more likely to have a steaming bowl of oyster stew. My three sisters and I would be buzzing with excitement around our dining room table in anticipation of midnight Mass and Santa's arrival. We relished this special meal and my mom would buy oyster crackers, another once-a-year treat. With no oyster fans besides me in this house, and beef on tap for Christmas, this entree hit the mark perfectly for Christmas Eve.
Ingredient Notes
Kitchen Staples – Butter (salted is fine), Sugar
Golden Delicious Apples – Peel, Core, and Slice
Pork Tenderloin – Have the butcher trim if there is silverskin. Slice into 1-inch pieces and pound into medallions.
Shallots – Chopped
Fresh Thyme – Strip leaves off stems
Calvados – An apple brandy, another variety of apple brandy can be substituted
Heavy Cream – 36% butterfat
Apple Cider – Adds more apple flavor to the cream sauce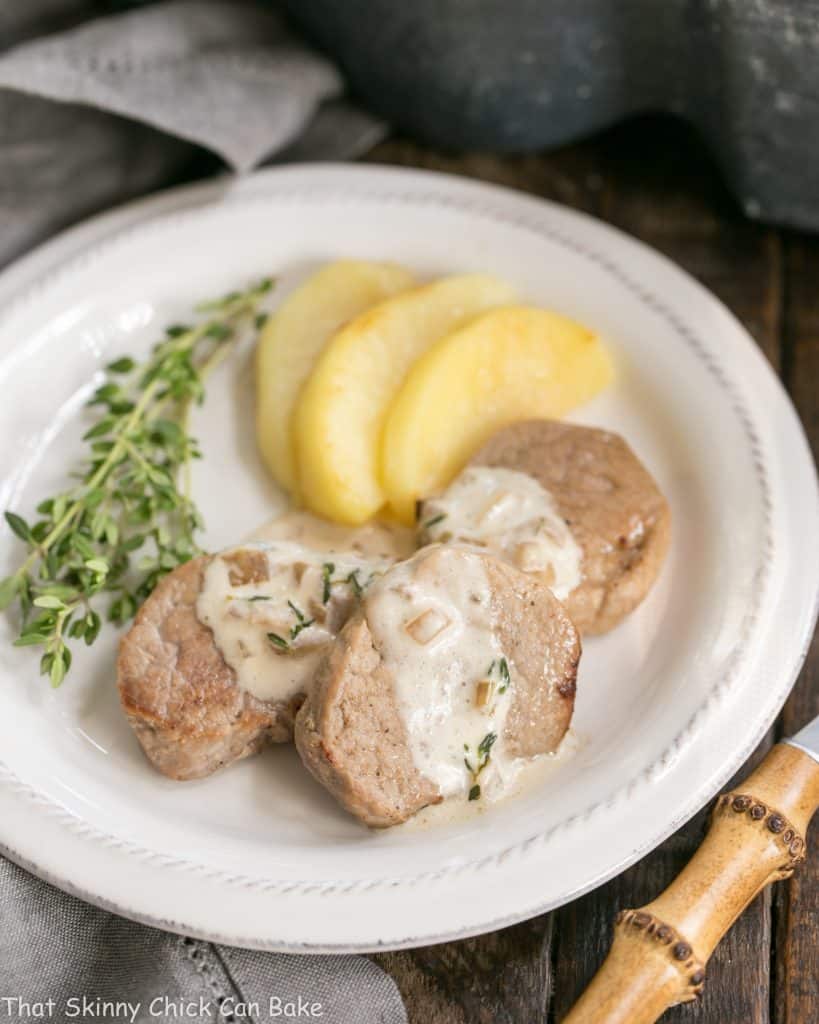 How to Make
In a skillet, cook the apples and sugar in butter until soft and golden. Remove.
Add more butter to the skillet, then cook the pork medallions until browned. Remove.
Cook the shallots in butter, then add thyme and Calvados.
Scrape up browned bits and allow Calvados to reduce to a glaze.
Stir in cream and cider and cook until thickens slightly. Taste and season.
Reheat the apples.
Arrange pork on each plate, garnish with apples, and top with cream sauce.
Recipe Tips
Use the flat side of a meat mallet or even a rolling pin to pound the pork into ¼-½ medallions. Often meat mallets have a "toothed" side that's used to tenderize tougher cuts of meat. You will not need to use that side.
Make sure to season the pork before cooking so the flavor is absorbed into the meat instead of just staying on the surface.
Cook the pork just a minute or two per side to get some nice browning.
If you want to check the internal temperature, the medallions should reach 145°. The pork may be slightly pink inside, but not raw looking. Pink is fine, but raw is not.
If your medallions are tough, it's because they were overcooked. Pork tenderloin is a lean cut of pork and overcooking will make it dry.
Deglaze the pan with Calvados, a French apple brandy. Alcohol is a flavor enhancer and most of the alcohol will evaporate as it cooks.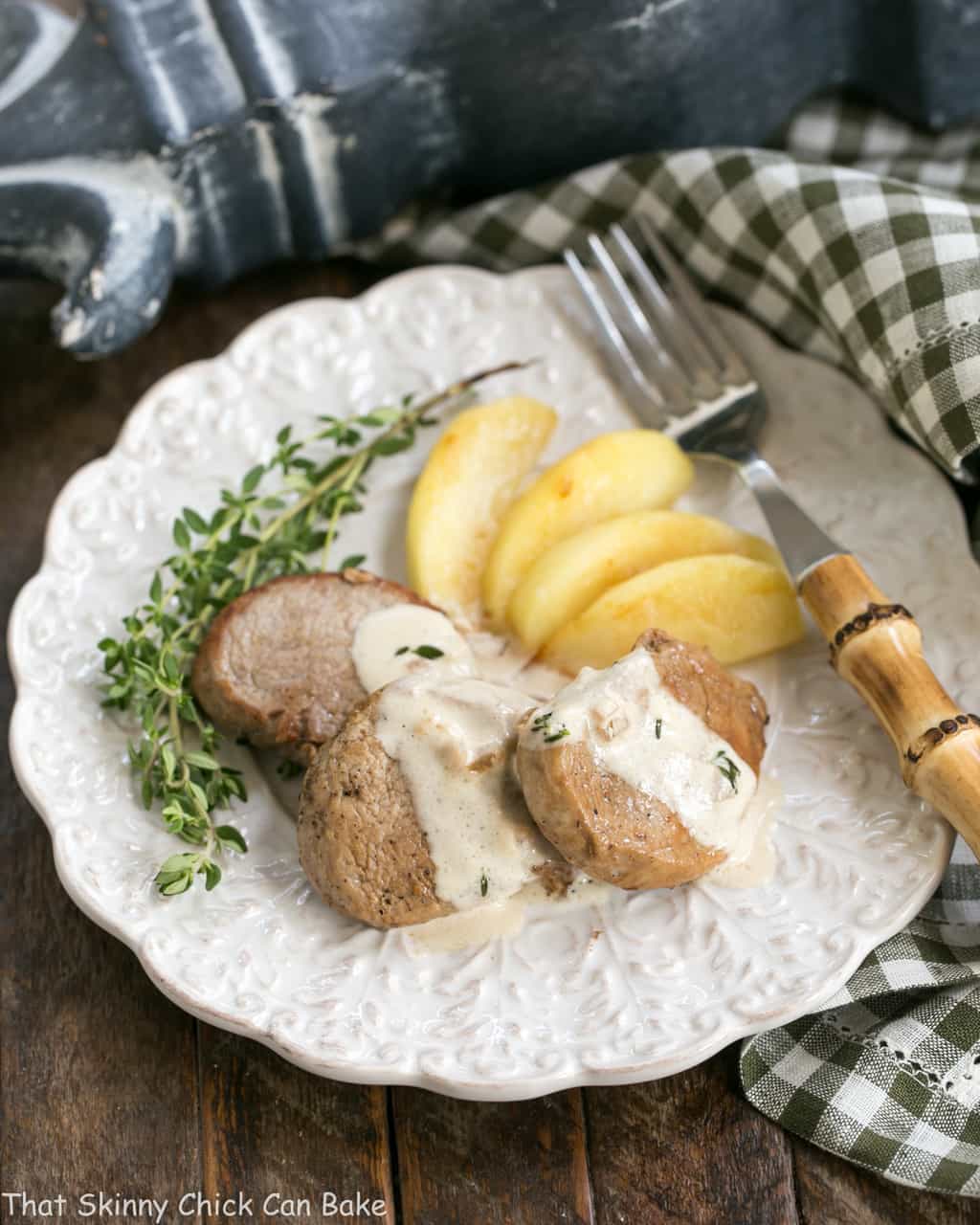 Frequently Asked Questions
How Do You Make Pork Medallions?
Start by slicing your uncooked pork tenderloin into 1-inch slices. Place them on a cutting board and pound with the flat side of a meat mallet until they're ¼ to ½-inch thick. Then cook as directed. Many meat mallets have a "toothed" side for tenderizing tougher cuts. You do not need to tenderize this cut of pork.
How Do You Know When Your Cream Sauce is Done?
You should visibly see the sauce thicken. Then dip a spoon in the sauce. Use your finger to swipe a line down the back of the spoon. If the line remains, your sauce has thickened. If not, continue cooking and reducing the sauce until it thickens a bit more.
What Is Calvados?
It's a French Apple Brandy that comes from Normandy. Alcohol is a flavor enhancer so adding some brandy to the cream sauce makes it even more delicious. And as it simmers, much of the alcohol evaporates.
You May Also Like
The Recipe:
Apple Topped Pork Medallions with Calvados Cream Sauce
Prep Time 10 minutes
Cook Time 20 minutes
Total Time 30 minutes
Yield 4 servings
An easy, restaurant-worthy entree!
Ingredients
5 tablespoons butter, divided
4 golden delicious apples, peeled, cored, and sliced
1 teaspoon sugar
1 ½ pounds pork tenderloin, cut into 1-inch slices and pounded into medallions
2 tablespoons chopped shallots
1 tablespoon fresh thyme leaves
¼ cup apple brandy, I used Calvados
1 cup heavy cream
¼ cup apple cider
Instructions
Melt 2 tablespoons of butter in a large skillet.
Add the apples and sugar and cook over medium-high heat till golden brown, about 5 minutes. Remove from pan.
Melt 2 more tablespoons of butter in the skillet. Season pork with salt and pepper and saute over medium-high heat, till cooked through, about 2 minutes per side. Remove from pan and cover with foil to keep warm.
Add the last tablespoon of butter to the skillet. Cook shallots over medium heat til soft, about 2 minutes. Add thyme, then Calvados.
Scrape up browned bits and allow Calvados to reduce to a glaze.
Stir in cream and cider and cook till thickened, about 3 minutes. Season with salt and pepper if desired.
Reheat the apples.
Arrange pork on each plate, garnish with apples, and top with cream sauce.
Notes
Recipe adapted from Bon Appetit
Recommended Products
As an Amazon Associate and member of other affiliate programs, I earn from qualifying purchases.
Nutrition Information:
Yield:
4
Serving Size:
1
Amount Per Serving:
Calories: 516
Total Fat: 37g
Saturated Fat: 23g
Trans Fat: 1g
Unsaturated Fat: 11g
Cholesterol: 129mg
Sodium: 153mg
Carbohydrates: 29g
Fiber: 5g
Sugar: 22g
Protein: 11g
Note: This post may contain affiliate links; view
my Disclosure Policy
for details. I earn a small percentage from any purchase you make by clicking on these links at no extra cost to you.