These Strawberry Shortcakes with Olive Oil Cake would be perfect to grace your Easter table, though easy enough to whip up all through the summer.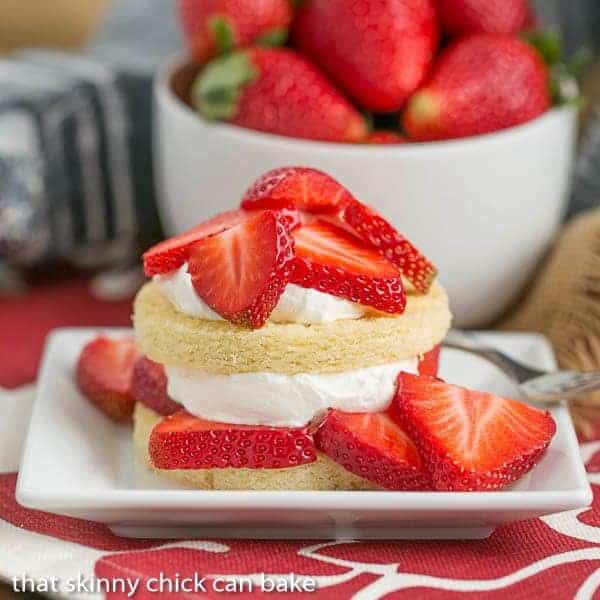 Olive Oil Cake for March's Blogger CLUE
It's that time again. My Blogger CLUE friends and I are sharing Easter recipes from our assigned blogs. Lucky me was assigned  Annadishes, the lovely blog written by my sweet friend, Anna. Anna hails from Florida, but we've been lucky enough to meet up at blog conferences in Seattle and Chicago. I zeroed in on her Olive Oil Cake for two reasons. First, she dolled it up with berries and whipped cream, just my style. Then I saw that the recipe came from Thomas Keller's amazing Bouchon Bakery cookbook. I was sold.
Bouchon Bakery
On my one and only trip to Las Vegas, I made sure Bill and I had dinner reservations at Bouchon, one of Thomas Keller's restaurants. Bill  loved it so much that he makes sure to dine there when he's on his biennial business trips to Sin City. I just ask that he brings me home a cookbook and that has worked out nicely—but we've run out of those! With Anna's endorsement, I knew this would be a winner. Using olive oil in a cake is very European, or at least, I recall Dorie Greenspan using olive oil in one of her Parisian loaf cakes. I was excited to try this one out, and I had a feeling my strawberry shortcake lovin' family would enjoy this dessert!
Easter Recipes
With Easter arriving on March 27 this year, our Blogger CLUE team is sharing all sorts of inspiration for your holiday table. Even if you don't celebrate Easter, you're certain to find a delicious, must make recipe. Thanks so much, Anna, for inspiring me with your marvelous  Olive Oil Cake recipe!