This Peach Raspberry Crisp is a delectable dessert that graces our table at least once each summer. The combination of peaches and raspberries is heavenly!


Peach Raspberry Crisp
Peaches are one of my favorite summer  indulgences. I love eating a piece of this ripe, juicy fruit for an afternoon snack, but a crisp, cobbler or pie truly makes my heart sing. Served slightly warm with a scoop of vanilla ice cream is pure heaven. Bill prefers his peaches cooked, so I've adapted my favorite apple crisp into a delectable seasonable dessert.
Magical Combination!
If you haven't tried the peach raspberry combo in your desserts, it's a must. My  husband adores my Peach Raspberry Pie, but this crisp is just as gratifying with much less effort.  Fruit crisps like this Old Fashioned Apple Crisp are also a family favorite. No rolling out of a pastry crust, just the mixing and sprinkling of a sweet, buttery crumble. Baked with a touch of cinnamon until the juices are hot, bubbly, and fragrant will have everyone hovering around the oven. Let this peach raspberry crisp cool down a bit before serving, and don't forget to add  a dollop of ice cream to your plate!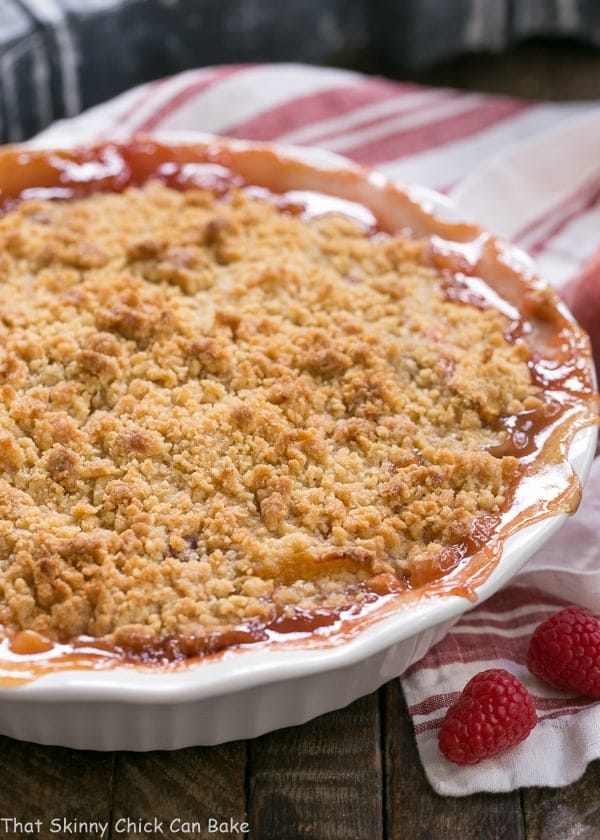 More Recipes You'll Love:
Peach Raspberry Crisp #PeachLove
A summer crisp recipe featuring peaches and raspberries
Ingredients
Filling:
6-10 sliced and peeled fresh peaches (or enough to fill your casserole dish)
1 half-pint fresh raspberries
1 cup sugar
2 tablespoons flour
½ teaspoon cinnamon
Topping:
1 cup flour
½ cup brown sugar
½ cup butter, at room temperature
Instructions
Preheat oven to 350º.
Gently mix the fruit with sugar, flour, and cinnamon. Put in a 9 x 9 baking pan or equivalent casserole dish. In another bowl, cut together the topping ingredients with a pastry blender or mix together with fingers till well combined. Sprinkle over fruit.
Bake 40-50 minutes or longer till topping is golden and filling is bubbly. Carefully broil for a minute or two if topping needs some more color. Serve warm with vanilla ice cream.