According to my family, I hit a home run with this Black Bottom Chocolate Mousse Pie! A pastry crust, a layer of chocolate ganache topped with chocolate mousse, whipped cream and chocolate curls…I think they're right! Thanks to Safest Choice pasteurized eggs for sponsoring this post. Scroll down for more details.
A Rich and Dreamy Chocolate Pie
A chocolate pie is a given at our house for the holidays. Typically it's a French silk pie, but I decided to veer slightly off track and fill the pie crust with mousse. But my head was spinning with more ideas. More chocolate. So a layer of ganache was added and this Black Bottom Chocolate Mousse Pie was born.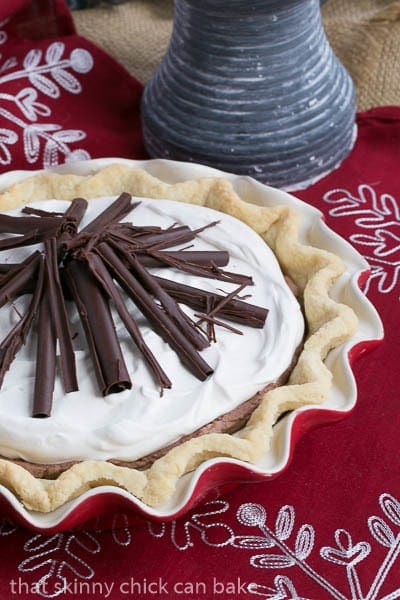 A Safe Mousse with Safest Choice Eggs
You've heard me wax poetic about pasteurized eggs. It's imperative to use these to avoid the salmonella bacteria which is associated with eating raw or undercooked eggs. I was planning to serve this pie to my 87 year old mother-in-law and didn't want to risk making her ill. Thank goodness Davidson's Safest Choice Pasteurized Eggs are readily available at two of our local markets, Marsh and Fresh Market. For best results, separate the eggs while they are cold, but let the egg whites come to room temperature before whipping. I find these eggs take much longer to come to firm peaks, so be patient. As long as your bowl and whisks are scrupulously clean and no yolk has contaminated your whites, you'll be fine. Grease is the enemy of well whipped egg whites, so take care when prepping for this step.

For a Fancy Schmancy Pie, Add Chocolate Curls
Chocolate shavings or just a light dusting of cocoa powder would be terrific finishing garnishes for this chocolate mousse pie, but if you want a show stopper for the holidays, try making some chocolate curls. I found this technique on the Pioneer Woman's blog, and though I don't get perfect curls 100% of the time, I think a mix of curls and partial curls creates an exquisite presentation. Basically, just melt 3 ounces of semi-sweet chocolate with one tablespoon of shortening. Spread it out thinly on the back of a sheet pan and tuck it in the freezer for about 3 minutes before using a bench scraper or metal spatula to scrape off curls. If the chocolate is too soft, pop it back in the freezer; if it's too hard, let is warm up for a minute or so at room temperature. Check out Ree's post for step by step photos. I've also discussed the method on my post for Fluffy Chocolate Dessert. With or without chocolate curls, this Black Bottom Chocolate Mousse Pie is a dessert that will dazzle whoever is lucky enough to get a slice!
Disclosure: This post is sponsored by Davidson's Safest Choice Eggs. All opinions are my own.