White Chocolate Dipped Cheesecake Pops
White Chocolate Dipped Cheesecake Pops are made of balls of homemade cheesecake dipped into white chocolate melts. Cheesecake fans go crazy for this exquisite, portable treat!!!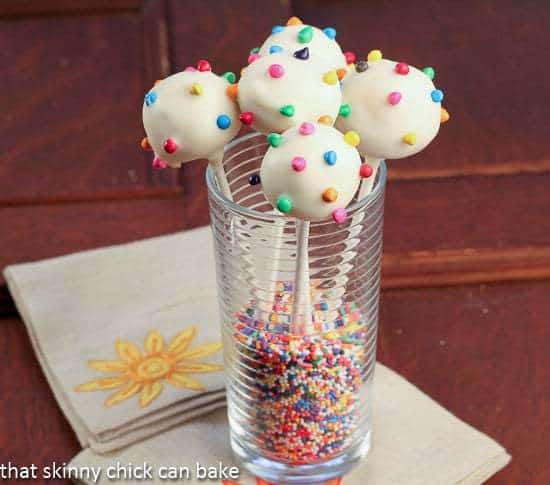 White Chocolate Dipped Cheesecake Pops
I'm a little late to the cake pop fad. In fact, until recently spotting a recipe for cheesecake pops, I had no intention of ever making any. I was co-hosting a bridal shower for a darling neighbor girl I watched grow from a uniformed school girl to a college athlete to a professional woman and soon to be wife!
These sounded too irresistible to pass up. I decided to use Ghiradelli White Chocolate Melting Wafers for dipping and found some festive sprinkles to jazz them up.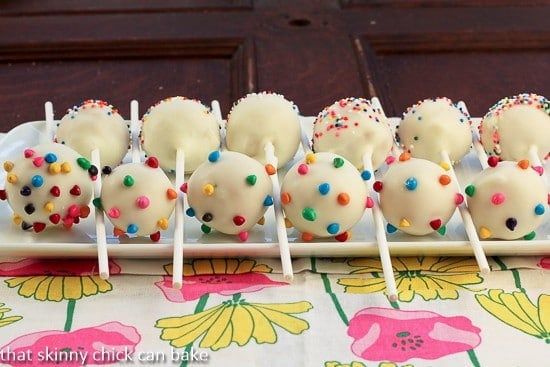 The Cake Pop Challenge!
This is one of those recipes where you finally perfect the technique by the last dip. It takes some practice to determine when the consistency of the topping is just right, when it's too late to add sprinkles, and when the cheesecake is too warm to stay attached to the pops. So there were a few not so attractive ones, but the taste was paramount. Thankfully, these white chocolate dipped cheesecake pops were excellent! Plus they weren't too shabby for my first cake pop attempt!

The Verdict
At the shower, one of my friends asked me if I bought these at Starbucks! I guess they looked better than I thought! They garnered rave review from all the guests. Plus MY family didn't want these gems to leave the house!!! I did let them sample some of my practice attempts, though.
I was even asked how I got the cheesecake inside. I just love when a dish creates such curiosity and enthusiasm! Definitely worth the extra effort!!! My other contributions were Lemon Bars and Caramel Espresso Bars.
The Recipe:
White Chocolate Dipped Cheesecake Pops
Prep Time 1 hour
Cook Time 50 minutes
Total Time 1 hour 50 minutes
Yield 35 cake pops
Homemade cheesecake balls are dipped into white chocolate for an exquisite, bite sized treat!
Ingredients
For the cheesecake:
16 ounces of cream cheese, at room temperature
3/4 cup plus 2 tablespoons sugar
1 1/2 tablespoons flour (1 tablespoon plus 1 1/2 teaspoons)
1 teaspoon vanilla
Dash of salt
2 eggs, at room temperature
1 egg yolk, at room temperature
2 tablespoons heavy cream
For the Pops:
1 1/2 cups graham cracker crumbs (I processed one sleeve/9 rectangles)
24 ounces white candy melts (I used Wilton brand)
Lollipop sticks
Sprinkles (optional)
Instructions
Preheat the oven to 325º.
In a mixing bowl, beat cream cheese till smooth. Continue mixing and gradually add in sugar.
Add the flour, vanilla, and salt and mix well, scraping the sides of the bowl as needed. Add eggs and yolk and mix till just combined. Beat in cream till just combined.
Pour into 8-inch cake pan or spring-form pan and bake for 50 minutes.
Cool for about an hour, then cover and cool overnight in the refrigerator.
To assemble:
Place graham cracker crumbs in a bowl.
Scoop about a tablespoon of cheesecake and roll into a ball between your palms, then roll in crumbs.
Place on parchment-lined cookie sheet. Chill (I chilled overnight). If yours are still soft, place the tray in the freezer while assembling pops.
Place candy melts into a small bowl (you want the melted candy to be deep for dipping). Melt in microwave according to package instructions.
Dip the end of lollipop sticks into the melted candy melts about 1/2 inch, then insert into the chilled cheesecake ball.
Dip the whole ball into the melts. Remove and tap gently to remove excess (tapping your wrist is one method that works well). Either place on a cookie sheet to harden or insert into a piece of Styrofoam (this allows the coating to harden without developing a flat side).
Re-microwave melts as needed. Store in refrigerator.
Notes
Adapted from Bakerella via Crazy for Crust.
Nutrition Information:
Yield:
35
Serving Size:
1 cake pop
Amount Per Serving:
Calories: 142
Total Fat: 5g
Saturated Fat: 3g
Trans Fat: 0g
Unsaturated Fat: 2g
Cholesterol: 30mg
Sodium: 63mg
Carbohydrates: 22g
Fiber: 0g
Sugar: 14g
Protein: 1g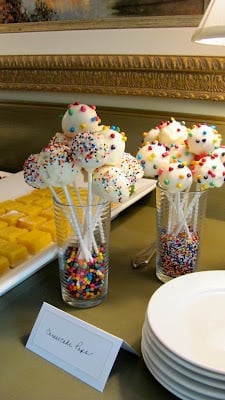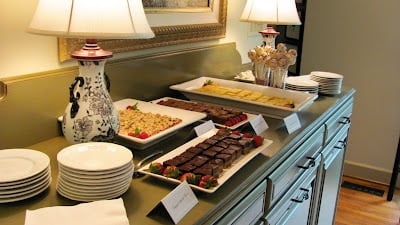 Note: This post may contain affiliate links; view
my Disclosure Policy
for details. I earn a small percentage from any purchase you make by clicking on these links at no extra cost to you.