Caramel Espresso Bars
Caramel Espresso Bars have the incredible combination of chocolate and caramel that will make you swoon! Plus tossing some espresso in the mix only accentuates the marvelous chocolate ganache. These mocha bars will only get rave reviews!
These gooey Caramel Bars are ideal for the mocha lovers in your life! A graham cracker crust is topped with caramel then a dark chocolate espresso topping!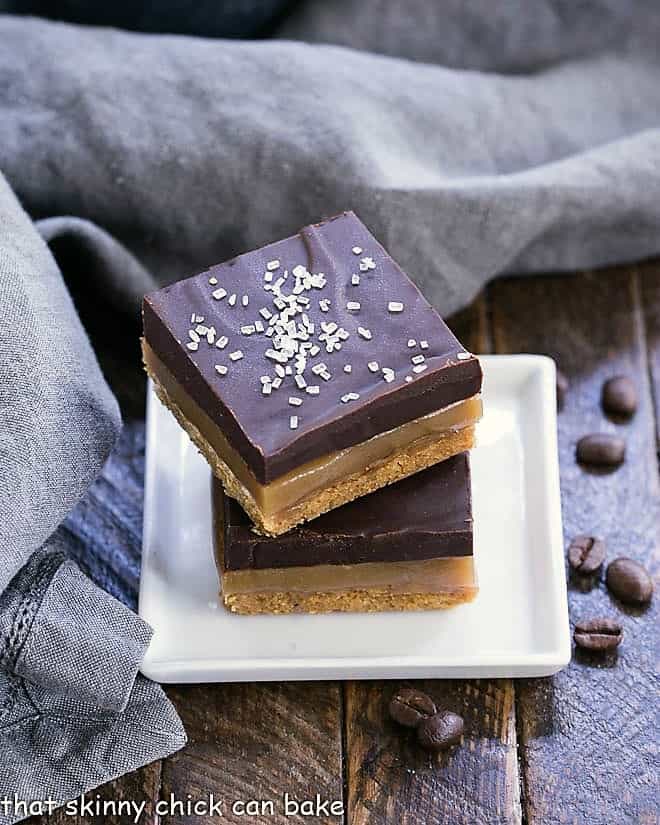 Caramel Espresso Bars
I first made these caramel espresso bars for a wedding shower a number of years ago. The bride to be loves dark chocolate andmocha, so when I spotted Giada's recipe for Caramel Espresso Bars, I knew it was a done deal! Thank goodness, my co-hosts assigned me the desserts when I missed our first planning session. They know me well!
There was not one single bar left by the end of the shower. These and my Cheesecake Pops were definitely the crowd favorites.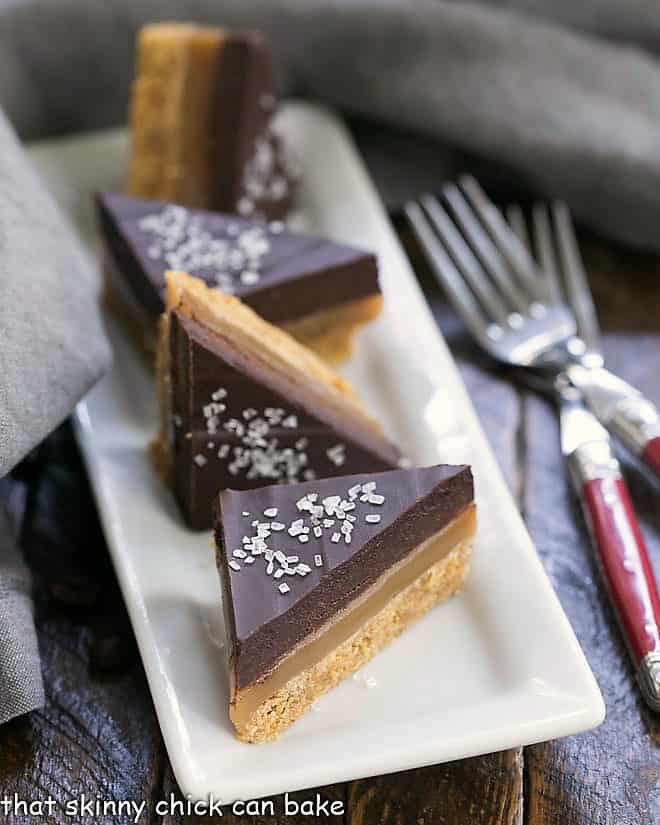 Tips for Making Caramel Espresso Bars:
I remade these bars for my mocha loving son to take to work, but kept a few back to share with my girlfriends. The first comment was, "Oh, my God." Then another friend asked if I thought she could make them for the Thanksgiving weekend. The answer was YES. Then I got a "Wow!" via text from a neighbor and her husband. They were wildly successful once again!
My tweaks from the original recipe were minimal. I used regular graham crackers instead of cinnamon and baked these in a square pan instead of a round spring-form pan.
Giada added more espresso powder, but 1 teaspoon gave a nice coffee undertone to the topping. Feel free to add up to 1 3/4 teaspoons for a more pronounced flavor.
A candy thermometer is imperative for making the proper consistency caramel. Mine reached about 244º and was perfect.
Make certain the caramel is cool but pourable before adding the chocolate layer and chill well before cutting. It's also best to keep the cut bars in a covered container in the refrigerator after slicing. This will keep the caramel from oozing if they get too warm.
Alternatively, these bars freeze well.
Note that the crust can be a bit crumbly. It was a challenge to get picture-perfect slices, but my friends didn't mind one bit!
If you love a touch of salt with your sweets, you can sprinkle a bit of coarse salt over the ganache before it hardens.
You will not regret making these splendid bars!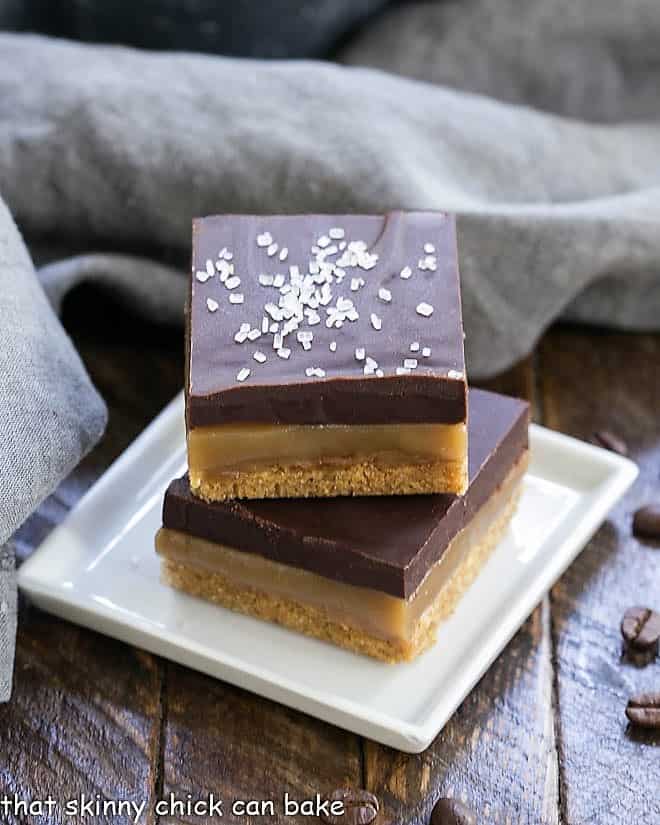 More Bar Cookie Recipes You'll Love:
This post was originally shared in May 2012. The text and photos were updated in 2019.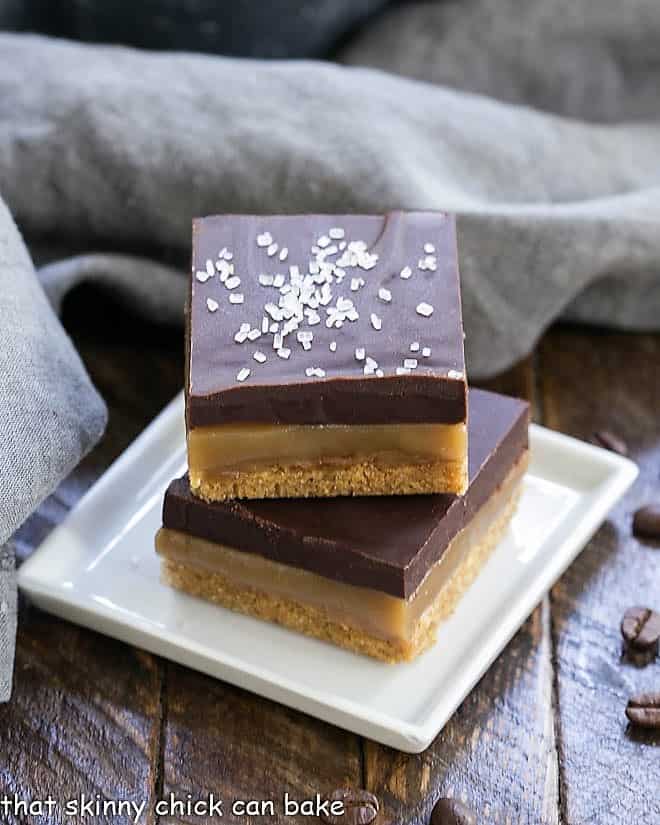 The Recipe:
Caramel Espresso Bars
Prep Time 40 minutes
Cook Time 25 minutes
Total Time 1 hour 5 minutes
Yield 16 servings
Layered bars with a graham cracker crust, caramel layer and a chocolate espresso topping!
Ingredients
Crust:
2 cups graham cracker crumbs (about 12 rectangles)
1/4 cup sugar
6 ounces butter, melted (1 1/2 sticks)
Filling:
1/2 cup heavy cream
4 ounces unsalted butter, at room temperature (1 stick)
1 1/2 cups brown sugar
1 tablespoon water
Topping:
12 ounces semisweet chocolate chips
1/2 cup heavy cream
1 teaspoon instant espresso powder
Instructions
Preheat the oven to 350º. Line an 8 x 8 inch pan with non-stick foil or regular foil sprayed with non-stick cooking spray...leave some excess on two sides to assist with removal.
In a food processor, combine the graham crackers and sugar and process until finely ground. Add the melted butter and blend until well combined.
Spread the mixture into the bottom of the pan, pressing gently to form an even layer.
Bake for 10 to 12 minutes until the crust is golden. Cool for about 15 minutes.
While the crust is cooling, in a heavy saucepan, combine 1/2 cup of cream, 1 stick of butter, brown sugar, and water.
Stir over medium heat until the mixture is smooth. Bring the mixture to a boil and cook, without stirring, until a candy thermometer registers 240º (mine reached 244º), about 5 to 7 minutes.
Carefully pour the caramel over the warm crust. Cool for 20 minutes. Freeze until firm, about 10-15 minutes.
Combine the chocolate chips and cream in a microwave safe bowl and microwave at 30 second increments, stopping and stirring till mixture is melted and smooth. Whisk in the espresso powder.
Remove the pan from the freezer, and check to see that the caramel has cooled and solidified.
Pour the chocolate mixture over the caramel layer and smooth with a spatula. Refrigerate for at least 1 hour until firm.
Remove bars from pan using foil. Use knife dipped in hot water and dried to cut bars.
Notes
Adapted from Giada/Food Network
Nutrition Information:
Yield:
16
Serving Size:
1 bar
Amount Per Serving:
Calories: 402
Total Fat: 27g
Saturated Fat: 16g
Trans Fat: 1g
Unsaturated Fat: 9g
Cholesterol: 55mg
Sodium: 129mg
Carbohydrates: 42g
Fiber: 2g
Sugar: 34g
Protein: 2g
The sweet mother of the bride, the bride to be,
and the bride's sister.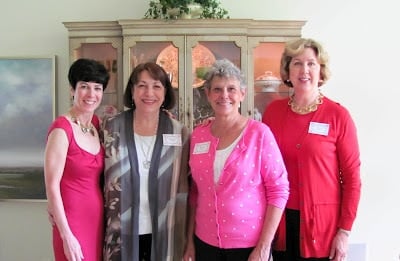 My fabulous co-hosts!
Note: This post may contain affiliate links; view
my Disclosure Policy
for details. I earn a small percentage from any purchase you make by clicking on these links at no extra cost to you.