Strawberry Mascarpone Ice Cream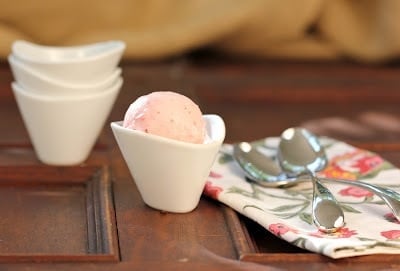 I have fallen head over heels with the strawberry and mascarpone combo, so I knew i had to create an ice cream version. I adapted David Lebovitz's strawberry-sour cream ice cream, and it was heavenly…creamy and full of berry flavor. This didn't even last a day!
This month's Love Blog Hop is focusing on Ice Cream. Feel free to add any ice cream made in June to our collection.
Strawberry Mascarpone Ice Cream….adapted from The Perfect Scoop by David Lebovitz
1 pound of fresh strawberries, hulled and sliced
3/4 cup sugar
1 tablespoon vodka
1 cup Mascarpone cheese
1 cup heavy cream
1/2 teaspoon freshly squeezed lemon juice.
Combine sliced berries, sugar and vodka and allow to sit at room temperature about an hour, stirring occasionally.
In a blender, puree the berries and the rest of the ingredients till smooth.
Chill for about an hour, then process in ice cream maker according to your manufacturers instructions. Freeze in covered container.
Print


Here is a list of my fabulous co-hosts this month:

http://www.astigvegan.com
http://bakerstreet.tv
cakeballscookiesandmore.blogspot.com
http://www.cheapethniceatz.com
http://georgiecakes.com/
http://hobbyandmore.blogspot.com/
http://juniakk.blogspot.com
http://tcrumbley.blogspot.com/
http://pippisinthekitchenagain.wordpress.com/
http://www.queensnotebook.com
http://ricosinazucar.com
www.simplyreem.com
www.eastewart.com/blog
www.vegetarianmamma.com
www.you-made-that.com
http://bigfatbaker.com
http://www.bonacroquer.com/


Starting Monday, I will feature a two week series of guest posts from some of my dearest blogger friends. I hope you will check out their blogs and delicious recipes. I will be away from the computer, so will answer any of your questions when I get back to blogging in mid-June. xo
Linked to:
Bake with Bizzy~
Yellow and Pink Saturday~
Note: This post may contain affiliate links; view
my Disclosure Policy
for details. I earn a small percentage from any purchase you make by clicking on these links at no extra cost to you.