Summer Tomato Tart
This terrific Tomato Tart combines beautiful ripe tomatoes, fresh basil, and Fontina cheese and is delicious to serve any time of day!
Add this easy Tomato Pie to your menu when you have access to the peak of the season summer produce. Perfect for a light dinner, appetizer, or side dish! Heck, I'd eat this for breakfast!
Why You Must Make
It is a delicious way to showcase ripe summer tomatoes.
It can be eaten hot, cold, or at room temperature.
Serve a wedge of an heirloom tomato tart for lunch or dinner, as an entree or side.
I just can't help myself, but when July rolls around and garden and heirloom tomatoes are plentiful, I'm compelled to whip up a tart. Yes, in the heat of the summer, I'll turn on the oven so I can eat a freshly baked summer tomato tart. Just look at it. Can you blame me?
I also love making a Cheese and Tomato Galette, another easy tomato tart. Plus check out all my favorite Fresh Tomato Recipes.
Expert Tips
If you're like me, when you hear the word "pie" you think of flaky pastry filled with juicy, ripe fruit. But tomatoes are a fruit, and even though this summer tomato pie is savory, it's a must make if you have access to terrific garden or vine-ripened tomatoes.
Use your favorite pie crust recipe or buy some premade dough from the market. Rolling out a pie crust in August isn't my favorite chore!
Once it's fit into your tart pan, layer it with cheese, basil, and gorgeous, ripe tomato slices. A sprinkling of salt and pepper plus a drizzle of olive oil finish it off before a stint in the oven.
I like using a combination of red, yellow, and orange tomatoes for a pretty presentation, but all of one color is just fine. Just make sure they're peak of the season, flavorful tomatoes for the best results.
PRO-Tip: Putting the cheese into the tart crust before the tomatoes protects the bottom crust from getting soggy.
If you can't find or don't want to use Fontina cheese, use cheddar, mozzarella, or whatever you like to pair with tomatoes.
You'll want a slice immediately, but give it a couple of minutes to cool before you dive in so the cheese has some time to solidify.
When produce is at its prime, a simple recipe truly showcases these sweet flavorful tomatoes best.
Frequently Asked Questions
How Do You Serve a Tomato Tart?
A tomato tart can be served as a main course or side dish. It is tasty served warm, cold, or at room temperature.
Serve with a wedge with a green salad or a piece of grilled chicken for a simple meal.
How Do You Store a Tomato Tart?
Keep it in the refrigerator, covered with plastic wrap or foil for 3-4 days.
What Other Ingredients Can Be Added to a Fresh Tomato Tart?
Add fried and chopped bacon, diced ham, or other herbs like thyme or rosemary. You may also use a different cheese like Mozzarella, Gouda, or Cheddar. If you love mustard, spread a thin layer of Dijon on the crust before adding the cheese.
How Do You Keep the Crust From Getting Soggy?
Adding a layer of cheese before the other tart ingredients provides a great barrier. Some recipes call for bread crumbs to be sprinkled over the crust before baking to help soak up any excess moisture.
Also, you can let your sliced tomatoes drain on a couple of layers of paper towels before adding them to the tart. Flip them at least once and replace the paper towels if needed.
You May Also Like:
Stay in touch through social media @ Instagram, Facebook, and Pinterest. Don't forget to tag me when you try one of my recipes! And if you love the results, please give it a 5-star rating in the recipe card. Note: As an Amazon Associate, I earn from qualifying purchases. Visit my Amazon Store for my favorite products.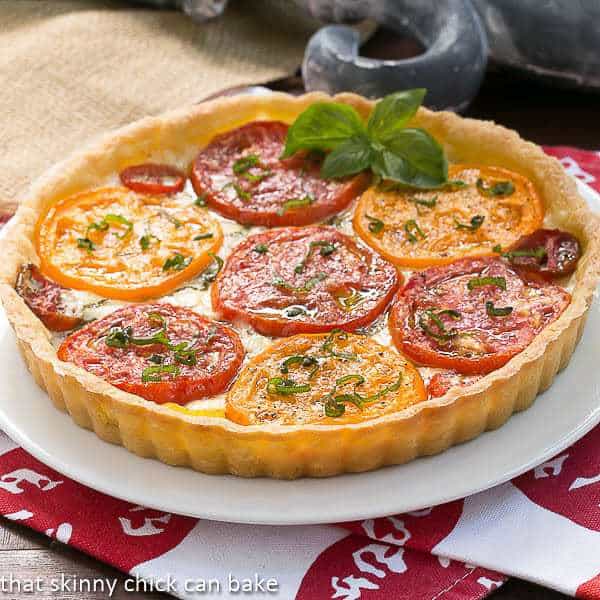 The Recipe:
Summer Tomato Tart
Prep Time 20 minutes
Cook Time 30 minutes
Total Time 50 minutes
Yield 8 servings
A pastry shell filled with gooey cheese, fresh tomatoes, and basil!
Ingredients
For crust:
1 ¼ cup flour
½ teaspoon salt
1 stick (4 ounces) cold butter, diced
2 or more tablespoons ice water
For tart:
8 ounces Fontina cheese, shredded
2 tablespoons chopped fresh basil, plus extra for garnish
4 medium garden or farmers' market tomatoes, sliced thin and drained on paper toweling
½ teaspoon salt
¼ teaspoon black pepper
3-4 tablespoons extra virgin olive oil
Basil, chopped for garnish
Instructions
Preheat oven to 400º.
To make the crust, pulse flour, and salt together in a food processor to mix. Add cold butter a pulse a few times till the mixture resembles coarse crumbs.
Pulse while sprinkling in cold water adding just enough so that the dough holds together when pinched between two fingers. Wrap dough in plastic and chill for 1 hour.
Roll out the dough to a 12-inch circle. Fit into a 9-inch tart pan with a removable bottom and trim any excess dough. Chill dough for about 30 minutes while prepping the filling.
Sprinkle cheese over the bottom of the crust, then top with basil. Cover with tomato slices, fitting to fill as much surface area as possible. Sprinkle tomatoes with salt and pepper and drizzle with olive oil.
Bake for 20 to 30 minutes on a cookie sheet. When the crust is golden and the cheese is bubbly, remove from the oven. Garnish with fresh basil. Slice and serve warm.
Notes
Placing your sliced tomatoes on a few layers of paper towels will help prevent a soggy tart.
Recommended Products
As an Amazon Associate and member of other affiliate programs, I earn from qualifying purchases.
Nutrition Information:
Yield:
8
Serving Size:
1 slice
Amount Per Serving:
Calories: 271
Total Fat: 18g
Saturated Fat: 7g
Trans Fat: 0g
Unsaturated Fat: 9g
Cholesterol: 32mg
Sodium: 465mg
Carbohydrates: 18g
Fiber: 1g
Sugar: 2g
Protein: 9g
Skinny Tip
I'm offering a series of Skinny Tips. How I keep slim is one of my most frequent inquiries. I'll feature more tips on some of my upcoming blog posts. Click on the #SkinnyTip tag at the end of this post to see all my previous tips.
Tip #37: Make sure to count your daily servings of fruit and vegetables Use some of your 5 servings for your between-meal snacks. They will help fill you up, plus provide vital nutrients. This tip comes from my friend, Sophia,
Note: This post may contain affiliate links; view
my Disclosure Policy
for details. I earn a small percentage from any purchase you make by clicking on these links at no extra cost to you.