Smoked Salmon Waffles
Have you made savory waffles? These Smoked Salmon Waffles are full of salmon, scallions, and chives and make a marvelous brunch dish or appetizer!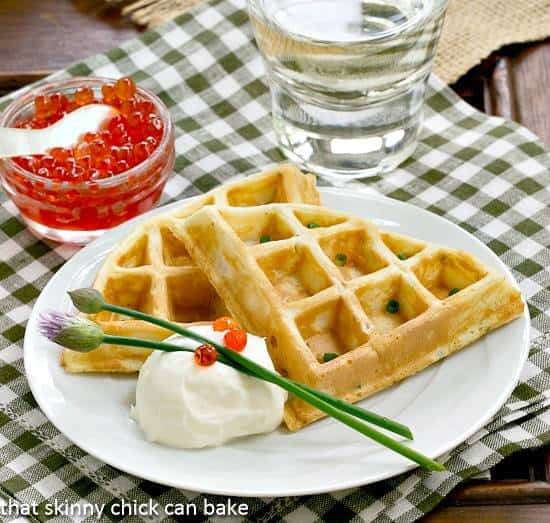 Savory Smoked Salmon Waffles
Since Belgium borders France, it's no surprise that waffles are also a French specialty. But these smoked salmon waffles are no ordinary fare. They are flavored with slivers of smoked salmon, scallions, and chives creating savory nibbles instead of a sweet breakfast treat.
Chic Appetizer or Savory Brunch Waffles
There is nearly always smoked salmon in my fridge. I had a feeling I'd love this recipe and I was not disappointed. With a dollop of créme fraíche and a sprinkling of salmon roe, these waffles were transformed into an elegant starter.
I was delighted to dine on these for my lunch, though Bill was not as enamored. More for me is my motto under these ever too frequent circumstances. He tried one for breakfast and most likely missed his maple syrup. C'est la vie.
The Recipe:
Smoked Salmon Waffles
Prep Time 15 minutes
Cook Time 5 minutes
Total Time 20 minutes
Yield 8 waffles
A twist on waffles with smoked salmon and scallions for a fun appetizer or savory breakfast waffle
Ingredients
1-3/4 cups flour
2 teaspoons baking powder
1-1/4 teaspoons salt
1/4 teaspoon freshly ground pepper
1-3/4 cups whole milk
2 large eggs
6 tablespoons (3/4 stick) unsalted butter, melted
3 ounces thinly sliced smoked salmon, cut into thin strips or slivers
5 scallions, white and light green parts only, halved lengthwise and thinly sliced
3 tablespoons snipped fresh chives, plus more for sprinkling
Crème fraîche or sour cream, for serving
Salmon roe, for topping (optional)
Instructions
Whisk together the flour, baking powder, salt, and pepper together. In large Pyrex measuring cup with a spout, whisk together the milk, eggs, and melted butter. Pour this mixture over the dry ingredients and stir everything together just until combined. A few lumps are OK.
Stir in the smoked salmon, scallions, and chives.
Preheat your waffle iron and if it's not nonstick, grease with oil or cooking spray. If your iron is not nonstick, brush it lightly with oil or spritz it with vegetable cooking spray.
When the iron is hot, pour about 1/2 cup batter andspread it evenly across the surface. Let the batter bake for about 30 seconds before closing the lid. Cook until and the waffle until it is well browned on the underside. To keep the waffles warm if you're not serving as you go, place them on the baking sheet and place them into a 200 degree oven. Continue until you've cooked all the batter.
Cut the waffles into quarters and arrange the quarters on plates. Top as desired to serve.
The recipe for these Smoked Salmon Waffles can be seen HERE. Or crack open your copy of Around My French Table to page 170. If you love smoked salmon, check out my Smoked Salmon Platter and Smoked Salmon Reuben Sandwich!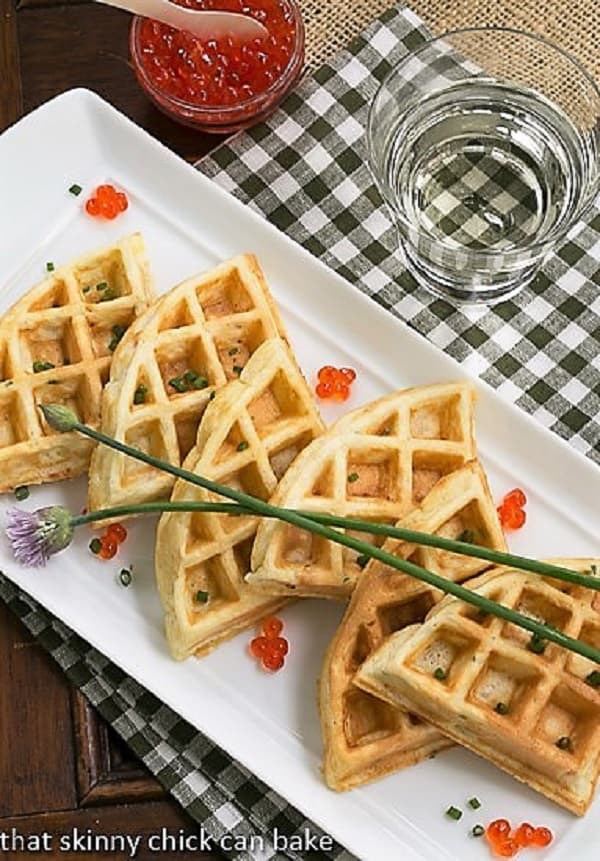 Skinny Tip
I'm starting a new series of Skinny Tips. How I keep slim is one of my most frequent inquiries. I'll feature tips on some of my upcoming blog posts.
Tip #3: You all know this one: exercise to bump up your metabolism. Shake up what you do. Hot yoga (I alternate slow flow and vinyasa) and the treadmill keep me fit. Make sure you are getting some good cardio…you need to increase your heart rate to really burn those calories. Be sure to find an activity that you enjoy so you'll stick with it.
And please remember, before starting a new exercise program, you may need to check with your doctor.
Note: This post may contain affiliate links; view
my Disclosure Policy
for details. I earn a small percentage from any purchase you make by clicking on these links at no extra cost to you.