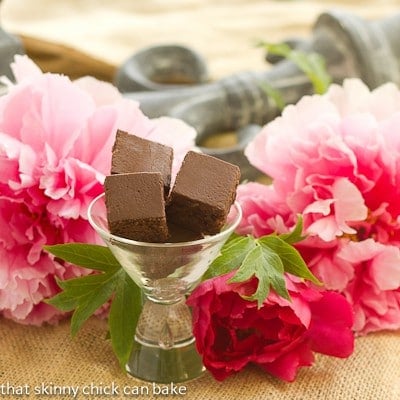 Another brownie recipe, you say? I wasn't going to share this one until the hubby mentioned I could bake these again. I make SO many different brownies that my head spins when I'm asked for a favorite. But the chocolate connoisseurs in the house felt Refrigerator Brownies were worthy.
You may wonder why I chose this post to share my tried and true slicing technique. This wasn't my best effort, obviously. I whipped these up one afternoon to take to the impromptu wrap up party after the show house closed (a volunteer gig which monopolized my time I'd been involved with earlier this month). So I had to hurry along the process resulting in a less than perfectly sliced brownies. The main pitfall was not having enough time to chill them completely. But I know my standards are way stricter than 99% of those I feed!
To get PERFECT slices, I recommend these steps:
Thoroughly chill your brownies or bar cookies.
Use parchment or non-stick foil with overhangs to line your pan for easy removal
Use a long, sharp knife for cutting
If eye-balling even sized bars isn't your forte, use a ruler to make hash marks along your vertical and horizontal edges at appropriate intervals
Dip your knife into very hot water, then dry it off. Make one slice, wipe the knife clean, reheat, then repeat.
That's it…mainly chilling the bars, then slicing with a hot, dry knife. Here are some better photos of some well cut baked goods:
Brown Butter Chocolate Chunk Bars
Chocolate Peanut Butter Krispie Bars
Refrigerator Brownies…and slicing tutorial
Recipe adapted from The Live in Kitchen/http://www.theliveinkitchen.com/2013/05/10/refrigerator-bakery-brownies/
For the brownies:
1/4 cup flour
1 teaspoon baking powder
1/2 teaspoon salt
1/2 cup 1 stick butter
3 ounces unsweetened chocolate (chopped)
1/2 cup brown sugar
1/2 cup sugar
2 eggs
1 egg yolk
1 teaspoon vanilla extract
1/2 cup semisweet chocolate chips
For icing:
1 cup semisweet chocolate chips
4 tablespoons butter
1 teaspoon vanilla extract
1/2 cup powdered sugar
1-2 tablespoons milk
Preheat the oven to 350º. Line an 8 inch square baking pan with non-stick foil (or regular foil sprayed with non-stick cooking spray)and set aside.
Add butter and unsweetened chocolate to a microwave safe bowl and zap and stir at 30 second increments till melted and smooth. Whisk in the brown and granulated sugar and let cool a couple minutes (so egg doesn't cook when you add to batter). Whisk in the egg, yolk, and vanilla. Add the flour, baking powder and salt and fold into the chocolate mixture with a spatula until well incorporated. Fold in the chocolate chips.
Pour the batter into the prepared pan, smooth top with offset spatula and bake 25-30 minutes or until a toothpick inserted in the center comes out with moist crumbs clinging. Remove from the oven and cool completely before frosting.
To prepare the frosting, place chocolate chips and butter in a microwave safe bowl and microwave in 30 second increments, stirring in between, until melted. Whisk in the vanilla, then stir in the powdered sugar. Add a tablespoon of milk, whisking briskly to incorporate. Add up to a tablespoon more of milk to reach desired consistency. Whisk till frosting is smooth and shiny. Spread immediately on the cooled brownies. Refrigerate until the frosting is set and you are ready to serve.
Yield: 16-25 brownies depending on size
Total time: 2 hours
I'd love you to follow my blog via Blogovin' or subscribe by email in the right hand side bar (just type your email address into the space and click subscribe).
Note: This post may contain affiliate links; view
my Disclosure Policy
for details. I earn a small percentage from any purchase you make by clicking on these links at no extra cost to you.