One Two Three Jello
Doctoring up a box of Jello turned ordinary gelatin into this retro One Two Three Jello! This tasty treat from the 1970s is easy to recreate!
Jello Desserts are definitely throwback dishes, but with them come delicious memories of childhood. What's your favorite throwback recipe???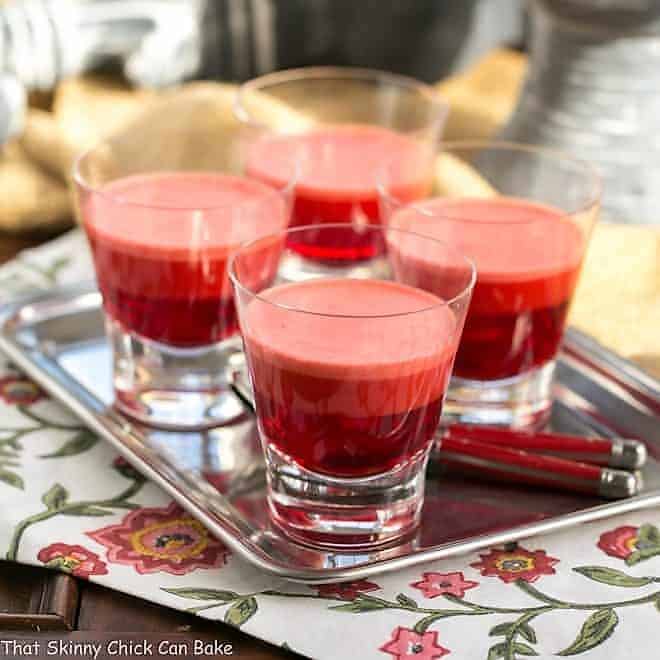 Why You Should Make One Two Three Jello
One of my favorite childhood treats was Jello brand's 1,2,3 Jello. My childhood was full of these jellied salads. Some I loved. Others, like lime gelatin with grated carrots, were just plain nasty.
Back in the day, Jello was touted as a source of protein and my youngest sister was given bottles of jello water to pacify her. She was the only sibling to have a mouthful of cavities. I wonder why? Back to recreating this retro Jello Recipe.
My siblings and I loved how the mixture magically separated into layers when chilled. It's a fun dessert for kids and grandkids!
And it's also easy enough for your kids to help make.
Unfortunately, all the recreations of this jello contained Cool Whip, which doesn't sit well with me. Substituting whipped cream worked perfectly! Though the jello has artificial coloring and flavors, the layers are made with a more wholesome, natural ingredient.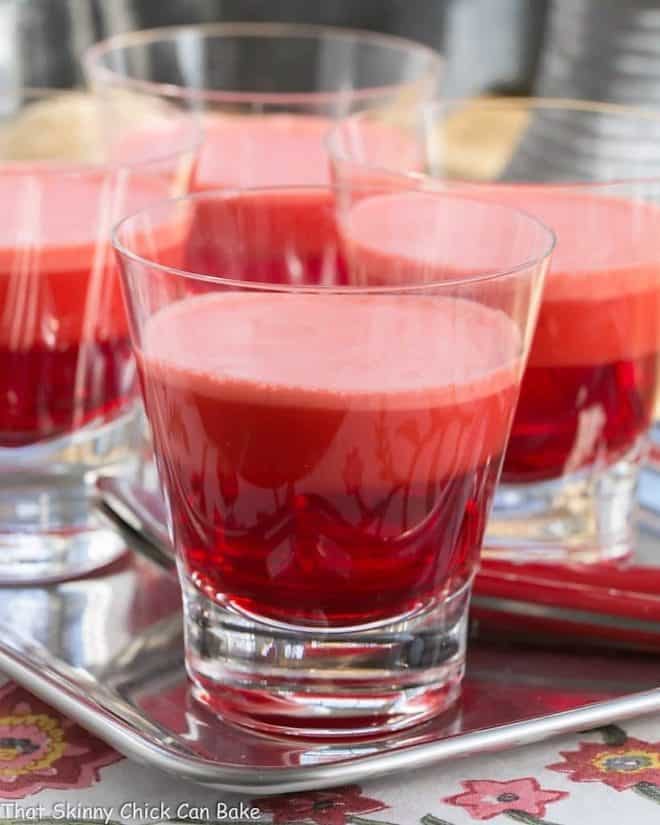 How to Make a Layered Jello Salad
My parents went all granola on me in the 1970s. Powdered milk to avoid hormones or pesticides, no salt to help my dad's blood pressure, carob instead of chocolate. We were tortured. So when my mom brought home a box of this layered gelatin "salad" from the neighborhood Hy-Vee grocery store, my sisters and I were ever so grateful for the SUGAR!
Here's the process to make this retro recipe at home.
First, divide the dry jello mix into two bowls.
Add hot, then cold water into the first bowl as directed in the recipe and divide this mixture into serving dishes and chill.
When the bottom layer has jelled, whip the cream until it holds peaks (this will be the Cool Whip replacement that's used in some other homemade versions).
Mix the remaining gelatin with hot water, then slightly cold hot water.
Whisk in the cream and divide this mixture between the dishes. The goal is to have this layer divide into two separate layers, each lighter in color than the one beneath.
So when I heard my friends were sharing Retro Recipes today, I thought of the era of molded salads, quiche that real men didn't eat, and Hamburger Helper, and chose that magic gelatin dessert. Did you grow up eating gelatin salads? Are they ever on your holiday table? You know, those salads that taste like desserts? If you have a favorite, let me know.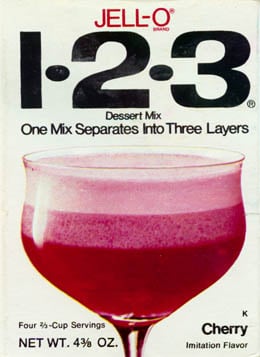 More Recipes with Gelatin You'll Love: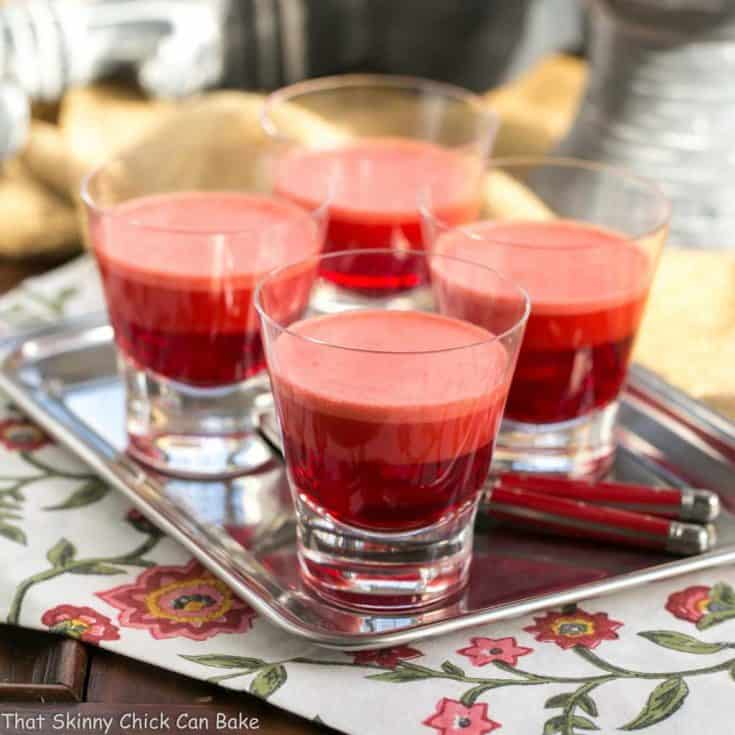 The Recipe:
One Two Three Jello
Prep Time 10 minutes
Total Time 10 minutes
Yield 6 servings
A retro Jello dessert that was a childhood favorite!
Ingredients
6 ounce box of Jello (flavor of your choice, I used cherry)
¼ cup heavy cream, whipped
Instructions
Divide the dry jello into two medium-sized bowls.
Add one cup boiling water to the first bowl and stir till all sugar is dissolved. Add one cup of cold water and mix till combined.
Pour the mixture into clear glasses (6-8 depending on size) filling to the halfway point.
Chill till slightly jelled, about 30 minutes.
When the bottom layer is slightly jelled, whip the cream and repeat the process with the second bowl of dry gelatin, decreasing the cold water to ¾ cup. Whisk in the whipped cream and pour the jello mixture on top of the first layer. Chill till set, about 4 hours.
Notes
Note: 4 hour chilling time.
Nutrition Information:
Yield:
6
Amount Per Serving:
Calories: 125
Total Fat: 2g
Saturated Fat: 1g
Trans Fat: 0g
Cholesterol: 7mg
Sodium: 134mg
Carbohydrates: 26g
Fiber: 0g
Sugar: 25g
Protein: 2g
Note: This post may contain affiliate links; view
my Disclosure Policy
for details. I earn a small percentage from any purchase you make by clicking on these links at no extra cost to you.