Mini Rolo Cheesecakes
When craving cheesecake but don't want the temptation of a huge dessert, these sweet and Mini Rolo Cheesecakes will hit the spot!
A Mini Cheesecake Recipe provides portion control, but go ahead and have seconds as they're impossible to resist!!!
Mini Rolo Cheesecakes
My loyal readers surely know of my husband's second love: chocolate. I have a bit of a sweet tooth myself but would pass over any chocolate dish for one with gooey caramel or toffee.
So I did a little happy dance when I started making these Mini Rolo Cheesecakes. I'd rather have a couple of two-bite, mini desserts than a big slab of cake or pie. With these individual cheesecake bites, I'd get my cheesecake, chocolate, and caramel fix in every nibble!
Individual Caramel Filled Cheesecakes
It wasn't visions of sugar plums, but visions of Rolos, those bite-sized caramel-filled chocolates, that began dancing in my head. And from there I created this idea for a dessert, purely experimental.
I wasn't sure how the Rolos would melt or if they'd be impossible to chew after they were baked Or if anyone else besides me would find these mini cheesecakes appealing.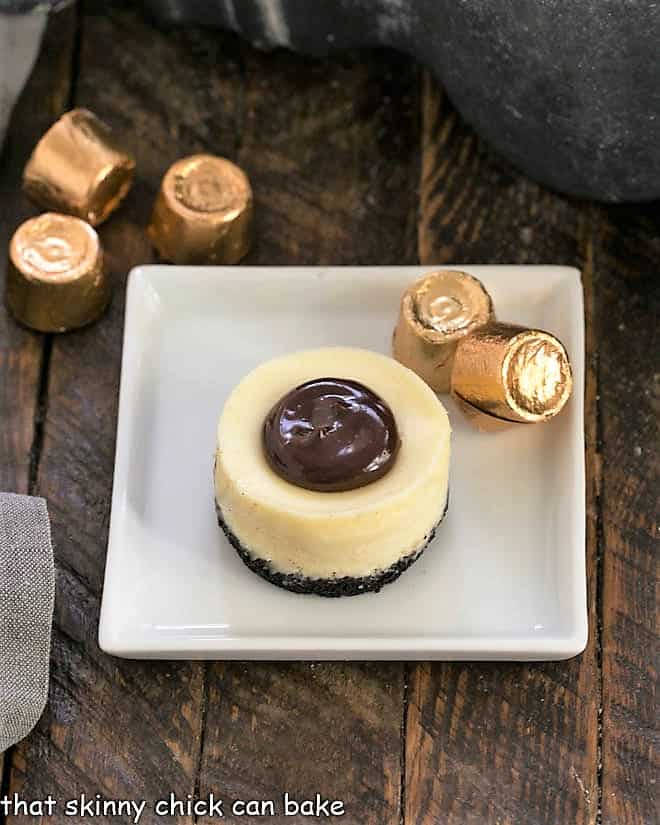 Tips for Making Mini Cheesecakes
Oh, boy, did I hit the jackpot with this one. I took a sampling of these mini Rolo cheesecakes to my Friday morning guinea pig group where they were a huge hit! No forks required, just pick one up and indulge!!
I've made lots of individual cheesecakes using a mini-muffin pan. Just line the wells with paper liners, tamp in some crumbs, pour in some batter, bake and eat! They are a smaller version of what I made today. This recipe would probably make 24 in a mini-muffin tin (affiliate link).
My new favorite is a NorPro Nonstick Mini Cheesecake Pan (affiliate link). Each of the 12 slots has a removable bottom so no liners are needed.
Have your egg and cream cheese at room temperature to make it easier to blend the batter. Plus it makes a smoother cheesecake.
I usually recommend using a stand mixer with a paddle attachment for cheesecakes, but with this smaller recipe, a hand mixer is fine. Just don't overbeat by whipping on high, as this will incorporate too much air into the batter.
Another useful tool is a tassie tamper (affiliate link). It helps pat an even crust for each cheesecake.
Serve these mini cheesecakes at room temperature for the creamiest texture. This also allows the caramel in the Rolos to soften. But make sure not to leave them out of the refrigerator for more than 2 hours to prevent a foodborne illness.
When I re-tested this recipe, I found the chocolate ganache topper a little thick. So feel free to add a little more cream to make it more spreadable.
More Mini Cheesecake Desserts
The Recipe:
Mini Rolo Cheesecakes
Prep Time 30 minutes
Cook Time 15 minutes
Total Time 45 minutes
Yield 8 mini cheesecakes
Individual cheesecakes with a chocolate caramel surprise in the middle!
Ingredients
Crust:
½ cup graham Nabisco Famous Wafer crumbs
1 ½ teaspoons sugar
1 ½ tablespoons melted butter
Cheesecakes:
8 ounces cream cheese, at room temperature
¼ cup sugar
½ cup sour cream
1 teaspoon vanilla extract
1 egg, at room temperature
8 Rolo Minis. unwrapped
Glaze:
2 ounces semisweet chocolate, chopped
2+ tablespoons heavy cream (start with 2, then add more to thin if needed)
Instructions
Grease a Nonstick 12 Mini Cheesecake Pan. Set aside.
Preheat oven to 325º.
Mix together cookie crumbs and melted butter. Place a tablespoon+ in about 8 of the wells of the cheesecake pan, then tamp down.
With a mixer, whip cream cheese with sugar till light and fluffy. Mix in vanilla and egg, just till incorporated. Place one mini-Rolo in each well then divide batter over the crusts.
Bake for 15 minutes or till filling appears set. Remove to a rack to cool.
When cheesecakes are cooled to room temperature, make the ganache. In a microwave-safe bowl, heat chocolate and cream starting with 30 seconds, stopping and stirring. Repeat using 15-second increments, till the mixture is smooth. Add more heavy cream to get to a good pouring consistency.
Cool slightly, then scrape into a Ziploc bag, snip the corner, and pipe into the center of each mini cheesecake.
Store in the refrigerator, but bring to room temperature to serve.
Notes
This recipe will make 6-8 cheesecakes in the NorPro pan depending on how full you fill the wells. It will make about 24 even smaller cheesecakes if you use a mini muffin pan.
Nutrition Information:
Yield:
8
Serving Size:
2 mini cheesecakes
Amount Per Serving:
Calories: 208
Total Fat: 14g
Saturated Fat: 8g
Trans Fat: 0g
Unsaturated Fat: 4g
Cholesterol: 44mg
Sodium: 131mg
Carbohydrates: 20g
Fiber: 0g
Sugar: 17g
Protein: 3g
Note: This post may contain affiliate links; view
my Disclosure Policy
for details. I earn a small percentage from any purchase you make by clicking on these links at no extra cost to you.