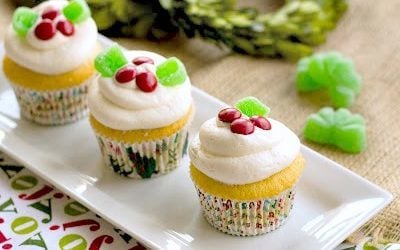 Christmas Week
Welcome to day #3 of Christmas Week, a multi-blogger event co-hosted by Kim of Cravings of a Lunatic and Jen of Juanita's Cocina. Today's theme for Christmas Week is "Peppermint Surprise". Make sure you visit all the participating bloggers today to see what special dish they whipped up for you. 

Holly Topped White Cupcakes
My family was delighted that today's Christmas Week theme was cakes. I make tons more cookies than cakes, so these holly topped white cupcakes were an extra special treat. To make sure Katie would eat them, I took the safe route and dug up my favorite vanilla cupcake recipe and topped them with vanilla butter cream…she is not a chocoholic like her brothers and dad. Then to make them festive, I added a simple garnish of red M & M's and slices of green candied fruit.

Since this recipe makes 14, I made 12 full sized cupcakes and about 8 mini cupcakes. The small ones took about 14 minutes in the oven…and were perfect to go with my afternoon tea. A less guilty, two-bite pleasure. The two taste testers in the house gave these their seal of approval! Bill even requested that I make these again for his birthday in April…the ultimate endorsement.



A couple weeks ago, my sweet friend, Veronica, of Veronica's Cornucopia, sent me a wonderful flavoring called Crème Bouquet. When it arrived, Katie and I both took a deep whiff and were enveloped with scent that reminded Katie of petit fours…her favorite treat from a local bakery. We'd unlocked the secret to the unique flavor of their white cakes and icing. I was instructed to use it sparingly to start with, but the 1/8 teaspoon probably wasn't quite enough. It's a totally optional ingredient, but you might enjoy adding it to your next batch of vanilla or cream cheese icing. It's quite inexpensive, but has a short shelf life, so buy it in small quantities. Thanks, again, Veronica!!! 

Linked to: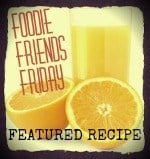 Foodie Friday~
Just Desserts~
Print