Now where have I been? My blog assignment for this month's Secret Recipe Club was a new blog to me: White Lights on Wednesday. Julie has oodles of amazing recipes…and my printer worked overtime as I copied a number of must try dishes.  First up had to be Alton Brown's Chocolate Lava Cakes…the dessert pickins were slim around here and we ALL love lava cakes. Alton's were made in muffin tins…but I overbaked my first attempt.  They still tasted marvelous…but I think ignoring the chill the batter instruction was not so wise. I did chill it, but not for long. So the next day, I made a mini-batch. There was a bit of sticking in my muffin tins, so I just used ramekins and lined them with parchment in addition to the buttering and dusting with cocoa powder. Bill was more than thrilled with the lava cakes with actual chocolate lava…yes, they were worth the extra round of dirty dishes.
I've made lots of lava cakes…different recipes, different cooking times, different container sizes. The trouble with these is that it may take a little experimentation to find the precise timing for your specific oven and baking dishes…you may have to eat a few overdone cakes before you get it right. These will sink a bit in the middle due to the molten center, but the perimeter needs to be cooked through to provide support. My chilled batter in 1/2 cup ramekins took the full 12 minutes…and the half batch only made 4 cakes. Of course, I had a nice reserve of ordinary mini chocolate, lavaless cakes as back ups. These were not the prettiest lava cakes I've ever made, but they rate near the top as some of the tastiest. Just ask my hubby! Thanks so much, Julie, for the wonderful recipe.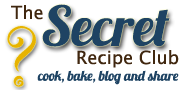 Chocolate Lava Cakes…#SecretRecipeClub
Adapted from Alton Brown via White Lights on Wenesday
8 ounces semisweet chocolate (chopped (or use chocolate chips))
1/2 cup 1 stick butter
1/2 teaspoon vanilla
1/2 cup sugar
3 tablespoons flour
1/4 teaspoon salt
4 eggs
Butter (to coat ramekins)
1 tablespoon cocoa powder (to dust ramekins)
Vanilla ice cream and berries (to serve (optional))
Preheat the oven to 375º.
Microwave the chocolate butter in 30 second increments, stopping and stirring till smooth and melted. Stir in vanilla.
Sift flour, sugar and salt into the chocolate and mix well with electric hand mixer. Add eggs one at time, making sure each is incorporated before adding the next. Beat at high until batter is creamy and lightens in color, approximately 4 minutes. Chill mixture ( I chilled about an hour).
Butter 8 1/2 cup capacity ramekins,line bottoms with parchment rounds, and butter that surface. Next, dust with the cocoa powder and shake out excess.(Alternatively, use a 12 cup muffin tin, but you will need to adjust your baking time). Spoon mixture into pan using a 4-ounce scoop (dipping into very hot water before scooping made the batter release more easily). Bake for about 12 minutes (10-11 minutes if using muffin tins). Outsides should be look firm and cake-like and middles should look underbaked/gooey.
Allow to cool a few minutes before releasing….this is the most difficult part of the recipe. Use a plastic knife or off-set spatula to help release edges from ramekin. Alternatively, you can eat the warm cakes right out of the container.
Serve with a scoop of vanilla ice cream and some fresh berries, if desired.
Makes 8.
.