Buttery Homemade Crescent Rolls are a made from scratch crescent rolls recipe that you will want to make again and again because these tender, flaky, buttery rolls will be devoured!
I started baking these incredibly delicious Buttery Homemade Crescent Rolls years ago. My kids (including the big kid, my hubby) have always loved crescent rolls from a can. This made from scratch crescent rolls recipe trumps those by a mile!!!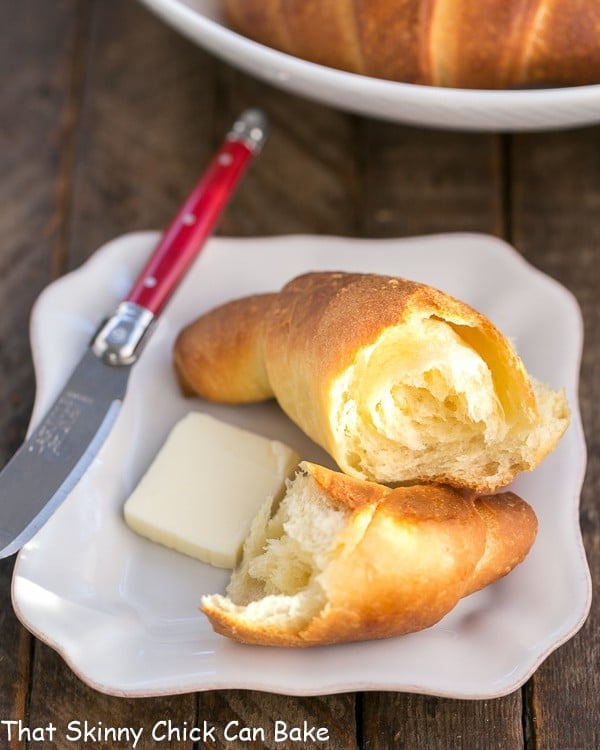 Buttery Homemade Crescent Rolls
When planning for the holidays, most times I grab some freshly baked rolls from the market. Homemade everything is just not feasible! Who has time for that? But this year, I planned ahead. I baked up these flaky, buttery rolls and popped half of them in the freezer for the holidays. Packed in a freezer zip-top bag with most of the air removed, these buttery crescent rolls from scratch were fabulous after defrosted and gently warmed.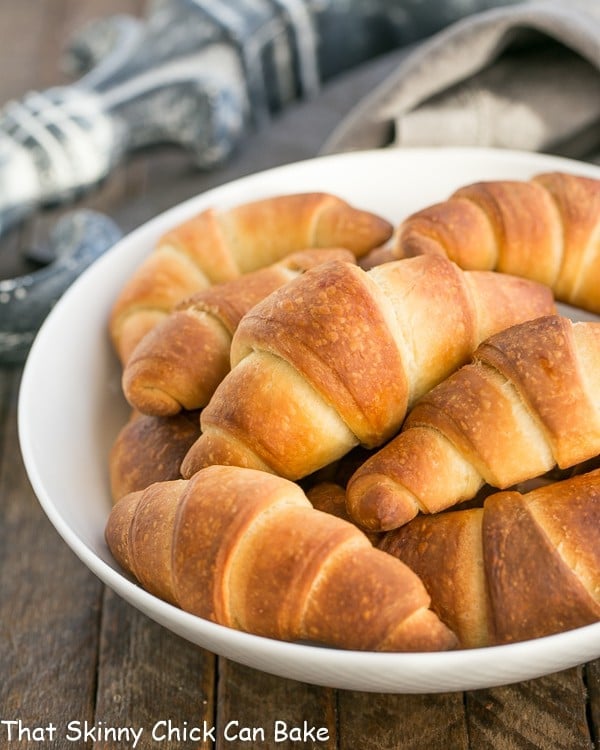 Butter Rich Dough
There is loads of butter in this lovely yeasted dough. It will take a little extra flour to roll it out, but that's OK. The most difficult part of this recipe is the planning.
There is the first 3 hour proofing time, then a long 8-12 hour stint in the fridge. When that resting period is finished, the formed, then the uncooked buttery crescent rolls are brought to room temperature and baked.
Cook's Illustrated also offers another option for this crescent roll recipe, to pre-bake only 4 minutes at 350º and then pop them in the freezer. These partially baked rolls can be defrosted and fully baked for 12-16 minutes when you need them.
These crescent rolls from scratch are worth the effort! Just plan ahead and treat your family to the ultimate holiday dinner roll. They'll bring back memories of how much you loved crescent rolls as a kid, but SO much better!!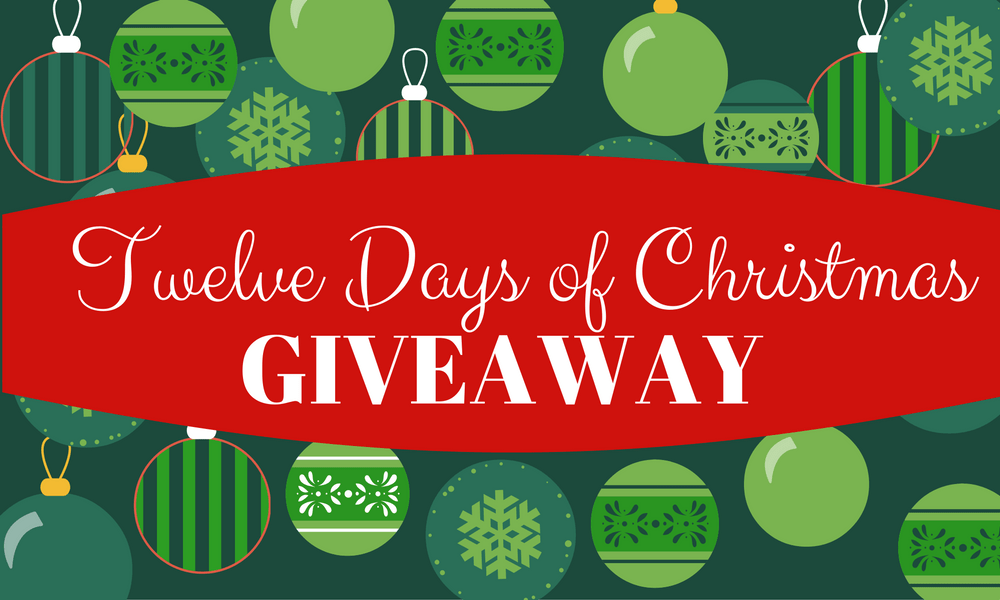 Giveaway!
Today, I'm offering a fabulous KNIFE BLOCK Giveaway. Zwilling has generously sponsored this wonderful gift!!! Open to those with a US mailing address, 18 years and older, please.
I will be hosting a giveaway on each of the first twelve days of December.  Check out my blog, Instagram page, and Facebook page to find the daily giveaway (the daily giveaway will be rotated through each of these sites)!
A couple of things you'll need to make the buttery homemade crescent rolls recipe:
Print
Buttery Homemade Crescent Rolls
A homemade version of the buttery crescent rolls you love!
Author:
Prep Time: 30 minutes
Cook Time: 26 minutes
Total Time: 56 minutes
Yield: 16 rolls
Category: Bread, Rolls, Yeast Bread
Method: Mixing, Baking
Cuisine: American
Ingredients
3/4 cup skim milk
16 tablespoons (2 sticks) butter, cut into 16 pieces
1/4 cup sugar
3 eggs
4 cups flour
1 teaspoon instant yeast (I use Red Star Platinum Yeast)
1 1/2 teaspoons salt
1 egg white, beaten with 1 tsp water (for glazing the rolls before baking)
Instructions
Heat milk, butter, and sugar in 4-cup Pyrex measuring cup until butter is mostly melted and mixture is warm.. Whisk to combine. Beat eggs lightly in medium bowl. Drizzle in about ⅓ of the milk mixture, whisking to combine. Slowly whisk in the rest of the milk mixture.
Using stand mixer fitted with paddle, mix flour and yeast together on low speed until combined, about 15 seconds. Add egg mixture in steady stream and mix for about 1 minute. Increase speed to medium and beat for 1 minute; add salt slowly and continue beating until stronger webs form, about 3 minutes longer. (Dough will remain loose rather than forming cohesive mass.) Transfer dough to large, lightly greased bowl, cover tightly with plastic wrap and let rise at room temperature until dough doubles in size and surface feels tacky, about 3 hours.
Line rimmed baking sheet with plastic. Sprinkle dough with flour (no more than 2 Tb) to prevent sticking and press down gently to deflate. Transfer dough to floured counter and press into rough rectangle shape. Transfer rectangle to prepared baking sheet, cover with plastic, and refrigerate for 8 to 12 hours.
Transfer dough rectangle to lightly floured counter and line baking sheet with parchment paper. Roll dough into uniform 20 by 13-inch rectangle. Cut dough in half lengthwise, then cut each rectangle into 8 triangles, trimming edges as needed to make uniform triangles. Before rolling crescents, elongate each triangle of dough, stretching it an additional 2 to 3 inches in length. Starting at wide end, gently roll up dough, ending with pointed tip on bottom, and push ends toward each other to form crescent shape. Arrange crescents in 4 rows on prepared sheet; wrap baking sheet with plastic and refrigerate for at least 2 hours or up to 3 days.
Remove baking sheet with chilled rolls from refrigerator and let rise at room temperature until they feel slightly tacky and soft and have lost their chill, about 1 hour.
Thirty minutes before baking, adjust oven racks to lower-middle and lowest positions, place a second rimmed baking sheet on lower rack, and preheat oven to 425°F. Bring 1 cup of water to boil on stovetop. Lightly brush risen crescent rolls with egg white mixture. Working quickly, place baking sheet with rolls on upper rack, then pour boiling water onto rimmed baking sheet on lower rack and close oven door. Bake for 10 minutes, then reduce oven temperature to 350°F and continue baking until tops and bottoms of rolls are deep golden brown, 12 to 16 minutes longer. Transfer rolls to wire rack, let cool for 5 minutes, and serve warm.
Notes
Adapted from Cook's Illustrated
Note: This post may contain affiliate links; view
my Disclosure Policy
for details. I earn a small percentage from any purchase you make by clicking on these links at no extra cost to you.