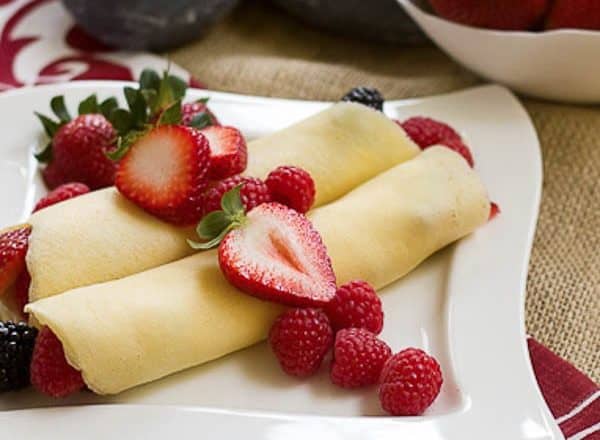 These Brown Butter Crêpes with Berry and Cheesecake Filling make a sublime dessert or a most decadent dessert! You decide.
Brown Butter Crêpes
Raspberries and strawberries were our assigned Dessert Challenge ingredients for June…and after my Strawberry Cream Cheese Dessert and Spinach, Berries and Almond Salad  posts of late, I brainstormed to come up with the perfect berry recipe. I had an extra 4 ounces of cream cheese leftover from the luscious aforementioned strawberry pie, so I went with a childhood favorite with a couple twists….one being a cheesecake filling. And second was using brown butter in the batter. Ooh, la, la, that's how these Brown Butter Crêpes with Berry and Cheesecake filling were born!
A Step Up from My Childhood Memories
My mom taught us to make crêpes as teens, but our filling tended to be from an unglamorous can of cherry pie filling. In fact, I loaded up my youngest sister Maddy's crêpe with SO much of that cherry concoction, that I think she's sworn it off for life. Adding brown butter to the crêpe batter gave a wee bit of nuttiness to the pancakes. I used a mixture of cream cheese, lemon, vanilla and whipped cream along with a sprinkling of ripe berries and sliced strawberries to fill these…maybe a step up from the can.  Mmmmm….divine. Either an exquisite, decadent breakfast or a just plain heavenly dessert…you decide.
Thanks to Sheryl, of Lady Behind the Curtain, for hosting the Dessert Challenge each month.
Don't forget to enter for a chance to win a stylish Albion Fit work out jacket giveaway on my Monday post.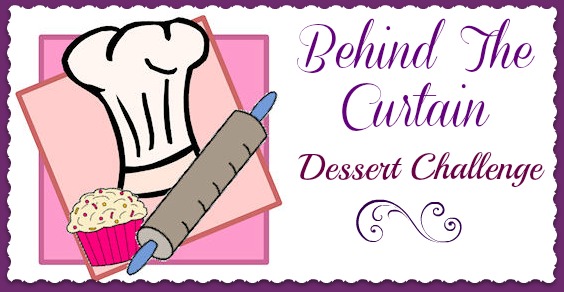 Print
Brown Butter Crêpes with Berries and Cheesecake Filling
These Brown Butter Crêpes with Berry and Cheesecake Filling make a sublime dessert or a most decadent dessert! You decide.
Author:
Prep Time: 20 minutes
Cook Time: 20 minutes
Total Time: 40 minutes
Yield: 4 servings
Category: Breakfast, Brunch, Dessert
Ingredients
Crepes:
3 1/2 + tablespoons unsalted butter
1 /2 cup plus 2 tablespoons milk (use more to thin batter if needed)
2 eggs
1/4 teaspoon kosher salt
3/4 cups flour
For filling:
4 ounces cream cheese (at room temperature)
1/4 cup powdered sugar
1 tablespoon lemon juice
1/2 teaspoon lemon zest
1/2 teaspoon vanilla
1/2 cup whipping cream
Ripe berries of your choice
Instructions
In a saucepan, cook the butter over medium heat, swirling it every few seconds, until melted and golden brown, 2 to 4 minutes. Let cool to room temperature.
Combine the milk, eggs, and salt in a blender. Blend till mixed, then add the flour and blend until very smooth. Add the brown butter and blend for a few more seconds.
Allow the batter to rest at least 5 minutes and up to one day (refrigerate if not using immediately).
Batter should thicken but not be as thick as regular pancake batter. Thin as needed after resting period.
Heat a crêpe pan or nonstick skillet over medium high heat. Grease with a little butter on a paper towel.
Pour about 1/4 cup of the batter into the center of the pan while tilting and turning it till a thin circle of batter covers most of the surface of the pan.
Cook till the edges begin to dry and lift from the sides of the pan and the bottom browns, about 1 minute. Flip using a spatula or your fingers, and cook until the second side is browned, about 20 seconds more.Remove from pan and repeat with the remaining batter, adding more butter as needed.
To make filling beat cream cheese, powdered sugar, lemon juice, zest and vanilla. In another bowl, whip cream. Carefully mix together.
Place spoonfuls of filling along center of crepe and arrange berries over cream. Roll up and garnish with berries. Serve immediately.
Note: This post may contain affiliate links; view
my Disclosure Policy
for details. I earn a small percentage from any purchase you make by clicking on these links at no extra cost to you.