This scrumptious classic zucchini bread is nut free and spiced with cinnamon. If you have zucchini coming out of your ears, make a double batch and fill the freezer! You won't regret it.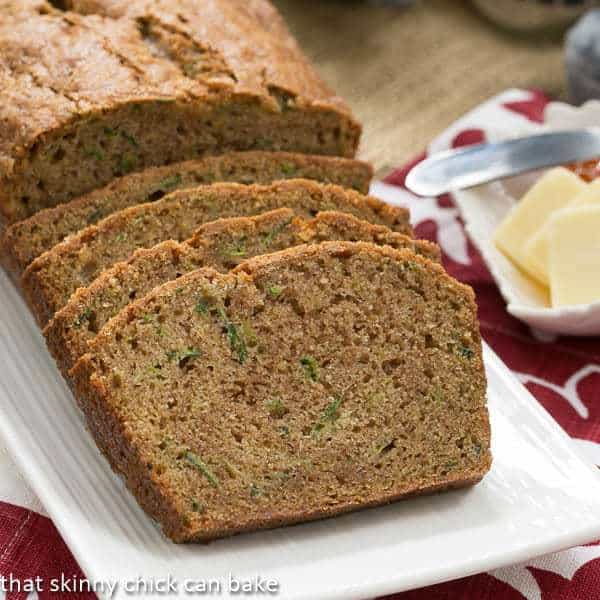 Oh Where, Oh Where, Did My Zucchini Go?
This time of year, I'm always hoping to find a donation of zucchini dropped off at my doorstep. No such luck, but I did head down to the Bloomington, Indiana, farmers' market with some girlfriends where there was no shortage of fresh, gorgeous produce. I returned home with green beans, cucumbers, blackberries AND zucchini. Not to mention a few lovely white platters when we detoured to a terrific shop, Relish, which labeled itself "An Urban Marketplace." I now had no excuse not to make a couple loaves of zucchini bread. One for Katie, one for Tom. The hubby steers clear of this sort of baked good. Where did this man come from???


Classic Zucchini Bread
In fact, Bill eschews all quick breads and muffins (save a corn muffin with his chili. Go figure!). I had a wee bit more influence when it came to my children. It started with their first taste of pumpkin bread; they were instantly sold. Soon after they were requesting banana and zucchini bread, too. Though I'd love to add nuts to the latter two, I haven't convinced my offspring that a little crunch is a good thing. Feel free to add some walnuts, pecans or even some chocolate chips to make this classic zucchini bread your own.
Classic Zucchini Bread
A moist, dense zucchini bread spiced with cinnamon! Inspired from All Recipes.
Recipe type:
Breakfast, Bread
Ingredients
3 cups flour
1 teaspoon salt
1 teaspoon baking soda
1 teaspoon baking powder
1 tablespoon ground cinnamon
3 eggs
1 cup vegetable oil
1¼ cups white sugar
1 cup brown sugar
1 tablespoon vanilla
3 cups grated zucchini
Instructions
Grease two 8 x 4-inch loaf pans. Line bottoms with parchment and grease top of the parchment. Preheat oven to 325º.
Sift flour, salt, baking powder, soda, and cinnamon.
Beat eggs, oil, vanilla, and sugars together in a large bowl. Mix in salt, baking powder, soda, and cinnamon. Then mix in zucchini with a wooden spoon or spatula till just incorporated. Stir in zucchini. Pour batter into baking pans.
Bake for 50 to 60+ minutes, or until a toothpick inserted in the center comes out clean. Cool in pan on a rack for 10 minutes. Remove bread from pan, and completely cool.
Skinny Tip
I'm offering a series of Skinny Tips. How I keep slim is one of my most frequent inquiries. I'll feature more tips on some of my upcoming blog posts. Click on the #SkinnyTip tag at the end of this post to see all my previous tips.
Tip #36: Eat slowly. Savor every mouthful. Take sips of water between bites. This gives your stomach time to let your brain know you're full. Eating with your family, enjoying the banter and conversation is an excellent way to prolong your meal.