It was Bill's birthday earlier this month. Despite my intent to freeze my age at 29, Bill will not let a birthday or anniversary go by without a celebration.  So we made the best of it, and, of course, the birthday boy got to  pick dessert. This year, these Vanilla Cupcakes with White Chocolate Buttercream were his selection. It's the Swiss meringue buttercream that won him over  nearly a decade ago. Sugar and egg whites were whisked over a double boiler, then beat till the mixture reached room temperature before melted white chocolate and loads of butter was whisked in. The recipe originated from Ghirardelli Chocolate Cookbook , a souvenir from a family vacation in San Francisco. As I was flipping through the cookbook in Ghirardelli Square, I was encouraged by surrounding chocoholics to make the purchase.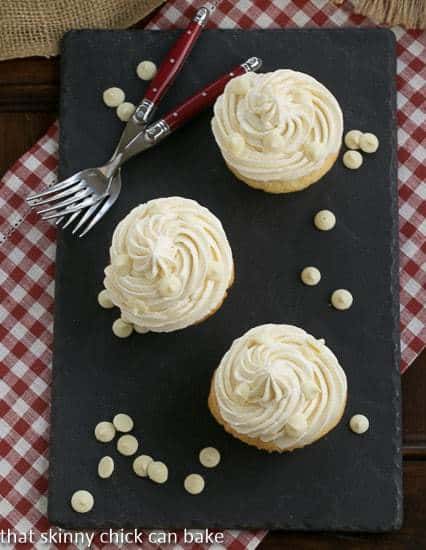 I probably make cupcakes less than 6 times a year. So when I do, they are devoured quickly. I'm more of a cookie eater, but the family adores these mini-cakes piled with fluffy frosting.  And since the child who is quite ho-hum about white chocolate happened to be away at college, there was nary a gripe about these babies.
Vanilla Cupcakes with White Chocolate Buttercream
Ingredients
Recipe adapted from The Ghirardelli Chocolate Cookbook
1 ¾ cups plus 2 tablespoons flour
¾ teaspoon baking powder
¼ teaspoon salt
¾ cup butter, at room temperature
1 ½ cups sugar
3 eggs
¾ cup whole milk
¾ teaspoon fresh lemon juice
1 ½ teaspoons vanilla extract
6 ounces white chocolate, chopped
4 eggs whites
1 cup plus 2 tablespoons sugar
1 cup plus 2 tablespoons butter, at room temperature
1 ½ teaspoons vanilla
1 cup white chocolate chips
Instructions
Preheat oven to 350º. Line muffin tins with paper liners.
Whisk together flour, baking powder and salt.
In large bowl, beat the butter and sugar on medium speed till light. Add eggs, one at a time, scraping bowl between additions. Mix together milk, lemon and vanilla. Add half this mixture to the batter. Mix until just blended, scraping down sides of bowl if necessary. Add half the dry ingredients and mix in well, followed by the remaining milk mixture, then the rest of the flour. Scrape down sides of bowl between additions.
Divide batter into 14 or so spots in the muffin tins. Bake in the middle of the oven about 15 minutes (mine took 23 minutes) or till tester inserted in the middle of the cupcakes comes out clean. Cool for 10 minutes then remove to rack to finish cooling.
Melt the white chocolate in a microwave safe bowl, gently in the microwave…use 15-30 second intervals, stirring till melted. Cool to room temperature.
Combine the egg whites and sugar in bowl of mixer. Place bowl over pot of simmering water so that the water comes a third of the way up the bowl. Whisk the egg whites till just hot to the touch, about 1-2 minutes.
Use mixer on high to whip the eggs till thick and cooled to room temperature, about 5 minutes. Turn mixer speed to medium and add butter by tablespoon, making sure butter is mixed in before adding the next tablespoon. Add the chocolate and vanilla and mix till smooth. If the icing is too runny, refrigerate briefly till it thickens. Ice the cup cakes with the frosting and sprinkle with white chocolate chips.
Yield: 14 cupcakes
Total time: 1½ hours