Whether or not you indulge in cookie dough when you're baking, you'll fall hard for this decadent Cookie Dough Dip! I'm republishing this recipe from 2012. It deserves a second look!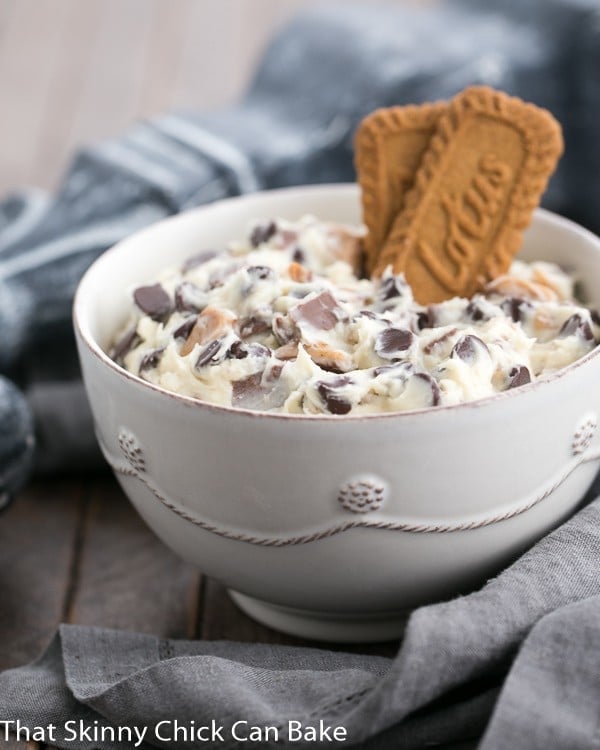 Cookie Dough Dip
I love cookie dough as much or more than cookies! Many times I've made the huge sacrifice of giving up cookie dough for the long, long 40 days of Lent.  The hubby gives me "that look" when he sees me eating raw cookie dough. I usually roll my eyes right back at him, telling him I've been doing this for decades! I wish 40 days of deprivation would rid me of this not so healthy habit, but it doesn't. (By the way, you can't really become immune to salmonella, darn it!).  With my metabolism slowing as I age (gasp), I don't think spoonfuls of the mixture of butter, sugar and raw eggs are the best thing for my waistline either.  But that doesn't mean that I must totally deprive myself. So when I saw a recipe for Cookie Dough Dip, I knew I'd have to test it.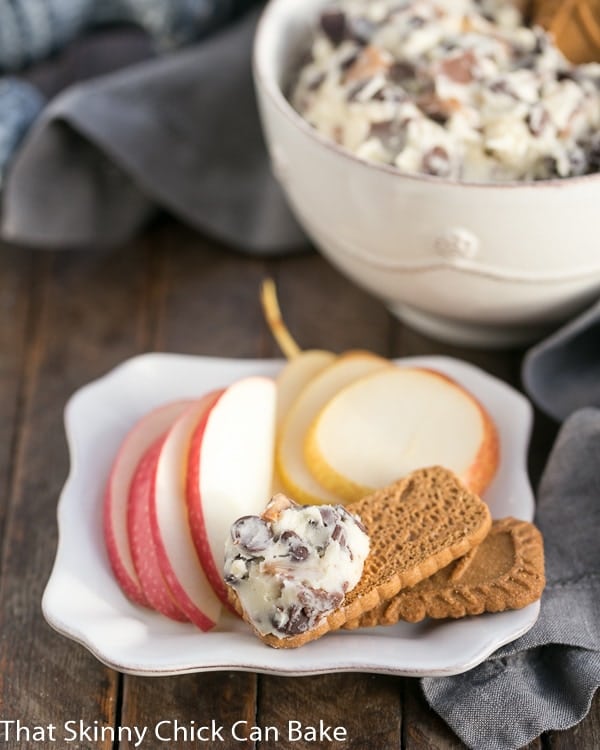 Easy Peasy Recipe!
There are gobs of dessert dip recipes around the web. This Dunkaroo Dip is basically 3 ingredients! Can you see why this category of sweets is so popular??? My cookie dough dip recipe is simple and fabulous.  Butter, cream cheese, sugar, and vanilla are mixed together, then Heath bar chunks and chocolate chips are added. I served this with Biscoff cookies and apple slices.  A group of our neighbors spent the weekend at a historic hotel south of Indianapolis, and I brought along this dip for our midnight snack. My friends went nuts for this, so I bumped my favorite meatloaf off today's post so you could enjoy, too!
More Recipes You'll Love:
This is the female half our group at the historic West 
Cookie Dough Dip
This dessert dip is one of the easiest, most delicious treats you could imagine! Adapted from
Add a Pinch
.
Recipe type:
Appetizer, Dessert
Ingredients
8 ounces cream cheese, at room temperature
1 stick (1/2 cup) butter, at room temperature
1 cup powdered sugar
2 tablespoons brown sugar
1½ teaspoons vanilla
1 cup chocolate chips
4 Heath bars (1.4 ounces), chopped
Instructions
Cream together cream cheese and butter. Add vanilla and mix to combine. Add sugars and mix till all incorporated. Stir in chocolate chips and Heath chunks.
Serve with sliced apples or Biscoff or favorite cookie.