These Coconut Macaroons are like no other I've ever baked or eaten. Though chewy, they're definitely lighter than dense, but pack the same coconut thrill that comes from eating a more traditional version.

Coconut Macaroons AKA Besitos de Coco AKA Coconut Kisses
If you love macaroons, you'll adore these light as a cloud coconut cookies! Known by a variety of names, they're all a chewy cookie with sugar, coconut (or even ground almonds), and, traditionally, egg whites. Our August theme for Progressive Eats is a Taste of the Tropics. We are focusing on marvelous island cuisine for our virtual dinner party menu. When I think of the tropics, my mind immediately goes to coconut. I am a huge fan of coconut laden desserts, from delectable cookies to cream pies and cheesecakes. When push came to shove, I focused on a childhood favorite, and whipped up a version of the classic Coconut Macaroon.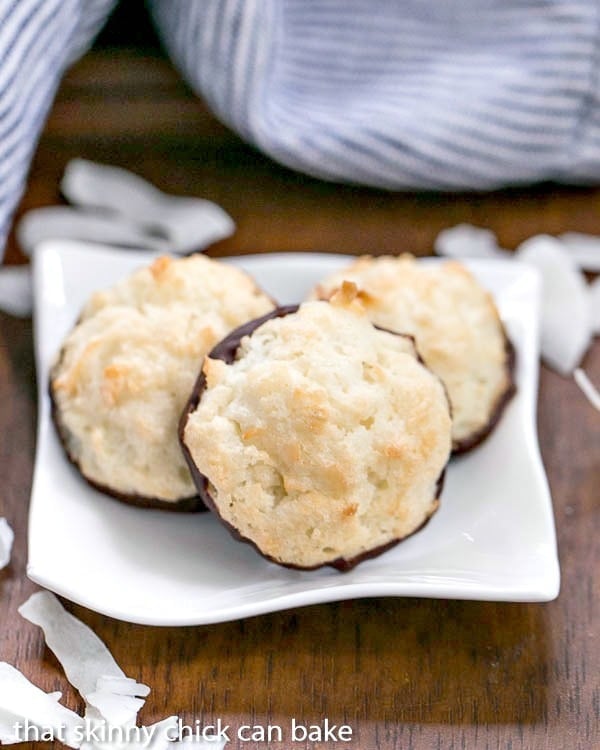 A New Technique
I've made my share of macaroons. From the easy recipe using sweetened condensed milk to Alice Medrich's recipe with egg whites, coconut, and sugar cooked over a double boiler before being baked. This recipe adapted from The New Basics Cookbook
 was somewhere in between. Egg whites and a fraction of the sugar was beaten to a glossy meringue. Then the remainder of the sugar, vanilla and coconut were folded in to make the batter. An easy, one bowl recipe!
It's tough when your picky family prefers not to sample coconut or nut laden desserts. I knew I'd love these, but I took them to a gathering of friends to check their reaction. I dipped about half in melted semisweet chocolate and those were the first to disappear. When I lamented my predicament, I had more than enough volunteers to help reduce my inventory. The atypical texture was definitely a hit. Perfect for a sweet after dinner nibble or with a cup of afternoon tea. The lighter texture is less filling without sacrificing one bit of flavor.

Progressive Eats
Welcome to Progressive Eats, our virtual version of a Progressive Dinner Party. This month we're featuring dishes native to or inspired by the islands of the Caribbean. Our event is hosted by Coleen who blogs at The Redhead Baker. Our dishes this month are inspired by the cuisines of Jamaica, Cuba, The Bahamas and more. You'll certainly find a delicious recipe to add to your repertoire!
Taste of the Caribbean Progressive Eats Menu
Main Course
Veggies/Side Dishes
Desserts
If you're unfamiliar with the concept, a progressive dinner involves going from house to house, enjoying a different course at each location. With Progressive Eats, a theme is chosen each month, members share recipes suitable for a delicious meal or party, and you can hop from blog to blog to check them out.
We have a core group of 12 bloggers, but we will always need substitutes and if there is enough interest would consider additional groups. To see our upcoming themes and how you can participate, please check out the schedule at Creative Culinary or contact Barb for more information.
You Might Need: