Tender and flaky, these Buttermilk Goat Cheese Biscuits will tickle your fancy after just one nibble!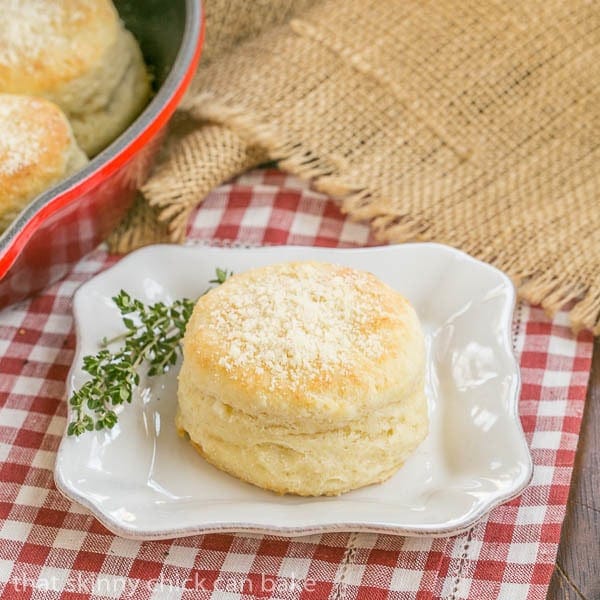 Twelve Loaves
I'm delighted to be back baking with the #TwelveLoaves crew. For the month of April, our theme led me to experiment with a few cheesy breads. I whipped up some magnificent cheddar popovers, but I needed a chisel to release them from my pan. Then there was the cheesy corn bread with peppers and corn kernels. It was rather bland, though I still managed to eat a nice big wedge. So I turned to an old favorite. A few years ago, Bill and I dined at Art Smith's Chicago restaurant, Table 52, and were treated to some piping hot buttermilk goat cheese biscuits.  It was time to recreate this winning recipe. The original utilized self-rising flour, and I did some calculating and substituted all purpose flour, baking powder and salt.
Finally A Winner!
The butter, buttermilk, and goat cheese worked their magic and produced a biscuit with a very subtle tang and all the characteristics of a perfect biscuit. See the layers? See how moist the interior is? A sprinkle of Parmesan over these hot gems finished them off with a flourish. Bill ate two with his dinner and two for breakfast the next morning. I'd say that's a positive endorsement.
More Terrific Cheese Breads
#TwelveLoaves is a monthly bread baking party created by Lora from Cake Duchess and runs smoothly with the help of Heather of girlichef, and the rest of our fabulous bakers.
Our host this month is Robin from A Shaggy Dough Story, and our theme is CHEESE. For more bread recipes, visit the #TwelveLoaves Pinterest board, or check out last month's mouthwatering selection of #TwelveLoaves enter last month's Italian Breads!
If you'd like to bake along with us this month, share your CHEESE bread using hashtag #TwelveLoaves!