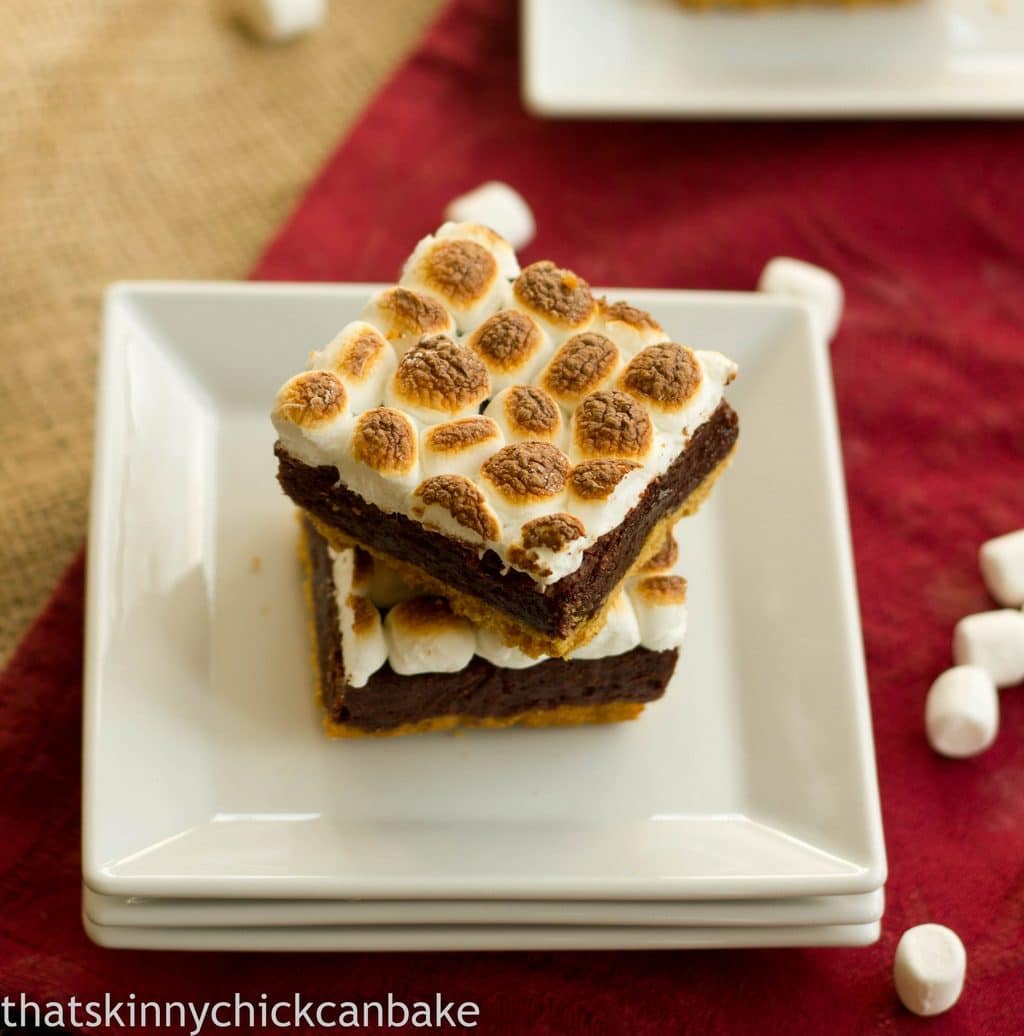 This month's Improv Challenge theme was to create a dish using the ingredients Chocolate and Marshmallows. S'mores lovers will be delighted with these bars…a crumbly graham cracker crust topped with a fudgy brownie and toasted marshmallows. My youngest was home from college when I made these, and they sure disappeared fast. He has not been impressed with dorm food thus far…I have a feeling this sort of treat does not make their menu.  I even sampled a couple…it's the graham cracker crust that tempts me every time!

These monthly challenges are hosted by Kristen of Frugal Antics of the Harried Homemaker. If you're interested in joining us, please stop by her blog to check out the details.


S'mores Brownies…Improv Challenge
Ingredients
For the crust:
1 1/2 cups graham cracker crumbs
6 tablespoons butter, melted
2 tablespoons sugar
For the brownie layer:
8 tablespoons unsalted butter
4 ounces unsweetened chocolate, chopped
1 1/4 cups sugar
1 teaspoon vanilla
1/4 teaspoon salt
2 eggs
1/2 cup flour
For the topping:
Approximately 2 cups mini marshmallows
Instructions
Preheat oven to 350º. Line an 8 x 8 inch pan with non-stick foil (or foil sprayed with Pam). Set aside.
Combine the graham cracker crumbs, melted butter in a bowl and mix till well combined. Press the crumbs evenly into the bottom of the pan and bake for 7 minutes. Allow crust to cool while making brownie layer.
Turn the oven temperature up to 400º.
In the microwave, melt butter and chocolate together. Stir often, till smooth and melted.
Stir in sugar, vanilla and salt. Stir in eggs one at a time, followed by flour. Stir until very smooth,till mixture pulls away from sides of bowl. Spread batter into prepared pan and bake for 18 minutes.
Let cool completely, then sprinkle with enough marshmallows to cover the surface of the brownies in one even layer.
Place pan under broiler, about 6 inches from element. Watch very carefully and broil for about 2 minutes till marshmallows are toasted. Times may vary with different ovens...so do not leave the broiler unattended.
Cool and cut with a hot knife to serve.
Makes 16.
http://www.thatskinnychickcanbake.com/2012/12/smores-brownies-improv-challenge.html
P.S. I've added a follow by email option…check it out on the right side of my page…and you won't miss a single post!