Quiche Maraîchère
Quiche Maraîchère: A custard-filled pastry crust filled with a rainbow of sauteed vegetables and Gruyere cheese made a delicious meatless meal.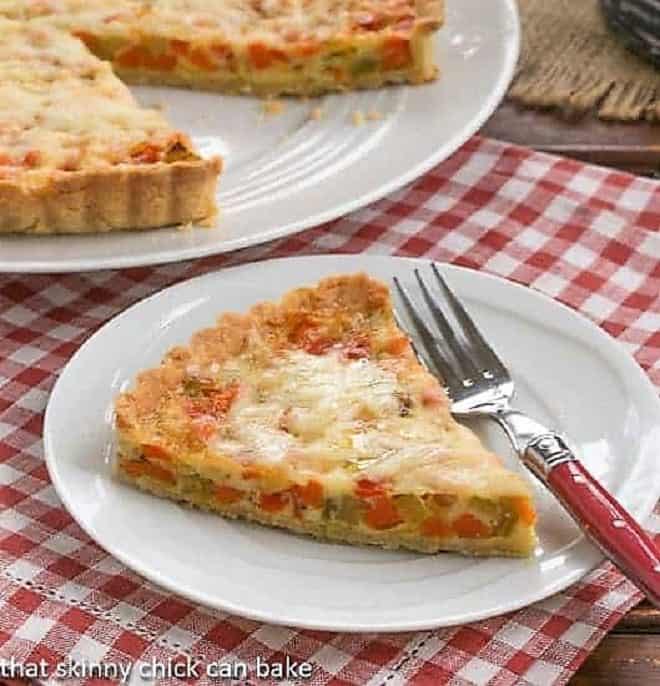 Quiche Maraîchère or a Vegetable Quiche
Uh, oh. The "Q" word reappeared in our French Fridays with Dorie queue. The hubby loves pie crust, eggs and cheese, so why was he so opposed to quiche?
A little trickery was in order…so I told him dinner was a "mar-a-share" with my butchered French accent. The word maraîchère, according to Dorie, indicates there is market fresh produce in the recipe. So basically, quiche maraîchère is the classic egg pie with fresh vegetables.
Meatless Meal
No lima beans or Brussels sprouts, so how could he NOT like this? But, just in case, there was a jar of peanut butter in the cupboard. Quiche Maraîchère was going to be our meatless entree for this Lenten Friday. Or at least it was all I was offering. Eggs, cheese, pastry crust? How could that be bad? We enjoyed this Sun-Dried Tomato and Spinach Quiche, too!
Tips for Making Quiche Maraîchère
This custard-filled tart started with a partially baked crust, which helps ensure the bottom crust will not be soggy when the egg mixture is added and baked.
The diced melange of sauteed leeks, carrots, celery, and red bell pepper are cooked first as the baking time for this quiche will have the eggs rubbery before the vegetables are soft. A mixture of cream and eggs, seasoned with salt and pepper was poured over the vegetables and baked till almost set.
A finishing sprinkle of Gruyère cheese was added during the last 5-10 minutes and allowed to brown before removing from the oven. A resting period brought the quiche to room temperature…and made for easier slicing. The picky hubby recognized this as a quiche immediately and begrudgingly heated up a slice for dinner.
This quiche Maraîchère disappeared from his plate rather quickly and he sheepishly commented, "I'm going to have to try some more to see if I really like it." Yup, he will eat quiche even if he believes that real men don't. And this Quiche Maraîchère made a darned tasty vegetarian entree…even Bill agrees.
If you love quiche, you'll also be a fan of this Spinach Mushroom Quiche, Sun-dried Tomato and Spinach Quiche and Crustless Spinach Quiche.
Love this recipe? Please consider rating it in the comments below. You can also follow me on FACEBOOK, PINTEREST, and INSTAGRAM.
The Recipe:
Quiche Maraîchère
Prep Time 20 minutes
Cook Time 40 minutes
Total Time 1 hour
Yield 6 servings
An egg and cheese pie with loads of vegetables and topped with Gruyere!
Ingredients
1 tablespoon butter
2 celery stalks, small dice
2 slender leeks, white and light green parts only, quartered lengthwise, washed, and thinly sliced
2 slender carrots, peeled, and finely diced
1 medium red bell pepper, finely diced
Salt and freshly ground pepper
1 9-inch tart shell, partially baked and cooled
⅔ cup heavy cream
1 egg
1 egg yolk
⅔ cup grated cheese, I used Gruyère
Instructions
Melt the butter in a large skillet over medium-low heat. Toss in the vegetables and cook, stirring, for about 10 minutes, or until they are tender.
Season with salt and pepper, then place the vegetables into a bowl and let cool.
Preheat the oven to 400 degrees. Put the crust on a baking sheet lined with parchment paper.
Spoon the vegetables into the tart shell and spread them out evenly.
Whisk the cream, egg, and egg yolk together, season with salt and pepper, and carefully pour over the vegetables. You may have too much custard, so wait for it to settle and add just enough so your tart shell does not overflow.
Carefully place the baking sheet into the oven.
Bake for 20 minutes. Sprinkle the cheese over the top and bake for another 5 to 10 minutes, or until the cheese is light brown and the center is puffed and set.
Let cool on a wire rack before serving.
Notes
Dorie recommends serving this quiche at room temperature or warm.
For lunch or a light dinner, serve with a green salad.
Nutrition Information:
Yield:
6
Serving Size:
1 slice
Amount Per Serving:
Calories: 376
Total Fat: 26g
Saturated Fat: 16g
Trans Fat: 1g
Unsaturated Fat: 9g
Cholesterol: 137mg
Sodium: 344mg
Carbohydrates: 23g
Fiber: 2g
Sugar: 10g
Protein: 13g
Note: This post may contain affiliate links; view
my Disclosure Policy
for details. I earn a small percentage from any purchase you make by clicking on these links at no extra cost to you.