Key Lime Pie Bars
Key Lime Pie Bars: A heavenly citrus treat made to feed a crowd! Each bite tastes like Key lime pie but without all the work!
The perfect balance of sweet and tangy makes Key Lime Desserts a Floridian classic. The graham cracker crust and lime-infused custard are an unbeatable pairing!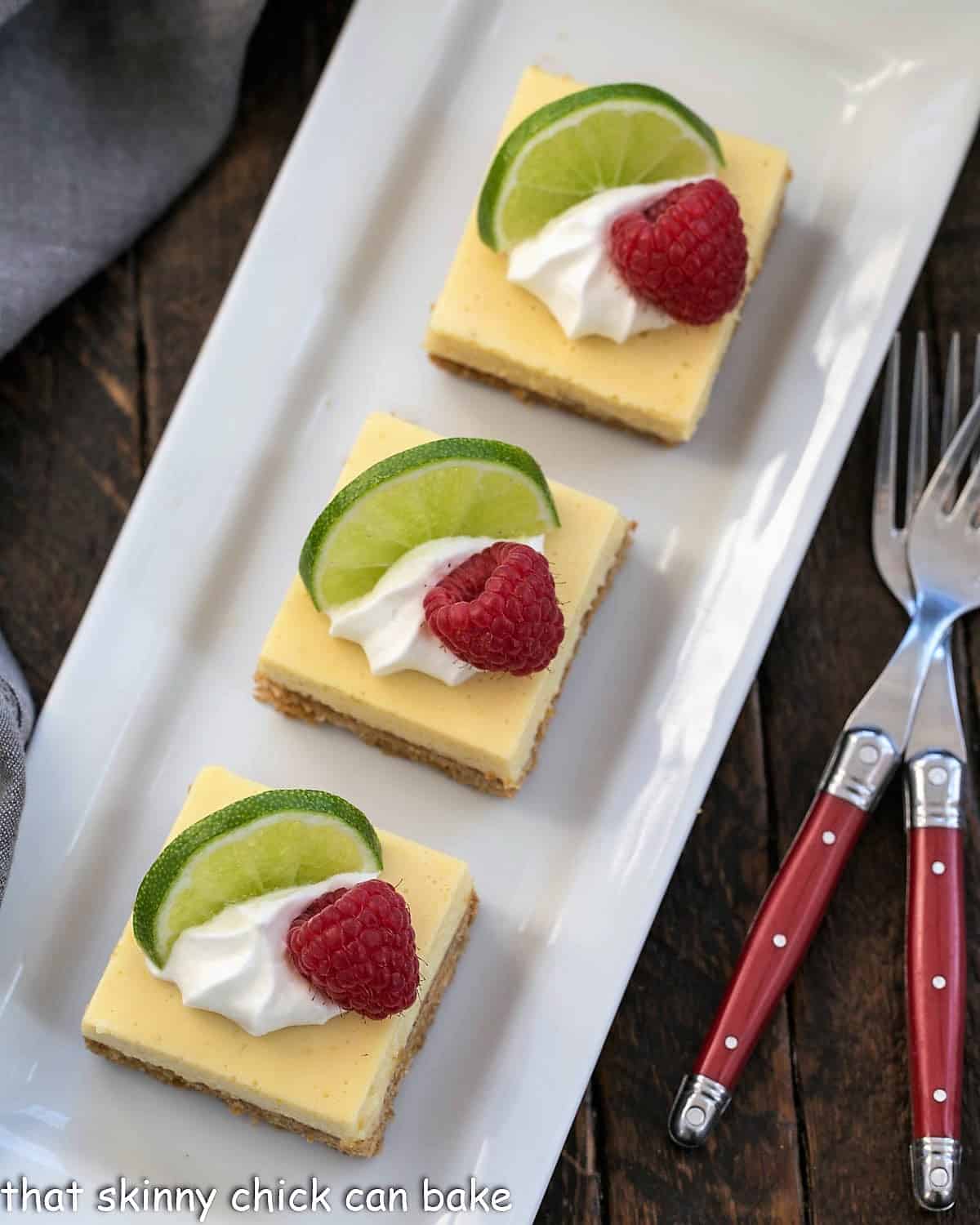 Why You Must Make
It's an easy way to get your key lime pie fix without all the work.
Every bite is a delicious party in your mouth! They're sweet, tangy, creamy, and crunchy!
Even if you don't have access to Key limes, you can make this with standard limes.
The hubby loves his lemon desserts but gives lime the cold shoulder. Really??? I love, love Key lime pie. The tart and creamy filling in a sweet graham cracker crust is a delightful pairing. But since I cannot justify making a whole pie for myself, I make these bars when I can share them with my girlfriends or neighbors. And bars are easier to transport than a pie.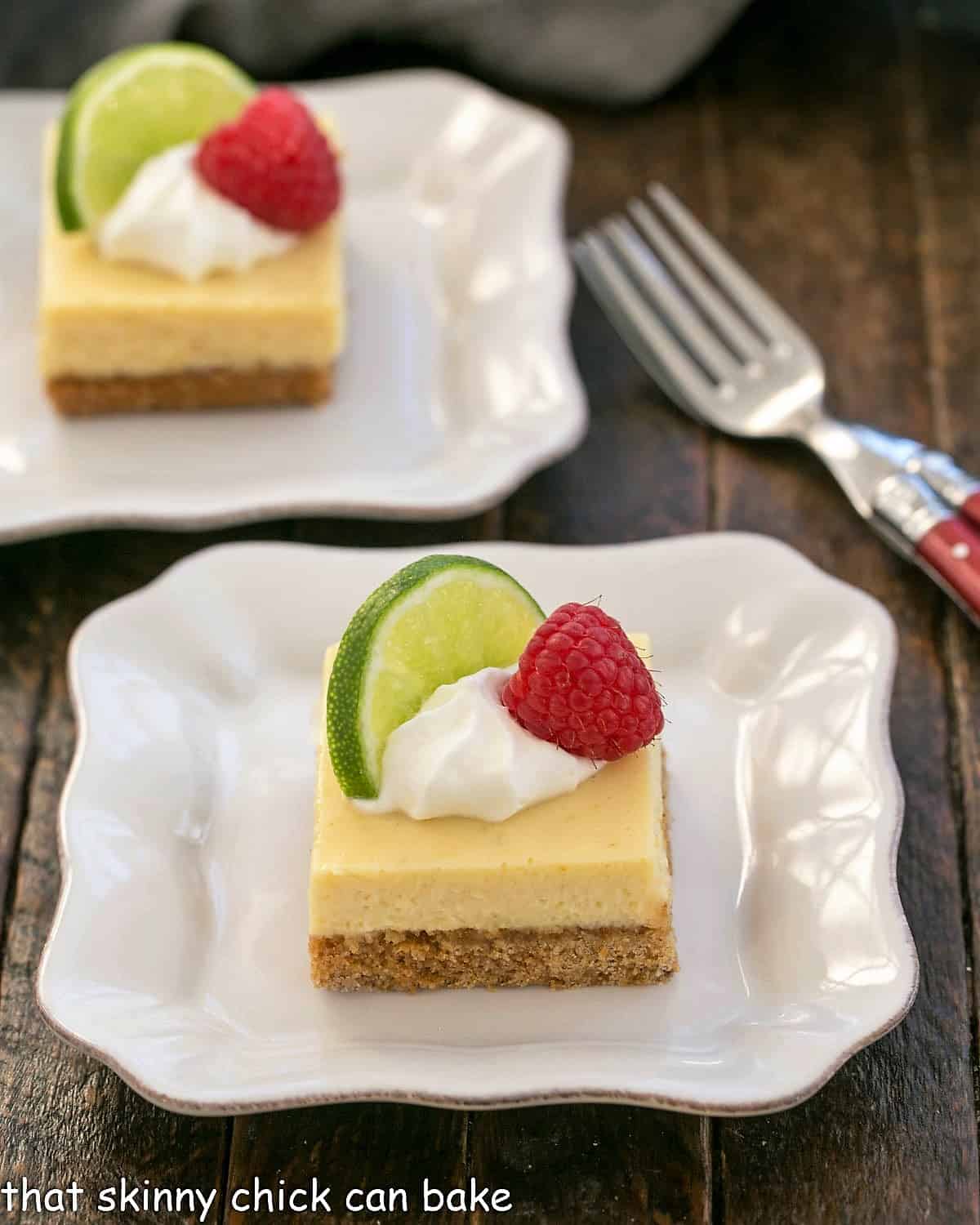 Expert Tips
First, you have to track down some of those small Key limes that come from Florida, California, Mexico or the Caribbean. PRO-Tip: But if you can't locate any Key limes, regular Persian limes work well. They're a bit more acidic, but much tastier and fresher tasting than the bottled Key lime juice.
You will use both lime juice and zest in this Key Lime Pie Bars recipe. Don't bother trying to zest your mini Key limes, as it's much easier to use a standard lime and you'll never know the difference.
The crust is like your basic graham cracker crust. Either buy graham cracker crumbs or make your own by processing full-sized graham crackers in a food processor. Those will be mixed with melted butter and a bit of sugar. This mixture is pressed onto the bottom of your prepared panpan, then baked.
The Key lime filling is like the typical pie filling, made with juice, zest, egg yolks, and a can of sweetened condensed milk. Mix and spread evenly with an offset spatula over the crust, then bake.
For company, you may garnish each slice with a dollop of whipped cream and a thin slice of lime. A berry adds a nice contrast but isn't necessary!
This recipe can be doubled and baked in a 9×13-inch pan. You will need to extend the baking time until the center looks set.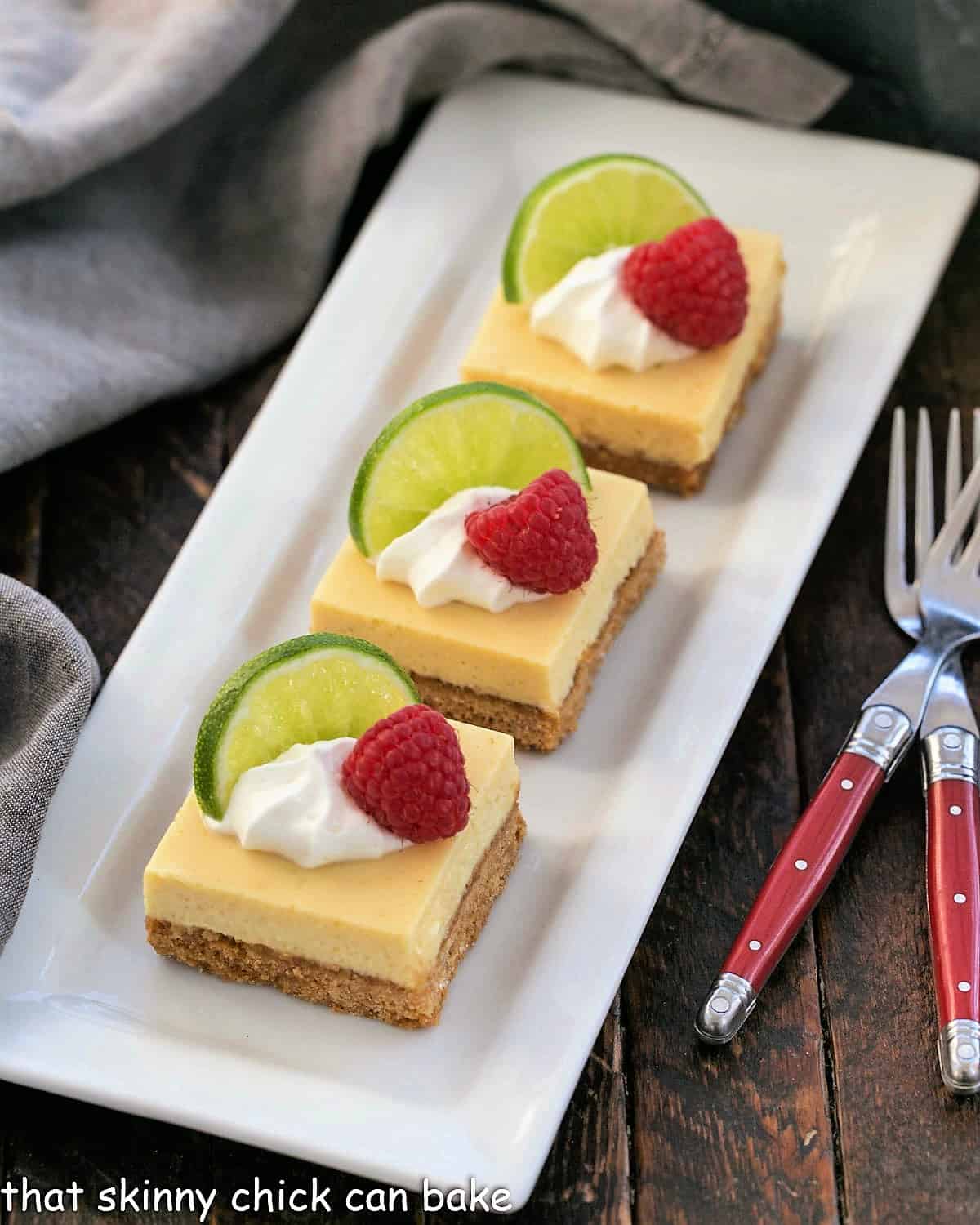 Frequently Asked Questions
What's the difference between Key Limes and Standard Limes?
Key limes have thinner more yellow skin and more seeds than standard or Persian limes. Persian limes have a lower pH, meaning they're more acidic than Key Limes.
Can you substitute Standard lime juice for Key Lime juice?
Yes, standard lime juice works well in key lime dessert recipes. Since Key limes aren't available in local markets all year long, and bottled Key lime juice isn't that tasty (often considered bitter or rancid!), it's a great substitution.
Can You Freeze Key Lime Pie Bars?
Yes, they freeze well if wrapped airtight. First, place them in the freezer for about 2 hours so they'll be firm enough to wrap. Then wrap well or place in an airtight container.
Defrost overnight in the refrigerator before serving. They'll keep well in the freezer for up to 3 months, but are best if eaten within a month.
You May Also Like: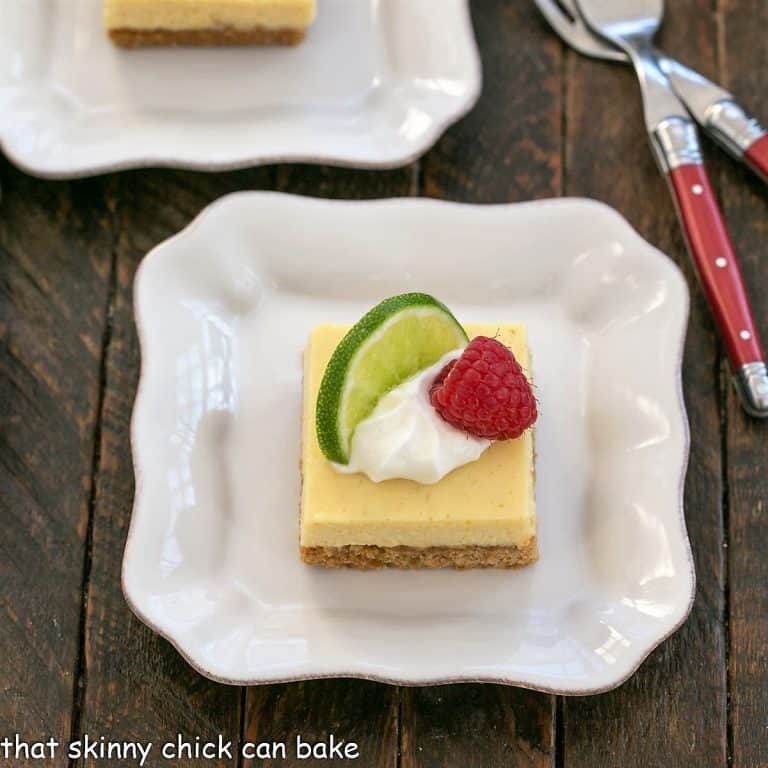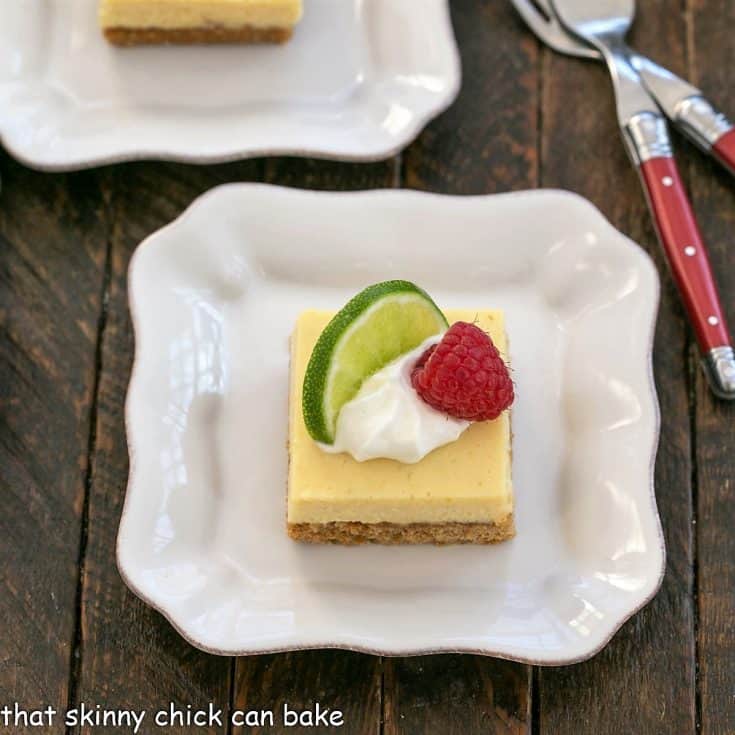 The Recipe:
Key Lime Pie Bars
Prep Time 20 minutes
Cook Time 10 minutes
Total Time 30 minutes
Yield 16 bars
Citrus heaven in every bite. Inspired by Martha Stewart.
Ingredients
2 cups graham cracker crumbs
1/3 cup sugar
1/2 cup butter, melted
3 egg yolks
1 1/2 teaspoons finely grated lime zest
1/2 cup Key lime juice (may use standard lime juice)
14 ounces sweetened condensed milk
Whipped cream, Key lime slices, berries to garnish, optional
Instructions
Preheat oven to 350º. Line 8 inch square baking pan with non-stick foil, if desired. Set aside.
Mix graham cracker crumbs, sugar and butter in small bowl. Press evenly onto bottom of prepared pan. Bake 10 minutes, then cool completely.
Beat together egg yolks and zest on high speed till very thick, about 5 minutes. Add sweetened condensed milk and mix on low speed till combined, then increase speed and mix till thick, about 3 minutes. Add lime juice and mix on low till combined.
Spread filling over crust and bake till filling is set, about 10 minutes.
Cool completely before cutting and garnishing with whipped cream, lime slices, and/or berries.
Notes
If you cannot find Key limes, standard lime juice is tastier than bottled Key lime juice.
Nutrition Information:
Yield:
16
Serving Size:
1 bar
Amount Per Serving:
Calories: 238
Total Fat: 11g
Saturated Fat: 6g
Trans Fat: 0g
Unsaturated Fat: 4g
Cholesterol: 61mg
Sodium: 138mg
Carbohydrates: 33g
Fiber: 1g
Sugar: 26g
Protein: 4g
Note: This post may contain affiliate links; view
my Disclosure Policy
for details. I earn a small percentage from any purchase you make by clicking on these links at no extra cost to you.