Dulce de Leche Bars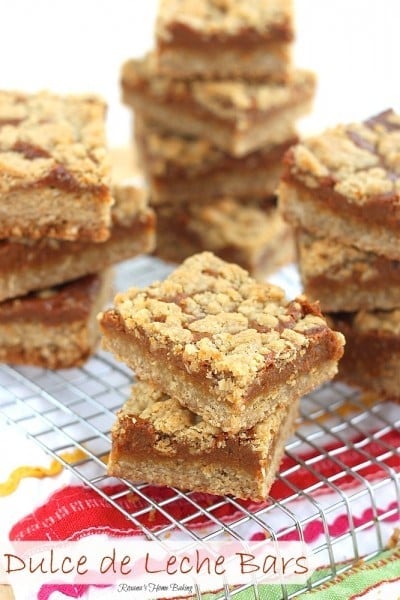 Dulce de Leche Bars
Aren't you the lucky ones today? My sweet and talented friend, Roxana, is guest posting for me while I am tied up with my volunteer gig. As an accomplished baker, Roxana wows me again and again with her beautiful breads and sweets. She is the creator of the Chocolate Party in which I participate each month as well as a Bake Your Own Bread recipe round up. I admire her incredible energy and gift of creativity. Make sure to pop over to Roxana's blog, Roxana's Home Baking, to say hello! Today she's sharing these decadent Dulce de Leche Bars.
Hello! I'm Roxana, for those who don't know me, the self-taught baker, wannabe photographer and sugar addict behind Roxana's Home Baking.
Just like Liz's blog, mine is focused on baking everything from scratch. Baking from scratch has a reputation of being too complicated and/or time-consuming. I'm here to prove people wrong. Home baking may be as simple as a muffin recipe or something more laborious like a yeast bread or a layer cake. I want to inspire people to put away the store-bought bread or cake mix box and get messy in the kitchen. That's how memories are made!
Most of the recipes found on my blog rely on simple techniques everyone can master with a little bit of patience.
For today I've made easy dulce de leche bars. Reading the directions may seem a little complicated, but it's really simple. And the taste, 10 times better compared to the amount you put in.
The base is an oatmeal cookie dough made with all-purpose flour, oats, butter, and sugar. Brown sugar is used not only for the flavor but also to give a little chewiness to the bars. Once you've made the dough, which takes less than 2 minutes in the food processor, you spread most of it evenly on the bottom of a baking pan. Bake for a couple of minutes, take out, spread the dulce de leche over it and crumble the reserved dough and bake until golden brown.
Does that sound hard to you? I told you it's easy!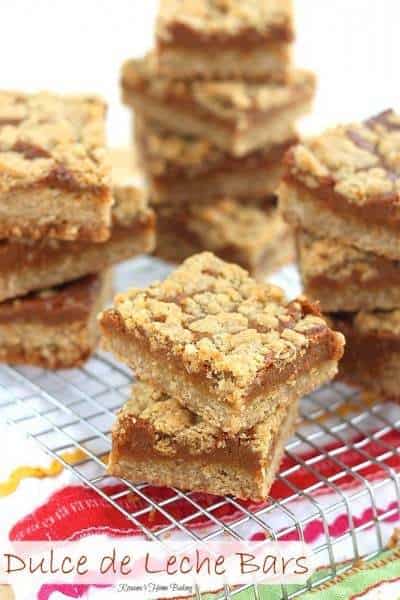 The Recipe:
Dulce de Leche Bars
Prep Time 20 minutes
Cook Time 1 hour
Total Time 1 hour 20 minutes
Yield 24
Gooey crumb bars filled with dulce de leche!
Ingredients
Recipe courtesy of Roxana's Home Baking
1 1/2 cups 180 grams all purpose flour
1 1/2 cups 135 grams rolled oats
1 cup 200 grams brown sugar
pinch of salt
1 cup 226 grams diced cold butter
1 can, 380 grams dulce de leche, room temperature
Instructions
Heat the oven to 350F. Line an 11X7" baking pan with parchment paper. Set aside.
In a food processor add all the ingredients except the dulce de leche. Pulse a couple of times until it comes together in a ball. Reserve 1/2 cup of the cookie dough. Shape it into an oval disc, wrap it in plastic wrap and place it into the freezer.
The remaining dough, press it evenly on the bottom of the prepared baking pan. Bake for 20 minutes.
Meanwhile, open the can of dulce de leche, place the thick caramel sauce in a small saucepan, and heat it gently on the store, stirring constantly.
Without turning off the oven, take the pan out and pour the warm dulce de leche over it.
Grate the frozen reserved cookie dough over the dulce de leche layer and bake for further 30 minutes or until golden brown and the sides are bubbly.
Take the pan out of the oven and leave to cool completely before cutting into bars. Enjoy!
Nutrition Information:
Yield:
24
Serving Size:
1 Bar
Amount Per Serving:
Calories: 198
Total Fat: 9g
Saturated Fat: 6g
Trans Fat: 0g
Unsaturated Fat: 3g
Cholesterol: 25mg
Sodium: 89mg
Carbohydrates: 26g
Fiber: 1g
Sugar: 16g
Protein: 3g
Thank you Liz for allowing me to share the recipe for these bars with your lovely readers. I hope I'll see you soon on Roxana's Home Baking.
Didn't I tell you she was marvelous???? Thanks, Roxana, for sharing this amazing recipe with my readers!!! I can't wait to meet you in person at the Food Blog Forum in Orlando next week. Roxana can be found on Facebook, Pinterest, Google+ and her blog, Roxana's Home Baking.
Note: This post may contain affiliate links; view
my Disclosure Policy
for details. I earn a small percentage from any purchase you make by clicking on these links at no extra cost to you.