College Care Package for the Chocoholic
A college care package for the chocoholic full of cookies and brownies will put a huge smile on your child's face when the mail arrives. Here's a trio of goodies I put together for my youngest chocoholic.
College Care Package
Nick has been friends with Matt since second grade. So when his mom wanted to come over and do some baking, I suggested we make cookies to mail to our boys, who both started their freshman year of college this fall. Knowing both Matt and Nick loved chocolate, I selected 3 recipes certain to please them, their friends and dorm-mates.
A College Care Package for the Chocoholic was our theme! First up was a Chewy Cocoa Brownie, and we threw in a bag of chocolate chips to up the chocolate ante. Next was a Candy Stuffed Cookie (not pictured) that I purchased during an on-line bake sale from Amber of Bluebonnets and Brownies.
Dove Promises (available in all sorts of great flavors) were wrapped with chocolate chip cookie dough.
And third were Chocolate Chip Lava Cookies from my friend, Jen, of Juanita's Cocina, who also sent me these cookies from the same bake sale. I made an even smaller version of hers in mini muffin tins.
Sending Cookies to College Students
I sent Nick a text that cookies were headed his way and he replied back, "Awesome." Matt did not know of his sweet surprise until his mom told him to check his mail. He made his first phone call home after opening the package, obviously quite delighted with his loot. When I bumped into his mom 4 days post arrival, she assured me they were all gone. Two happy boys. Just what we wanted!
Packing Tips for Mailing Cookies
To pack up a college care package, I use the Flat Rate Priority Mail boxes from the Post Office. Pack your cookies in those reusable lightweight plastic containers with lids.
Carefully fill any excess space up with some sort of food-safe packing paper to help prevent any potential breakage. Bring the containers, packing tape and packing paper (or newspaper) with you to the PO. Buy the appropriate sized box and fill any empty space in the box with crumpled up paper.
Before sealing, shut the top and give the box a little jostle to see if all is packed tightly. If not, add a bit more paper. Seal, label, and send.
Priority Mail will get the baked goods to their destination in 2 days. Any longer and the treats might get stale. Not like college boys seem to have trouble eating slightly less than fresh treats! Now on to the recipes.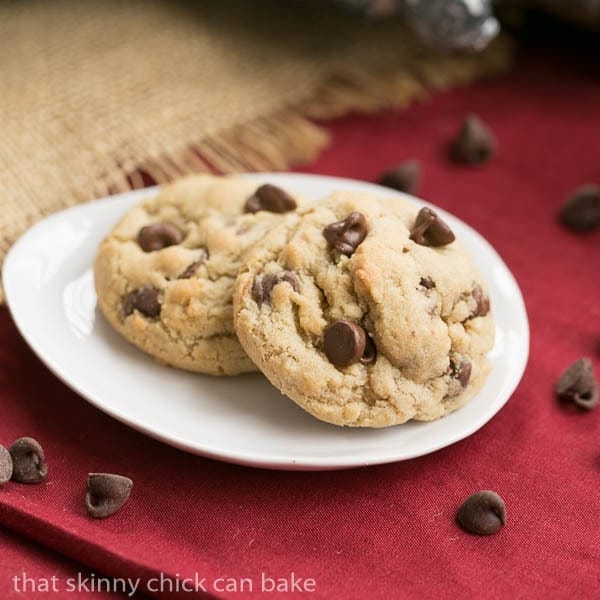 The Recipe:
Promise Stuffed Cookies
Prep Time 25 minutes
Cook Time 17 minutes
Total Time 42 minutes
Yield 2.5 dozen
Delicious chocolate chip cookies stuffed with your favorite Promise chocolates adapted from Bluebonnets and Brownies
Ingredients
Promise Stuffed Cookies...adapted from Bluebonnets and Brownies
26 or more Dove Promise Candy (I used both Dark Chocolate and Caramel Filled Milk Chocolate), frozen for 2 hours
1 ½ cups butter, at room temperature
1 cup sugar
1 cup brown sugar
1 tablespoon vanilla
2 eggs
3 ¾ cups flour
2 teaspoons baking soda
1 teaspoon kosher salt
2 cups semi-sweet chocolate chips
Instructions
Before starting, make sure you've frozen your chocolates for at least 2 hours.
Preheat oven to 375º. Line baking sheets with parchment paper. Unwrap the candy and place it back in the freezer while you prepare the dough.
In a large bowl with a hand mixer or in a stand mixer, cream butter, and sugars till light and fluffy. Mix in vanilla and eggs till combined. Mix in baking soda and salt, then slowly add flour, and mix on low till completely combined. Stir in chocolate chips by hand.
Scoop out rounded tablespoons of dough, push one piece of candy into the center, and roll until the candy is covered by dough. Place 6-8 dough balls on baking sheets and freeze for about 20 minutes before baking.
Bake 12-17 minutes depending on the size of your cookies or till golden and puffy. Cool for a few minutes on the pan, then remove to a cooling rack.
Nutrition Information:
Yield:
30
Serving Size:
1 cookie
Amount Per Serving:
Calories: 303
Total Fat: 16g
Saturated Fat: 10g
Trans Fat: 0g
Unsaturated Fat: 5g
Cholesterol: 39mg
Sodium: 252mg
Carbohydrates: 38g
Fiber: 1g
Sugar: 23g
Protein: 3g
The Recipe:
Chocolate Chip Lava Cookies
Prep Time 30 minutes
Cook Time 12 minutes
Total Time 42 minutes
Yield 18 cookies
Chocolate chip buttons filled with even more chocolate! Adapted from Juanita's Cocina
Ingredients
1/2 cup butter, at room temperature
1/2 cup sugar
1/2 cup brown sugar
1 egg
1 1/2 teaspoons vanilla
1 3/4 cups flour
1/2 teaspoon salt
1/2 teaspoon baking soda
1 1/2 cups chocolate chips
Instructions
Preheat oven to 350º. Spray mini muffin tin well with Baker's Joy (flour and oil cooking spray). Set aside
Place ½ cup of the chocolate chips in a ziplock bag in a single layer and microwave gently (flipping bag after 30 seconds) till melted. Set aside.
Cream butter and sugar till well combined. Mix in eggs and vanilla, followed by four, salt, and baking soda. Add remaining chocolate chips.
Place a scant tablespoon of dough into about 18 of the 24 muffin cups. Cut the corner off the ziplock bag and press out some of the melted chocolate on each cookie. Take another scant tablespoon of dough, flatten into a disk about the size of the muffin cup opening, and lightly press over chocolate.
Bake about 12 minutes, or till top of cookie looks cooked and golden. Run knife around perimeters of cookies before the cool for easier removal.
Nutrition Information:
Yield:
18
Serving Size:
1
Amount Per Serving:
Calories: 160
Total Fat: 5g
Saturated Fat: 3g
Trans Fat: 0g
Unsaturated Fat: 2g
Cholesterol: 10mg
Sodium: 101mg
Carbohydrates: 29g
Fiber: 1g
Sugar: 18g
Protein: 2g
Note: This post may contain affiliate links; view
my Disclosure Policy
for details. I earn a small percentage from any purchase you make by clicking on these links at no extra cost to you.