Cinnamon Sticky Buns
These decadent Cinnamon Sticky Buns have a hefty dose of cinnamon in the dough and filling, plus a gooey caramel topping. A very special indulgence for breakfast or brunch.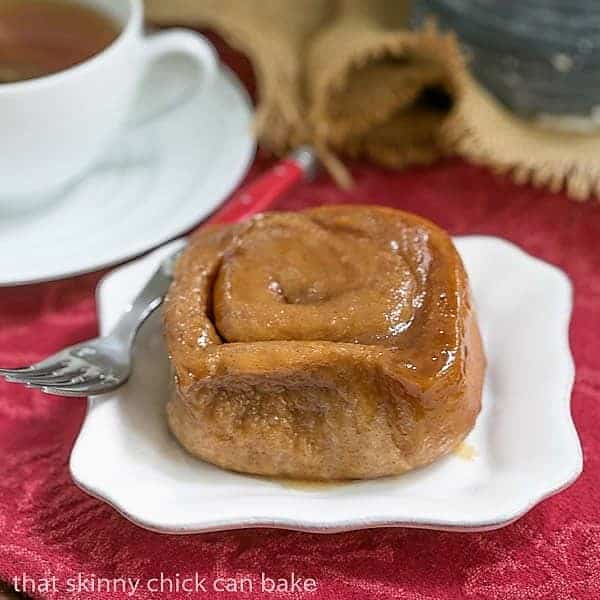 Cinnamon Sticky Buns
My youngest is home from college for the summer, so I like to do a little spoiling. He's always been a huge fan of cinnamon rolls, so I knew he could easily take care of a gooey batch of cinnamon sticky buns. A healthy two tablespoons of cinnamon was added to the dough as well as the usual sugar and cinnamon filling. Then to up the ante, a caramelly topping of honey, brown sugar and butter was dosed with a drizzle or two of rum. This was poured into the baking pan before the final proofing of the rolls.
Sticky Buns with Loads of Caramel, No Nuts
My mom would have added halved pecans or walnuts to both the filling and the topping. And I would second that suggestion. But with my nut phobic family, they would either totally ignore these buns or leave a pile of nuts on the side of their plates. So to humor them (and to avoid going up a pants size), I went sans nuts. And much as I tried to resist, I did have to taste test a few nibbles—anything with caramel is my downfall. These cinnamon sticky buns are worth the splurge!

More Sweet Bread Recipes from My Twelve Loaves Friends:
If you'd like to bake along with us this month, share your "A Little Something Sweet" Bread using hashtag #TwelveLoaves!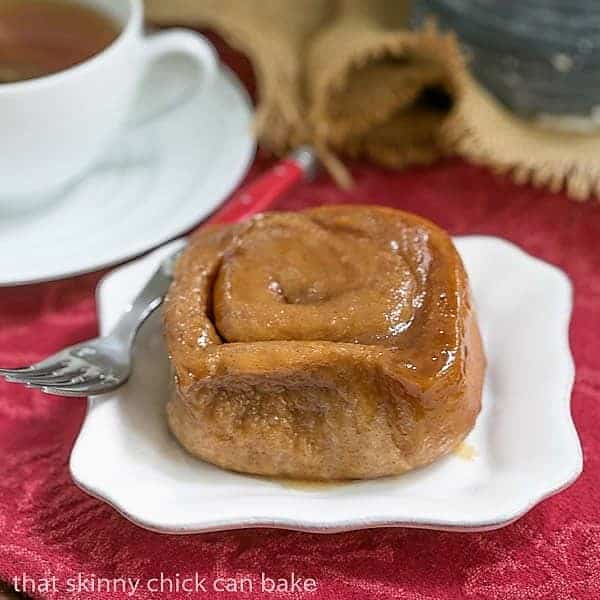 The Recipe:
Cinnamon Sticky Buns
Prep Time 30 minutes
Cook Time 30 minutes
Total Time 1 hour
Yield 12 buns
Carmelly sticky buns made with a honey, brown sugar topping. Adapted from The New Basics Cookbook.
Ingredients
1 cup warm milk (105 to 115 degrees)
1 package active dry yeast (I use Red Star brand)
1/2 cup brown sugar
1/2 cup butter, at room temperature
5 cups flour (may add 1/2 cup more if needed)
2 eggs
2 tablespoons cinnamon
1 teaspoon salt
Filling
3 tablespoons brown sugar
3 tablespoons sugar
2 teaspoons ground cinnamon
Topping
1 cup packed light brown sugar
1/2 cup honey
1 cup butter, melted
2 tablespoons rum
Instructions
*Start this recipe one day before serving.
To make dough, pour the milk into the bowl of a stand mixer. Stir in the yeast and brown sugar and let stand 5 minutes.
With the paddle attachment, beat in flour, all the softened butter, the eggs, cinnamon and the salt until blended. Gradually mix in enough additional flour to make a soft dough.
Replace the paddle attachment with the dough hook, and knead until smooth and elastic, about 10 minutes. Place the dough in a buttered large bowl and turn to coat the dough with butter. Cover with plastic wrap and let rise in the refrigerator overnight.
To make filling, mix together brown sugar, sugar and cinnamon. Set aside.
To make the topping, mix the brown sugar, honey and melted butter in a small bowl. Stir in the rum. Set the topping aside.
To make rolls, punch down the dough. Roll the dough on a lightly floured surface into a large rectangle, about 1/3-inch thick. Sprinkle the filling evenly over the dough and press it into the dough with a rolling pin.
Starting at one long edge, roll up the dough as tightly as possible like a jelly roll. Lightly butter the sides of a 13 x 9-inch baking pan.
Spread the topping evenly on the bottom. Cut the dough crosswise into 12 even slices and space evenly over topping. Cover and let rise until doubled, about an hour.
Preheat oven to 350º.
Bake the buns 25 to 30 minutes. Remove from the oven and let cool 10 minutes. Carefully flip the buns onto large platter and serve immediately.
Notes
Total time does not include proofing and chilling. Dough must chill overnight.
Feel free to add 1-1 1/2 cups nuts to topping.
Nutrition Information:
Yield:
12
Serving Size:
1 bun
Amount Per Serving:
Calories: 577
Total Fat: 25g
Saturated Fat: 15g
Trans Fat: 1g
Unsaturated Fat: 8g
Cholesterol: 94mg
Sodium: 390mg
Carbohydrates: 82g
Fiber: 2g
Sugar: 40g
Protein: 8g
Note: This post may contain affiliate links; view
my Disclosure Policy
for details. I earn a small percentage from any purchase you make by clicking on these links at no extra cost to you.