Chocolate Cheesecake Brownies
Chocolate Cheesecake Brownies are an exquisite combination of brownies and chocolate cheesecake that you can eat with your fingers!
These Brownie Bottom Cheesecake Bars will dazzle your friends and family. Who doesn't love TWO desserts in one?
Why You Must Make
I took these Chocolate Cheesecake Brownies to a New Year's party. Without even asking, I was given the perfect recipe review. As I walked by the table of men discussing football and other manly subjects, holding my tray of goodies, one of the guys commented, "These are a molecular chocolate explosion in my mouth." It may not surprise you that he's a notable nephrologist who happens to delve into the world of research.
Instead of deciding between brownies or cheesecake for dessert, you get both with every bite of these.
These brownie-bottom cheesecake bars are finger food, so they're perfect to take to picnics and parties. But you may need napkins!
I'll have to tell hubby that he needs to up his creativity when I'm begging for commentary. The usual "good, really good" just doesn't cut it anymore!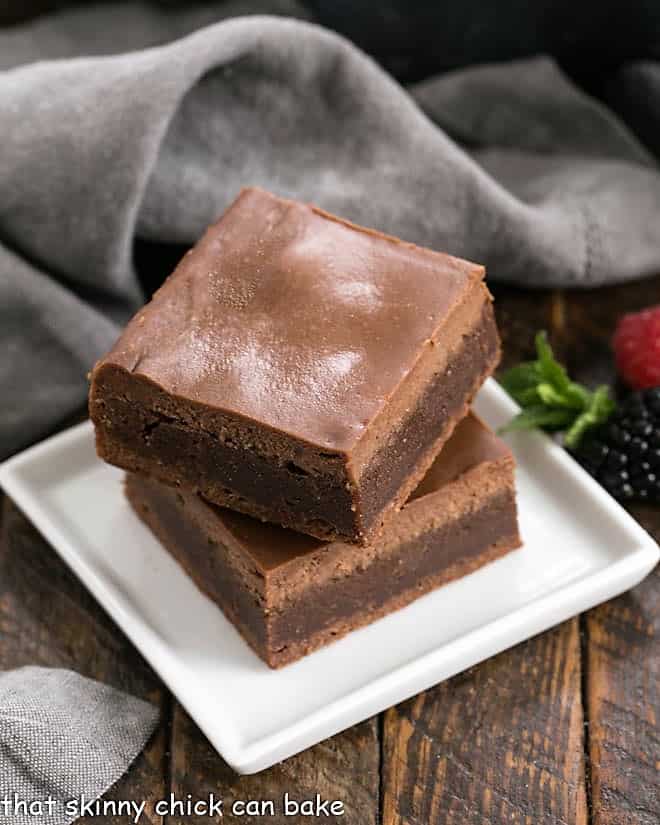 How to Make
Make the brownie batter.
Spread it in an even layer on the bottom of a prepared 8 x 8-inch pan.
Make the cheesecake batter.
Top the brownie batter with dollops of cheesecake batter.
Smooth the cheesecake layer.
Bake as directed.
Cool, chill, then slice to serve.
Both the brownies and cheesecake bake together and the results are fabulous. If you like chocolate AND cheesecake, you'll need to add these to your baking schedule.
Expert Tips
PRO-Tip: Line your pan with nonstick foil for easy removal without the edges sticking to the pan. The foil can be used as a sling to move the cooled brownies to a cutting board.
If you don't have nonstick foil on hand, line with regular foil and spray with a cooking spray like Pam.
To melt chocolate in the microwave, chop it first, then place it in a microwave-safe bowl. Since it's only 2 ounces, be careful not to zap it too long. Start with 20 seconds, then stop and stir. Repeat for another 15-20 seconds if needed, but once there are only a few small unmelted bits, let the residual heat finish the melting. Stir until completely smooth.
You can also place the heat-safe bowl of chocolate over a pot of simmering water (the bowl should not touch the water, just nest in the pot above the water). Watch and stir occasionally until the chocolate is melted.
PRO-Tip: Use a small offset spatula to spread and smooth out each layer. It's one of my most used kitchen tools.
Ingredient Notes
Butter – I use salted butter in my recipes. If you use unsalted butter, just add a touch more salt.
Semi-sweet Chocolate, chopped – I keep a stash of Ghirardelli bars in all chocolate varieties. They are readily available at many supermarkets and are better for melting than chocolate chips. Chocolate chips can be used in a pinch if needed.
Cocoa powder
Sugar
Eggs – Always use large eggs unless otherwise noted
Vanilla – Always use real vanilla extract, never imitation
Flour – I use King Arthur All-Purpose Flour. Any all-purpose flour will work well.
Salt – I prefer finer table salt, not kosher salt for baking
Cream cheese – must be at room temperature for the smoothest batter.
Frequently Asked Questions
Do cheesecake brownies need to be refrigerated?
Yes, just like regular cheesecake, these brownies need to be refrigerated. They should be brought out to room temperature for about an hour before serving to get the chill off the cheesecake which makes that layer creamier.
Can you freeze chocolate cheesecake bars?
Yes! Both brownies and cheesecake freeze well, so these brownies can be frozen up to 3 months. Just make sure they're in an airtight container. Defrost them overnight in the refrigerator.
How should you serve these layered brownies?
I love topping individual brownies with fresh berries for a pop of color. They're also delicious with a scoop of vanilla ice cream and a drizzle of chocolate or fudge sauce.
You May Also Like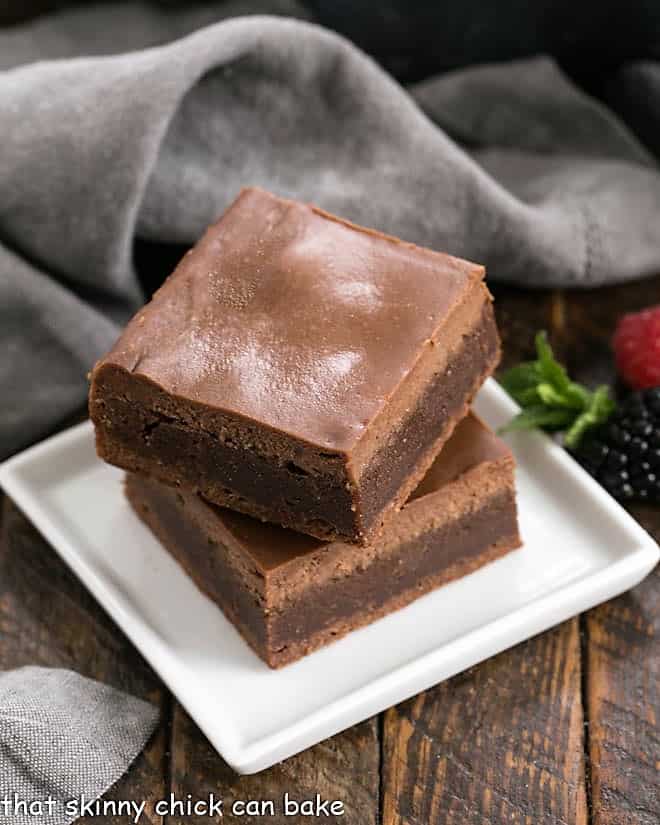 The Recipe:
Chocolate Cheesecake Brownies
Prep Time 30 minutes
Cook Time 40 minutes
Additional Time 3 hours
Total Time 4 hours 10 minutes
Yield 16
When cheesecake and brownies collide, you'll get an exquisite treat!
Ingredients
Recipe courtesy of Hugs and Cookies via Baking Bites
Brownies:
1/2 cup butter
2 ounces semi-sweet chocolate, chopped
2 tablespoons cocoa powder
1 cup sugar
2 large eggs
1 teaspoon vanilla
2/3 cup flour
1/4 teaspoon salt
Cheesecake:
8 ounces cream cheese, at room temperature
1/3 cup sugar
2 tablespoons cocoa powder
1 egg
1/2 teaspoon vanilla
Instructions
Preheat oven to 350º. Line an 8 x 8 or 9 x 9 inch pan with non-stick foil (or with regular foil sprayed with non-stick spray). Set aside.
Gently melt chocolate and butter in microwave, stopping and stirring till smooth. Mix in cocoa powder. Set aside to cool.
In a large bowl, whisk the sugar, eggs and vanilla. While whisking, slowly pour chocolate into mixture. Stir till smooth. Sift flour and salt into the bowl and stir till just combined. Pour into prepared pan and smooth top. Set aside.
In a medium bowl, beat cream cheese, sugar, cocoa powder, egg and vanilla till smooth. Drop over brownie batter. Smooth over top (may swirl batters together with knife if desired...I did not).
Bake for 35-40 minutes till brownies and cheesecake are set. Knife inserted into center of brownies should come out clean.
Cool completely before cutting and serving. Store covered and refrigerated.
Recommended Products
As an Amazon Associate and member of other affiliate programs, I earn from qualifying purchases.
Nutrition Information:
Yield:
16
Serving Size:
1 Servings
Amount Per Serving:
Calories: 225
Total Fat: 13g
Saturated Fat: 8g
Trans Fat: 0g
Unsaturated Fat: 4g
Cholesterol: 64mg
Sodium: 140mg
Carbohydrates: 25g
Fiber: 1g
Sugar: 19g
Protein: 3g
Note: This post may contain affiliate links; view
my Disclosure Policy
for details. I earn a small percentage from any purchase you make by clicking on these links at no extra cost to you.