Welcome to the second annual brunch week hosted by Terri of Love and Confections and Susan of The Girl In The Little Red Kitchen!  Join us May 5th through 11th while we celebrate the deliciousness of brunch and prepare for Mother's Day and summer brunching season.  We have 32 bloggers bringing you their best brunch game, from cocktails to eggs Benedict to donuts, there is something for everything this week.  Our amazing sponsors have donated some great prizes for a gigantic giveaway, please visit them all for more information.
One of the weekend breakfast treats my mom would make for us girls was French toast. Sandwich bread was soaked in the usual mixture of eggs and milk along with a pinch of nutmeg, her secret ingredient. I loved mine buttered and sprinkled with sugar. The rest of the family went for the maple syrup. I decided to treat Bill to a more elegant version. A stuffed version to be exact. Thick brioche slices were transformed into this amazing Strawberry Mascarpone Stuffed French Toast.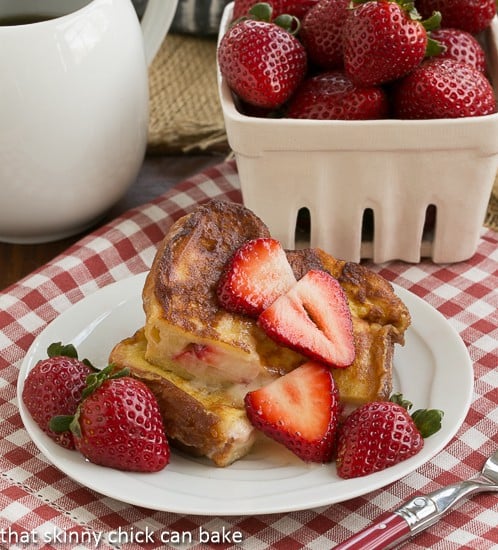 You may all have realized I have a soft spot for mascarpone and strawberries, so this made for one scrumptious breakfast. The berries were ripe and fragrant…and these red gems sitting on my counter made my kitchen smell like summer. The familiar, comforting aroma of butter, eggs and cream cooking away was only amplified in goodness when the mascarpone and berries were gently warmed in the process. This is the perfect breakfast for your sweetie on Mother's Day, Father's Day or anytime you want to start your day on a superb note.

Here are all the incredible brunch recipes shared by my friends today:
Beverages:
Brunch Eggs:
Main Brunch Dishes:
Brunch Breads and Sides:
Brunch Fruit and Vegetables:
Brunch Desserts:
***All the giveaway information including prizes and how to enter can be found HERE. So many magnificent products up for grabs! Follow the Rafflecoptor for your chance to win. Good luck!***
A huge thank you to all our amazing #BrunchWeek sponsors. Please follow these lovely folks on their social media sites:
Bob's Red Mill – Facebook, Twitter, Pinterest, Instagram
Stemilt – Facebook, Twitter, Pinterest, blog
Baloian Farms – Facebook
Woot Froot – Facebook, Twitter, Pinterest
Vidalia Onion – Facebook, Twitter, Pinterest
Grimmway Farms – Facebook, Twitter, Instagram, Pinterest
OXO – Facebook, Twitter, Instagram, Pinterest (I used my OXO Flip & Fold Omelet Turner when making this fritatta)
Bonne Maman – Pinterest
Dixie Crystals – Facebook, Twitter, Instagram, Pinterest
California Walnuts – Facebook, Twitter, Pinterest, Google+
Whole Foods Market Orlando – Facebook, Twitter, Pinterest, Instagram
Disclosure:  Dixie Crystals, one of our most generous Brunch Week Sponsors, supplied me with a variety of sugar products. I was not compensated for writing this post and the opinions expressed herein are those of the author, and are not indicative of the opinions or positions of  Dixie Crystals.